Legends of Tomorrow Season 3: Wally West and Rip Hunter Bond Over Alcohol and Misery
We've known it's been coming for a while and we got a bit of a teaser for it last week, but Wally West (Keiynan Lonsdale) is now part of DC's Legends of Tomorrow and it looks like Rip Hunter (Arthur Darvill) needs a favor from him. Last week we saw Rip approach Wally at a monastery in China. The clip below shows that there still there at least in the beginning of the episode and their getting drunk.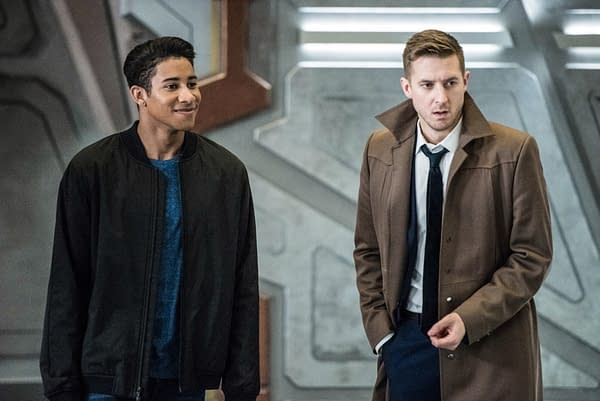 Not sure what Rip is drinking, but Wally has a flask full of the stuff Cisco (Carlos Valdes) makes for Barry (Grant Gustin) when he wants to cut loose. Rip tries some, which we don't see the results in the clip, but it could be very funny. Talking about Cisco leads to Wally pointing out that just about every member of Team Flash is a genius and the fact he never felt he fit in and the recent dumping by Jesse Quick (Violett Beane) is what has lead him to be in the monastery. Rip equates that to his having his former proteges conspire against him and put him in prison… merely for lying to Sara (Caity Lotz), helping resurrect the man who killed her sister (Neal McDonough) and sending Time Bureau agents to their desk, pissing off Ava (Jesse McCallan). Wally's response to that is the very appropriate: "You're kind of a douche, no offense…" That is, of course, when he starts to ask for a favor.
DC's Legends of Tomorrow airs tonight at 8 PM on the CW.