Legends of Tomorrow Season 3: The Return of Franz Drameh as Jefferson Jackson
One of the things folks are looking forward to in tonight's season finale of DC's Legends of Tomorrow is the return of Jefferson Jackson (Franz Drameh). Jax joined the series at the beginning along with Dr. Martin Stein (Victor Garber) as the two halves that make up Firestorm. But Stein was killed during the Crisis on Earth-X crossover, and while Jax tried to stay with the Legends, he realized it was too much and it was time for him to build his own life off of the Waverider.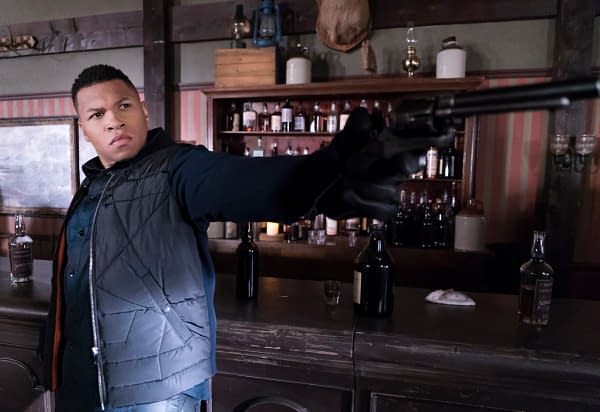 When it was announced he would be returning, speculations rose that maybe he'd use the fire totem and be able to recreate Firestorm. But Mick Rory (Dominic Purcell) has taken on that totem recently. Why is Jax coming back then? And what version of him are we going to see? Phil Klemmer talked about it to TVLine and shared a fun little Easter egg:
You might have noticed that we've included a number of family members of our regular cast on the show as guest stars — like Brandon Routh's wife Courtney Ford in the role of Nora Darhk, and the guest appearance of Maisie Richardson-Sellers' mother Joy Richardson as Amaya's vision quest ancestor. So if you look very closely, you'll notice that the finale doesn't just include Franz Drameh but a brief cameo of someone related to him.

The Jax we meet in the finale isn't the same one who left our team a matter of months ago — he has been inspired by what he learned from his friend and mentor Martin Stein. Being a time traveler is like living in Neverland, where you never have to grow up, and having Jax return to our show after a stint in the real world is a bittersweet reminder of what his friends and former teammates are missing. When we started this show three years ago, we never would have guessed that the youngest Legend would be the first to "grow up," or that the guy that had to be tricked into joining the team would be the one to answer the Legends' call in their hour of need.
This sounds like a more mature version of Jax that has changed, but in what way? And how does he answer the call? It's funny just how much the feel of the show changed with the departure of Drameh and Garber.
DC's Legends of Tomorrow season finale airs tonight at 8 p.m. ET on the CW.