FOX series So You Think You Can Dance is back for it's 15th season. The competition show starts with a series of auditions across the country where dancers are chosen to be sent forward to a semi finals at The Academy before making the actual top 20 performers.
Continually one of the most enjoyable reality shows (FIGHT ME), contestants often will go on to be featured prominently in national tours (like Lady Gaga) and films like The Greatest Showman.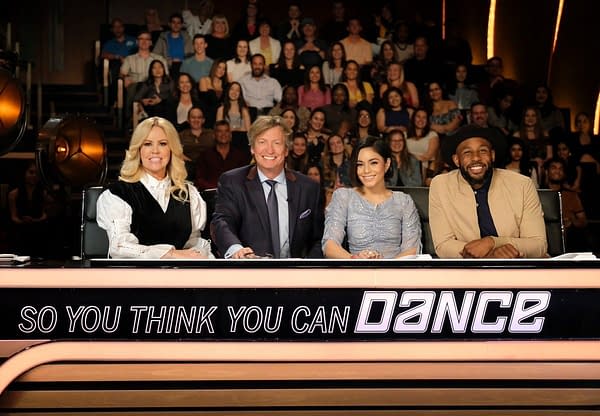 Judges for this part of season 15 are former So You Think You Can Dance contestant Twitch, actress/singer Vanessa Hudgens, ballroom champion and Hot Tamale Train conductor Mary Murphy, and series creator Nigel Lithgow. Longtime series host Cat Deeley is back as well.
If you want to know what happened and who we saw last week, you can catch up here.
This week sees the whittling down of the top 10 guys into a top 5 (we'll be updating live):
The episode begins with a recap of last week's ladies finals (Hannahlei, Jensen, Madga, Genessy, and Chelsey)
The all-stars for the guy's rounds are Allison, Chelsie, Comfort, Jaimie, and Lauren
Cole (ballroom) is up first, he's paired for contemporary with Jaimie in a piece by Travis
He's so fluid, I'm shocked he's ballroom. He's so good here.
What a beautiful piece. Wow.
Nigel compliments Cole on his movement and his genuine performance.
Jay Jay is doing cha cha with Chelsie
Ooo he's doing good, those toes and his performance
Vanessa calls the performance flawless, Mary says they're drawn to him when he performs
Slavik (Hip Hop) jazz with Allison by Tyce
Good partnering, but Allison is just dancing circles around him (rightly so because she's amazing)
And as always, when Tyce does anything other than broadway, it's good
Justin (contemporary) is doing a hiphop piece with Comfort by Luthor
He's hitting and poppin' really well with her, no easy feat
Mary says he's not heavy enough in the movements
Peyton (contemporary) is a 3rd-time auditionee for the show, and will be doing cha cha with Chelsie
He's thinking to hard, counting visibly, and almost missed a hand connection, but is selling it.
Kyle (animator) is doing a contemporary piece with Lauren by Travis
He's struggling a bit, can't tell if that's him or by design in the piece.
Nigel tells him to be proud of himself, for the journey and the performance.
Evan (tap) is doing a contemporary piece with Allison
He's not taking the notes seriously about feeling the moment, rather than performing. He almost cracks a smile during a serious part. There is no denying he's good though.
Dustin (animator) is doing jazz with Jaimie
Kudos to Tyce with using Dustin's style peppered in the piece
Alan (the shirt ripper from two weeks ago) is doing jazz with Lauren
Unsure if this is just a bad routine or if he's really that big of a mess
Darius (contemporary) was concerned about connecting with the judges with his moody routines. He's doing hiphop with Comfort
Daaaang he's selling every part of this. The joy, the fun, he's doing exactly what the judges asked for- fun and happy.
Vanessa says she feels like she got to know him through that routine, can't argue.
Alright, time for the cut.
The 10 lads are brought out, only 5 will remain.
Justin gets cut, Evan makes it, Jay Jay makes it, Alan gets cut, Cole makes it, Dustin gets cut (Nigel begs him to come back next year), Peyton gets cut, Darius makes it, Slavik makes it in, Kyle gets cut.
The final 5 guys are Evan, Jay Jay, Cole, Darius, and Slavik.
***
So You Think You Can Dance airs on FOX on Mondays.
Enjoyed this article? Share it!