Let's Talk About Sweetbitter Season 1, Episode 3, 'Everyone Is Soigné'
STARZ doesn't get enough credit for their series, but I personally think Sweetbitter might change that. While only half-hour episodes, the series has tremendous promise.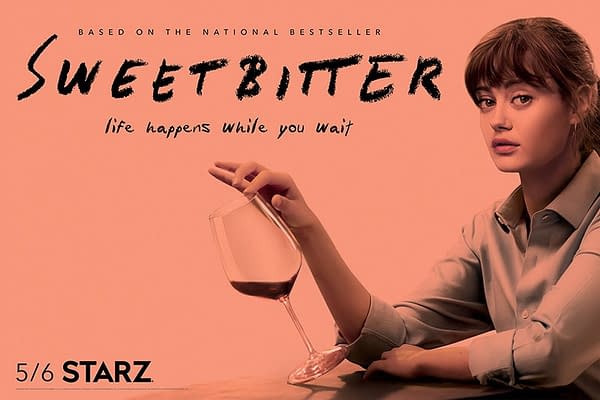 True, it's right up my personal alley — as someone who has a love affair with the culinary world, Sweetbitter is exactly the type of show that caters to me. This is series is based on Stephanie Danler's book of the same name, and this is her first writing credit on a series, which shows tremendous promise and obviously belief from STARZ.
The premiere episode of the first season of Sweetbitter series, 'Salt', was short but sweet and did its job introducing us to main character Tess, played by Ella Purnell. Episode 2, 'Now Your Tongue Is Coded', continued Tess's education in the world of senses, as well as her first night of vices.
Episode 3's synopsis reads:
Tess meets Serena, an alumna of the restaurant who married one of their wealthiest guests. Serena and Simone were best friends. To Tess, Serena has the perfect life. Simone teaches Tess not to believe everything she sees.
Things that happened in s1e3:
The episode starts with Tess at home, she's brought plates from the restaurant home with her to practice
We get a flash of her at work earlier, burning her arm and dropping plates
Will (Evan Jonigkeit) once again swoops in to help,
Tess tells Simone about dropping plates, and it does seems like they're getting on well
Simone (Caitlin FitzGerald) is pulled away for a minute, in order to attempt to fit in a reservation for someone who used to work there named Serena
"The things that come easily to us are not what define us, we find the edges by challenging ourselves," Simone says to Tess. One of those fabulous lines I want to remember.
later that evening, Tess brings Will home and he sees the full tablesetting she's stolen in order to practice carrying and setting
Will shows her how to best to three-plate carry, heating plates over her stove in order to get her used to the heat on her inner forearm
"It hurts for a second and then it fades," he tells her
Oh he gets major points for asking if he can kiss her before making a move
This of course will more than likely not end well for either of them, but making out while continuing to hold three plates is pretty great practice
Will goes a little farther down, and she eventually drops the plates
The next day Jake (Tom Sturridge) tells Tess the all-important rule of kitchen speak, "Behind"
Ari (Eden Epstein) admits to Tess that they're kind-of-sorta friends, and Tess tells her about her evening with Will
Turns out that Heather (Jasmine Matthews) also slept with Will, tells Tess to be nice to him because he's sweet
While burning ice behind the bar, Jake sees Tess's tiny star back tattoo and they have a moment
End of shift comes, and everyone is having their evening drinks.
Howard (Paul Sparks) stops in to say goodnight to everyone, and informs Simone that he's made room in the reservations for Serena
Will and Tess spend the night together again
The next night, Tess ends up serving Serena's table and gets introduced to them
It gets a little awkward, when it's revealed that Serena married a long-time regular of the restaurant
Tess gets sent to fetch a bottle of wine from the seller, and comes across Serena and Simone talking, not too kindly
Simone reveals to Tess later on the secrets of Simone's discussion, how she 'settled for the safe choice', which Simone obviously disagrees with
Tess again tells Simone how much she wants to learn, and Simone offers her books and time.
Will asks Tess to spend her first day off with him, and instead of telling him why she says no, she hides that her plans are to spend the day learning with Simone.
The episode ends with her again sitting by herself in the empty restaurant.
***
There is such sweet-bitter truth to this show; beautiful exchanges with people you can completely believe are based on real personalities. My only real complaint three episodes in is that this would almost work better as an hour-long rather than 30 minutes.
Sweetbitter airs on STARZ on Sundays.