STARZ doesn't get enough credit for their series, but I personally think Sweetbitter might change that. While only half-hour episodes, the series has tremendous promise.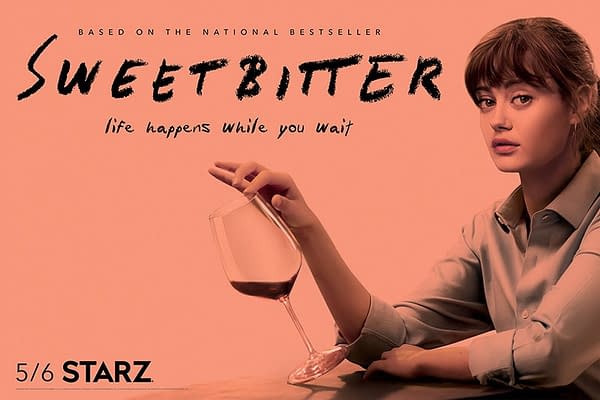 True, it's right up my personal alley — as someone who has a love affair with the culinary world, Sweetbitter is exactly the type of show that caters to me. This is series is based on Stephanie Danler's book of the same name, and this is her first writing credit on a series, which shows tremendous promise and obviously belief from STARZ.
The premiere episode of the first season of Sweetbitter series, 'Salt', was short but sweet and did its job introducing us to main character Tess, played by Ella Purnell. Episode 2, 'Now Your Tongue Is Coded', continued Tess's education in the world of senses, as well as her first night of vices. Episode 3, 'Everyone is Soigné', introduced a former employee at the restaurant, some character bond strengthening, and a choice for Tess. Episode 4, 'Simone's', was a beautiful exploration of Tess's relationship with Simone and more insight into who Simone actually is. Episode 5, 'Weird Night', certainly was — drugs and danger and beauty.
You can catch up with what happened last week here.
The synopsis of the season finale — episode 6 — reads:
After partying until sunrise, Tess is not in an ideal state for her exam; the day's events make her question if it is really worth it.
Things that happened in s1e6:
*The episode picks right back up from 5, with Tess laying in the hospital bed with Sasha.
*"You should go back to where you're from," he tells Tess
*Tess heads back to her place to do some last minute cramming for her test
*A montage of her moving things and pouring over her index/flash cards
*Wow, flashes of the test prove it's no freaking joke
*While she's taking the test, she's getting flashes of everyone on staff asking her questions, both personal and related to the test
*Will takes the test from her, and tells her she's the backwaiter tonight- she'll serve, he'll watch
*Simone is back, and greets Tess as 'Little One'
*"Nerves just mean that you care," Simone says.
*Tess is off to a pretty good start, three-plate carry and specialty wine suggestion for a birthday
*She's doing so well, being focused.
*And then Jake comes in. UGH. No. Don't fall for it.
*Stop distracting her, Jake!
*Ari thanks Tess for helping with Sasha, and Tess asks for advice about Jake and Simone.
*"You can't have them both. Just bang them both," Simone says.
*Tess comes back out to drama at the bar, with Serena's husband being super aggressive towards Jake at the bar.
*Jake storms out, and Tess tries to stop him to find out what the fight was all about.
*Jake reveals that Simone is sleeping with Serena's husband, and that's why the issue
*Tess is stunned
*She heads down into the wine cellar to retrieve a bottle, and hears Simone and Jake arguing about Jake telling her
*The moment is angry and passionate, and the relationship between Simone and Jake is still a mystery. She treats him like a brother, but with an edge of previous intimacy that comes with being lovers
*Tess goes back out onto the floor in a bit of a daze, she can't stop watching Jake behind the bar.
*Turns out she pulled the WRONG bottle, instead of a 2006 she pulled a 1986, and Howard calls her out on it.
*Tess panics, and falls down the stairs with an arm full of dishes.
*The staff rushes to help, Will running to get her ice, Ari with a diffuse of the moment on the floor
*Howard brings Tess into his office, Simone and Will are both there. She apologizes for embarrassing Howard and the restaurant, and that she wants to go back out for her shift.
*Soon as she leaves, Howard asks Will for his assessment of Tess
*Will gives her a pretty great review, that yes theres' gaps in her knowledge, but she asks questions. He says she failed her trails, but he suggests to give her another week of training.
*Simone takes the moment to talk to Howard about Tess's relationship with Will, and that "we have things in place to prevent this stuff."
*Howard tells Simone that Jake's time is about over at the restaurant, and lets her know that he knows about Simone's infidelity
*She tries to out cool Howard, using his own relationship with a hostess to try and keep Jake and get rid of Tess.
*Back out on the floor, Will tells Tess that she did treat him pretty horribly, but that he thinks she belongs with them at the restaurant
*She questions everything, and her defeat is controlling her
*After shift, Tess opens her locker to find one of the striped shirts of a server waiting for her.
*Simone congratulates her, and tells her to try on the shirt
*"It's time to give yourself permission to want things," Simone tells her
*Simone warns Tess to "be careful", about the stairs, but it's obvious that's not really what she's talking about in the moment.
*The episode ends with Tess, ready to carry plates, hearing all the little phrases that she's witnessed so far, "Is this what you wanted?" the last one we hear.
***
UGH, STARZ, PLEASE PICK THIS UP FOR ANOTHER SEASON. I would love to know what happens next. What is Howard's actual endgame? What is Simone's? Is she really as manipulative and yet wounded as she seems? Will Tess really go for it, and succeed?
The focused reality of these characters is something I personally would very much enjoy more of, so hopefully it'll be picked up.
Enjoyed this article? Share it!