Bleeding Cool's Macy's Thanksgiving Day Parade Balloon/Float Guide: Goku, Grinch, Toothless, and More!
Whether it serves to bring the family together, get the family to shut up, or give a family member an escape from the "joys" of the holidays, this year's 92nd Annual Macy's Thanksgiving Day Parade® will take to the streets of NYC this Thanksgiving, starting at 9 a.m. ET and broadcast on NBC. Over the course of three hours – and many, many city blocks – viewers will treated/haunted by a sea of balloons, floats, marching bands, clowns, and live-ish performances.
Don't forget to join us this Thanksgiving morning for Float This! Bleeding Cool's Macy's Thanksgiving Day Parade Live-Blog! as we take a righteously funny look at one of "Turkey Day's" proudest traditions. So check out the main website (Bleeding Cool) at 9 a.m. ET to join the fun!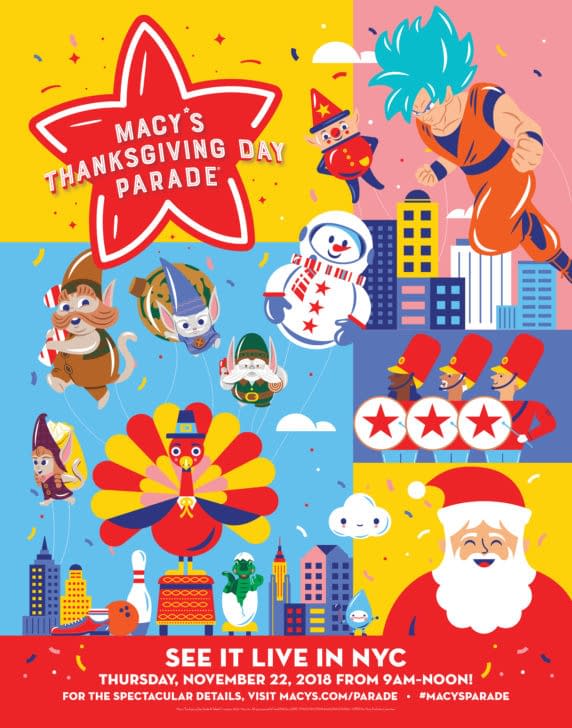 "This year's Macy's Thanksgiving Day Parade will redefine spectacle with a jaw-dropping mix of must-see entertainment for millions of spectators. Featuring an amazing line-up of high flying balloons, dazzling animated floats, world-class marching bands and performance groups, the nation's top music artists, and of course, the one-and-only Santa Claus, the Macy's Parade will once again herald the arrival of the holiday season."

– Susan Tercero, Executive Producer, Macy's Thanksgiving Day Parade
But before the one-and-only Santa Claus makes his parade-ending avenue run, your friends here at Bleeding Cool are offering you a pop culture float/balloon "cheat sheet" of what to look forward to come Thursday morning. From Charlie Brown and the Red Ranger to Goku and The Grinch, there's quite a lot this year for those "thankful" enough to let their geek flags fly!
Just keep this in mind (…ready for this?): 16 giant character balloons; 43 novelty balloons, heritage balloons, balloonicles, balloonheads and trycaloons; 26 floats; 1,200 cheerleaders and dancers; more than 1,000 clowns; and 12 marching bands. The parade route will also be packed this year with a wide range of artists set to perform, including Barenaked Ladies, Jack & Jack, John Legend, Leona Lewis, Martina McBride, Rita Ora, Diana Ross, Sugarland, Carly Pearce, Pentatonix, and the cast & Muppets of Sesame Street.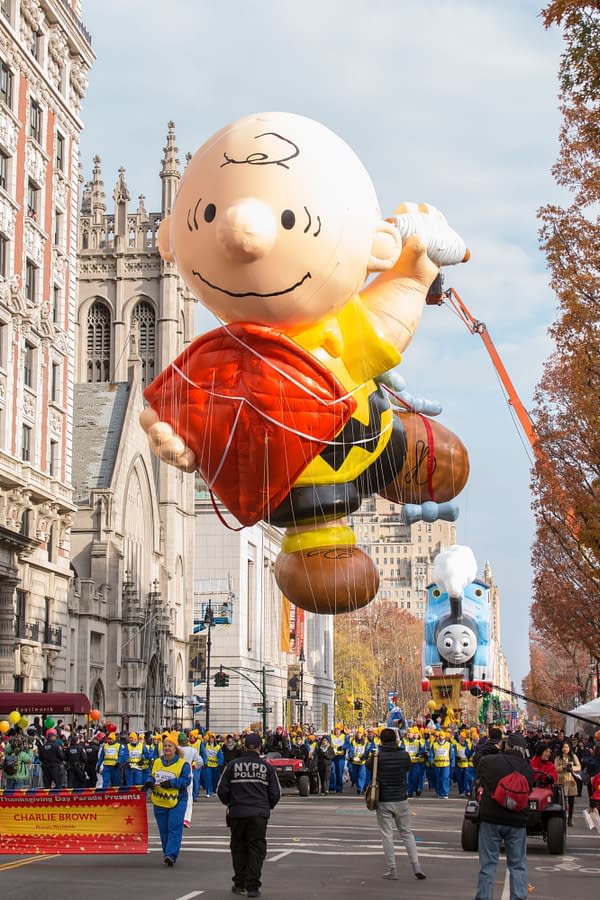 Everyone's favorite blockhead, PEANUTS' Charlie Brown once again flies through New York City with his trusty kite. This November, Charlie Brown will practice his flight moves ahead of next year's celebration of the 50th anniversary of man- and beagle-kind landing on the moon! The celebration kicked off in July with the signing of a Space Agreement with NASA to bring the joy of space exploration to a new generation. Despite getting tangled with his kite's tail, Charlie Brown is sure to arrive just in time to 34th Street for his big moment in the spotlight.

Balloon Dimensions: 53-feet long, 31-feet wide, 46-feet tall

Fun Fact: Charlie Brown's famous kite measures 26-feet wide and nearly 30-feet tall and its tail is more than 80-feet long.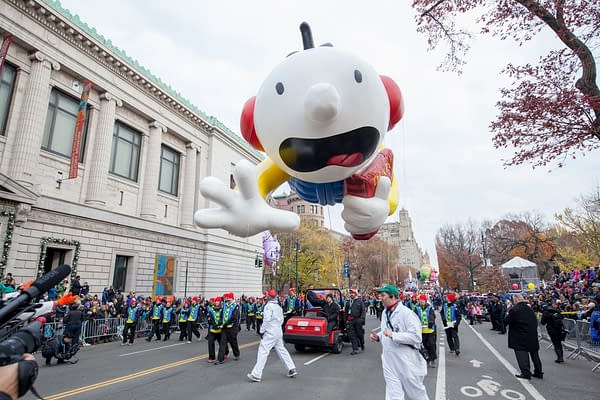 The mega-popular star of the internationally best-selling book series, Greg Heffley will fly in the Parade for the ninth time this Thanksgiving. The second edition of the Diary of a Wimpy Kid balloon takes its third trip down the Parade route celebrating the release of the 13th book in the series, "Diary of a Wimpy Kid: The Meltdown." As always, Greg will delight millions of fans as he seemingly slips on ice during his Parade march down the streets of New York City.

Balloon Dimensions: 62-feet long, 32-feet wide, 62-feet tall

Fun Fact: 2018 marks the ninth Parade appearance for Diary of a Wimpy Kid, and the third flight of the latest version of the main character Greg Heffley as a balloon giant.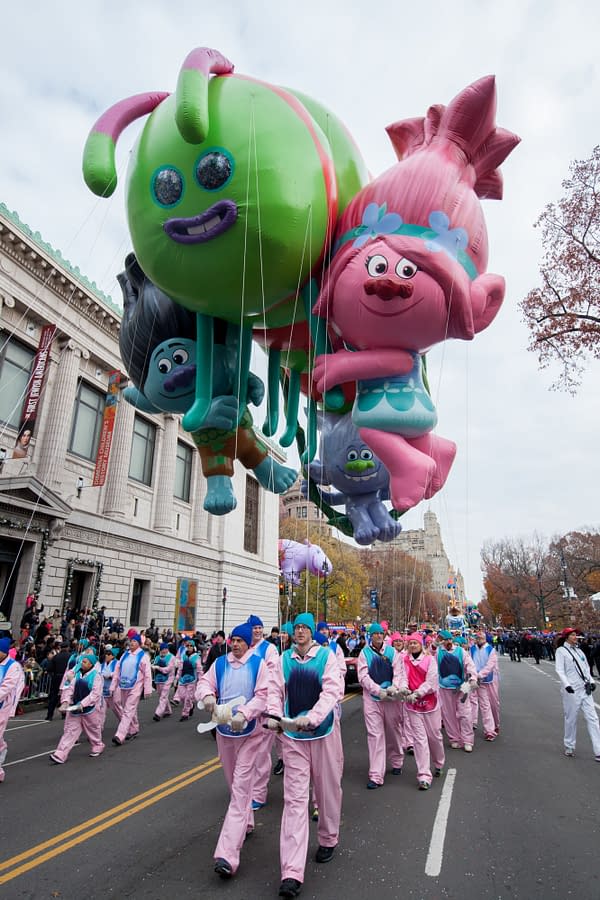 TROLLS stars Poppy, Branch and Guy Diamond will once again fly and swing down the Parade route on their Caterbus. Officially kicking off the holiday season, the Trolls will spread color, joy and cheer to a nationwide audience on both the route and in DreamWorks' Trolls Holiday this fall.

Balloon Dimensions: 57-feet long, 38-feet wide, 38-feet tall

Fun Fact: Each of the Troll's iconic hair is more than 12-feet tall.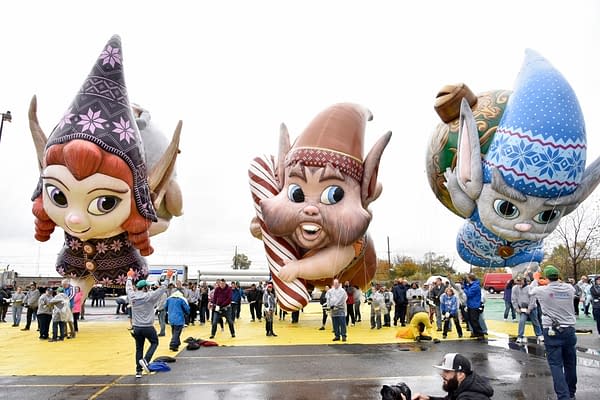 Meet Fleck, Bjorn, Jojo and Hugg. These charming elves will help Santa save Christmas in the new Netflix film "The Christmas Chronicles." You can often find tiny Fleck carrying Santa's bag tracker and Bjorn in a candy cane-fueled toy-making frenzy, while troublemaker Jojo delivers letters to Santa and Hugg is hard at work making toys with his chainsaw.

Balloon Dimensions: 16, 20-feet wide, 30-feet tall

Fun Fact: The Christmas Chronicles elves are the first Netflix balloons to be featured in the Parade.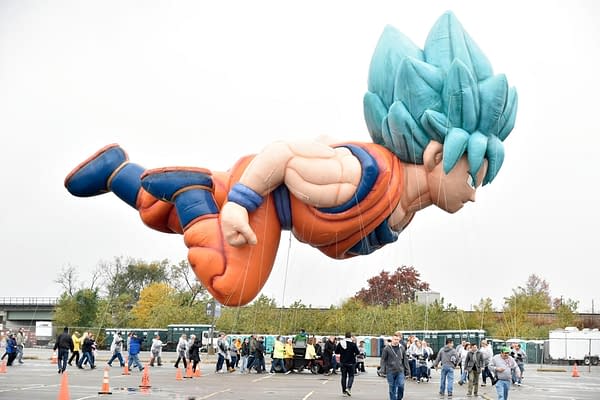 The legendary hero of Dragon Ball takes to the streets of Manhattan for his Parade debut this year ahead of his starring role in the North American theatrical release of Dragon Ball Super: Broly this January. Goku, the star of the iconic Japanese animation franchise Dragon Ball, is a Saiyan warrior who was sent to destroy Earth as a child. When a brain injury changed Goku's programming, he became peaceful, good-natured, loving and honest – many adjectives that describe the celebration of Thanksgiving!

Balloon Dimensions: 70-feet long, 36-feet wide, 56-feet tall

Fun Fact: The Goku balloon is depicted in his new Super Saiyan Blue form, which represents a new era of the Dragon Ball franchise.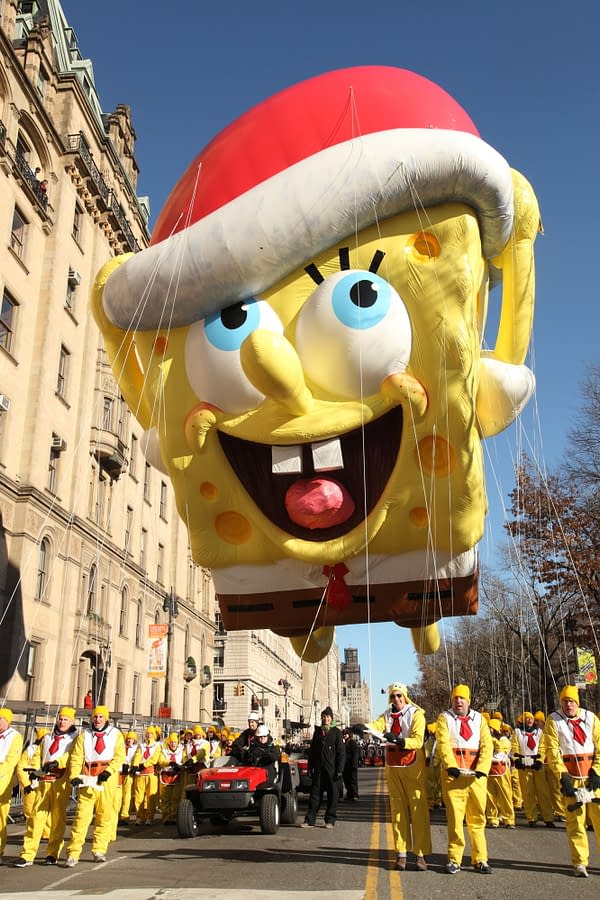 The nation's favorite pineapple-dwelling sea sponge, will celebrate his 14th Parade this Thanksgiving. Next year, Nickelodeon invites fans to join a celebration of 20 years of SpongeBob – one of the most beloved animated characters in TV history – with a new season of episodes, events and more.

Balloon Dimensions: 41-feet long, 34-feet wide, 44-feet tall

Fun Fact: SpongeBob SquarePants defied gravity as the first-ever square Parade balloon and is pulled into his signature shape by more than 800 internal tie-lines.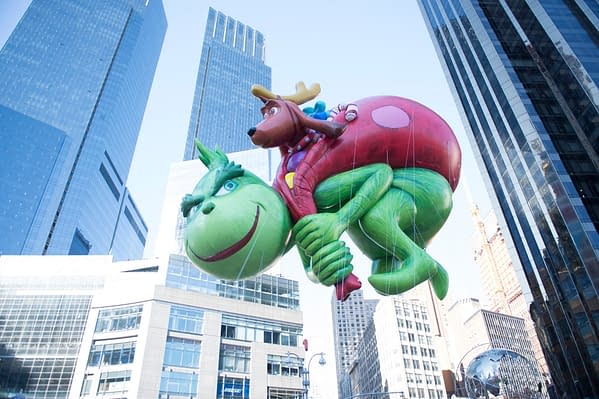 Everyone's favorite Christmas curmudgeon returns this Thanksgiving as The Grinch, along with his loyal dog Max, return to the Parade route trying to steal more than just Santa's thunder. With a sack full of toys the duo celebrates their second Parade this year and the release of the new comedy Illumination Presents Dr. Seuss' THE GRINCH

Balloon Dimensions: 49-feet long, 24-feet wide, 37-feet tall

Fun Fact: The Grinch and Max are only the fourth-ever giant balloons to take flight as a duo in the Parade's history.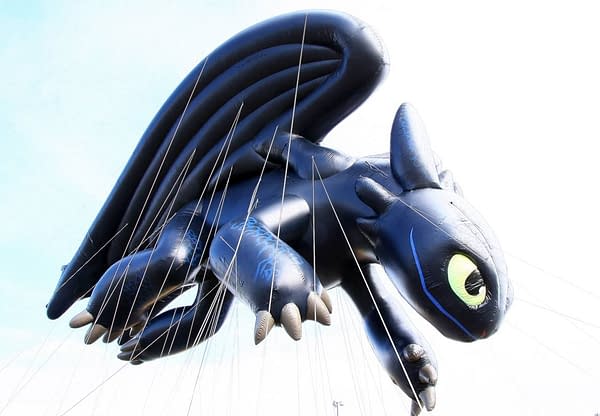 The world's most heroic dragon, Toothless will return this fall for a new flight down the Parade route. The famed Night Fury will fly above the streets of Manhattan, before he and his Viking friend Hiccup are seen in DreamWorks Animation's How to Train Your Dragon: The Hidden World ,which opens in theaters nationwide this winter.

Balloon Dimensions: 72-feet long, 36-feet wide, 48-feet tall

Fun Fact: This midnight-colored dragon used a special paint to get his signature color. It collects heat in order to properly conserve his helium filled structure.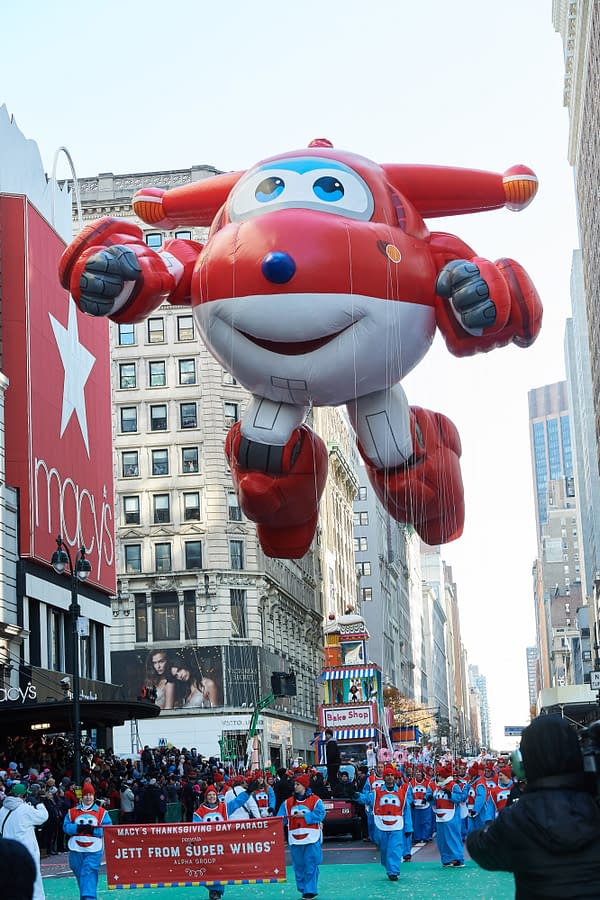 Jett, the fun-loving transforming plane from the animated preschool series Super Wings on both Netflix and Universal Kids, is used to adventure as he travels the world delivering packages to children and solving problems along the way. This November he will be fueled and ready for takeoff on his second flight through the streets of New York City Thanksgiving morning.

Balloon Dimensions: 47-feet long, 39-feet wide, 31-feet tall

Fun Fact: Jett made his debut in 2017 and is the widest balloon in the Parade — his wingspan is equal to the size of an actual Learjet.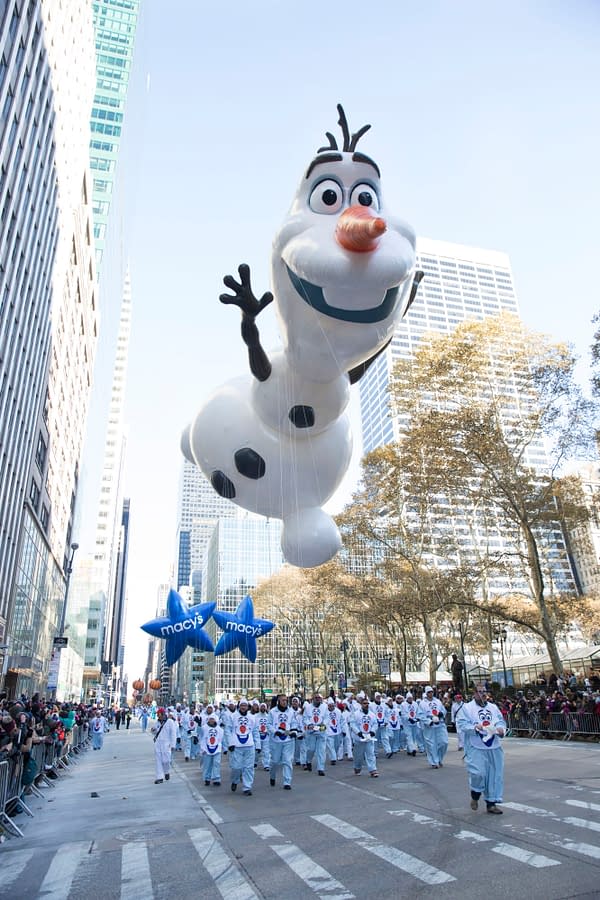 Olaf, the beloved snowman from Disney's Frozen, returns to the Macy's Parade with his usual cheerful disposition on full display. Taking a break from his starring role in the hit Broadway Musical Disney's Frozen, Olaf will spread dazzling smiles down the route, warming the hearts of millions of spectators this Thanksgiving.

Balloon Dimensions: 58-feet long, 32-feet wide, 60-feet tall

Fun Fact: Olaf is the first-ever Macy's balloon to glisten, mimicking real snow. This required perfecting the right mixture of white shades of paint and glitter that truly make Olaf standout as he takes flight down the Parade route.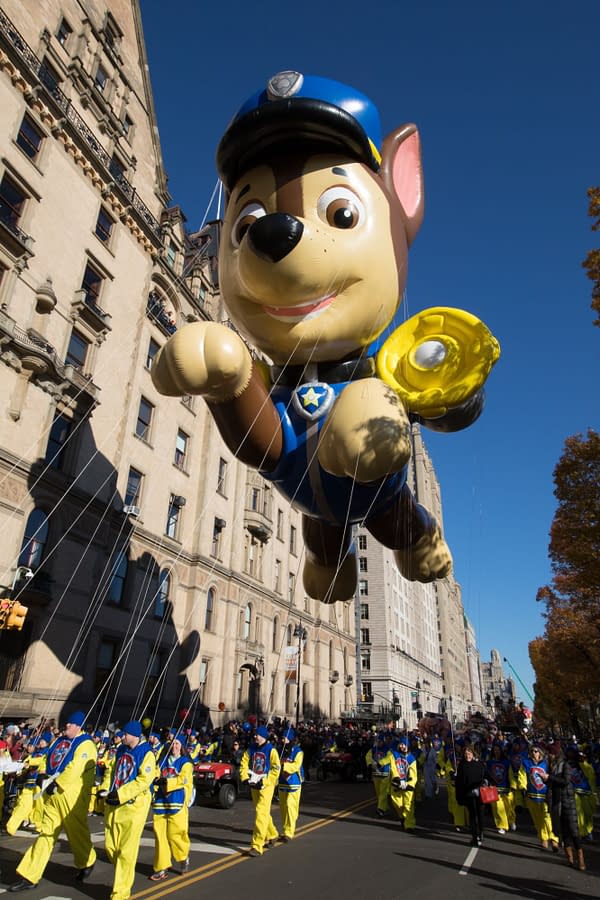 Showing the citizens of New York that "no job is too big, no pup is too small" Chase the Police pup from the popular preschool series, PAW Patrol, is ready to protect all as he flies down the 2.5-mile route this November.

Balloon Dimensions: 60-feet long, 36-feet wide, 43-feet tall

Fun Fact: Chase's hat could cover an actual police squad car and his paws are larger than two full-grown German shepherd dogs.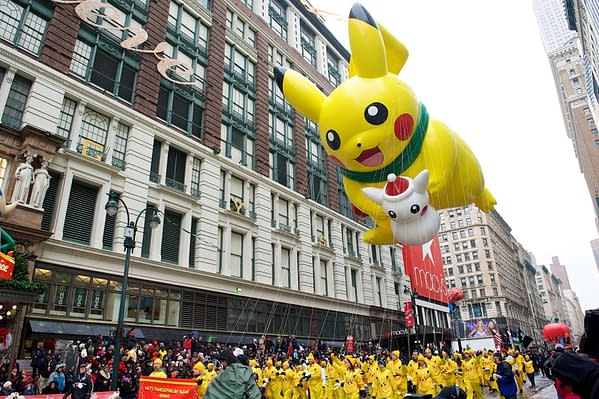 The much-loved Pokémon Pikachu returns to the Macy's Thanksgiving Day Parade for the 18th consecutive year – just in time for the launch of Pokémon: Let's Go, Pikachu! and Pokémon: Let's Go, Eevee, the newest video games from the popular entertainment franchise. This year, Pikachu is bundled up in a warm scarf for the chilly New York weather, ready to celebrate the beginning of the holiday season with fans.

Balloon Dimensions: 36-feet long, 29-feet wide, 53-feet tall

Fun Fact: While the Parade's third version of Pikachu is of giant proportions, Pikachu in reality officially measures just 1-foot, 4-inches tall.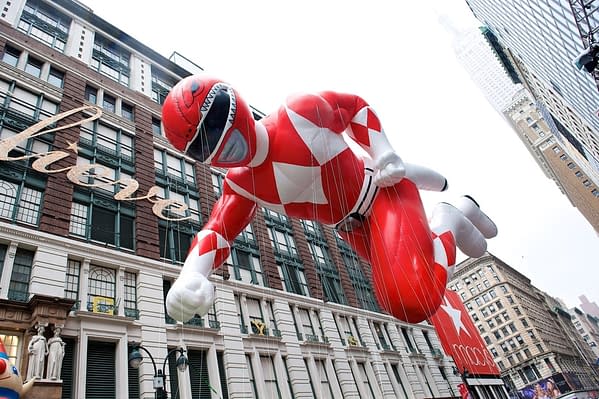 The 92nd Parade marks The Power Rangers' historic 25th anniversary. It remains one of the longest running live action children's series in television history. The iconic Red Mighty Morphin Power Ranger balloon will remind millions of Parade spectators that it's Morphin Time! this Thanksgiving.

Balloon Dimensions: 77-feet long, 26-feet wide, 56-feet tall

Fun Fact: The larger than life Red Mighty Morphin Power Ranger is the longest balloon in the Parade; one of his arms is the length of a standard school bus at 45-feet.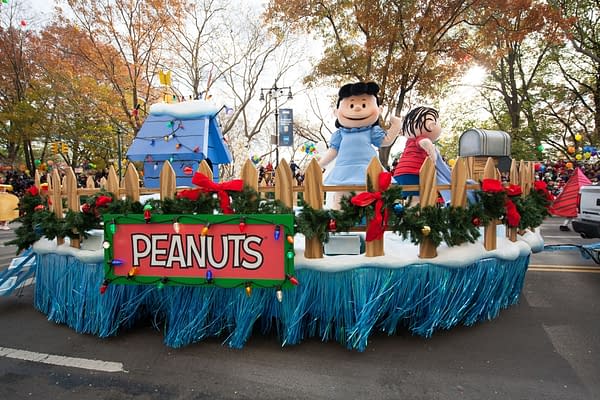 Celebrating the holiday classic, A Charlie Brown Christmas, this fan favorite returns to the famous route under the longest running Parade partnership. This classic float features a mailbox full of holiday cards and letters, a dish full of dog bones, Charlie Brown's beloved tree and the doghouse complete with holiday lights.

Float Fact: Although Snoopy's doghouse is mostly associated with a red roof, the float's doghouse features a blue roof as it represented in the animated film.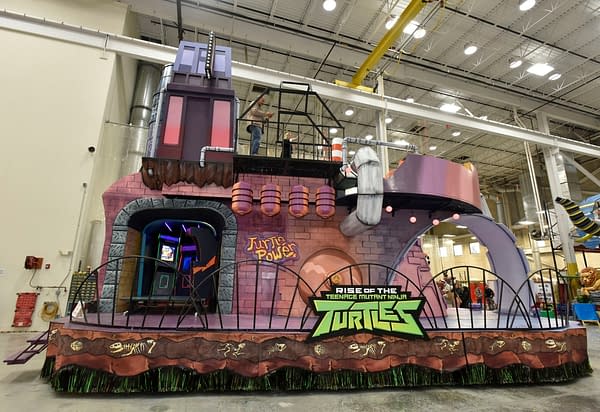 Rising from the city sewers to save the day, the wildly popular Teenage Mutant Ninja Turtles (Raph, Leo, Donnie, and Mikey) are equipped with an irreverent sense of humor and action-packed moves to fend off the bad guys.

Float Fact: The new Rise of the Teenage Mutant Ninja Turtles float gives the crowd a glimpse into the Turtles' secret lair hidden beneath the New York City streets.

Performance by: Jack & Jack
Sesame Street has been a beloved part of the Macy's Parade since 1969. This Thanksgiving – gearing up for next year's 50th anniversary celebration – they'll be back again to help kids everywhere grow smarter, stronger, and kinder! On the stoop of 1-2-3 Sesame Street, fans of all ages will meet their favorite furry friends and cast as they celebrate the holidays, create heartfelt moments, and build a lasting love of learning.

Float Fact: In 2018, Sesame Street will celebrate its 49th consecutive year in the Parade.

Performance by: Anika Noni Rose and the cast and Muppets of Sesame Street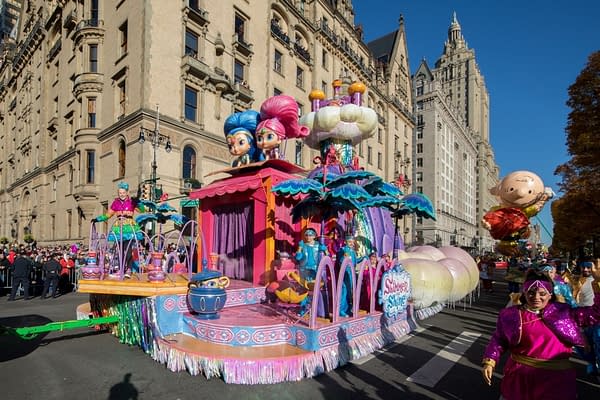 Twin genies-in-training, Shimmer and Shine, embark on extraordinary adventures as they travel to the whimsical world of Zahramay Falls with their best friend Leah and their playful pets. With this vibrant float based on the hit animated preschool series "Shimmer and Shine," expect lots of glitter, gems and jewels to bring unique elements from the series to life with a lively marketplace, floating palace, rainbow waterfall, and of course, Shimmer and Shine on their magic carpet.

Float Fact: The "Shimmer and Shine" float will be a colorful animated wonder with many elements moving or seemingly floating in the air.

Performance by: Ally Brooke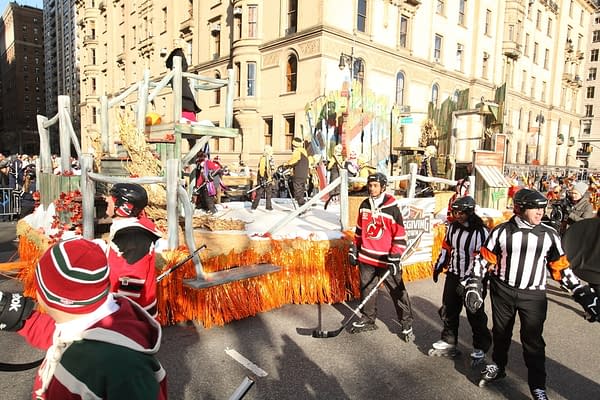 Hockey fans will get a front row seat to the NHL action on Thanksgiving morning with the return of the Discover NHL Thanksgiving Showdown™ and a special whimsical preview on the Frozen Fall Fun float. As they ride down the streets of New York, kids and legendary NHL goalies Bernie Parent and Mike Richter will take turns testing their slap shot skills against the giant Turkey goalie.

Float Fact: Although made of synthetic ice, the rink's hard surface allows for real skating.

Performance by: Bazzi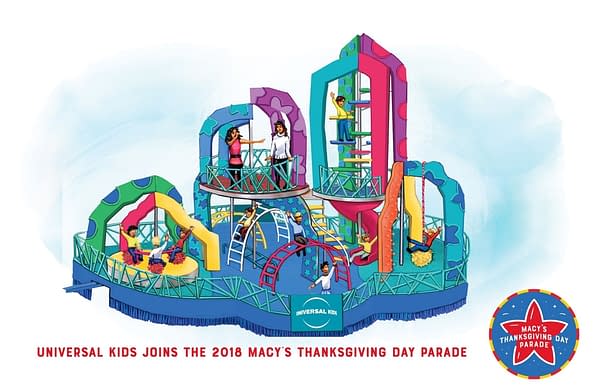 The Universal Playground is a vibrant, fresh, and modern jungle gym which highlights the importance of imagination and play at all ages. Just as the Universal Kids network celebrates what makes kids awesome, the float invites kids to have fun in every step, try new things, explore their worlds, and find their passions.

Float Fact: The Universal Playground float design was inspired by modern art and cut paper sculpture.

Performance by: Brynn Cartelli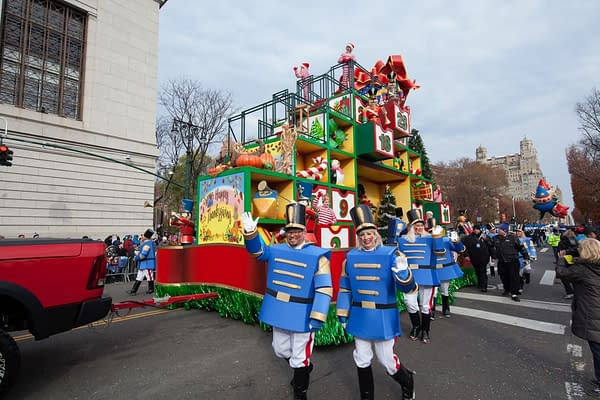 At three stories high, this traditional holiday calendar will float down the streets of Manhattan, inspiring spectators to kick-off the holidays and treasure each day of the season. As a premier destination for holiday entertainment, this year Hallmark Channel will celebrate Thanksgiving with five new original films.

Float Fact: The float features a heartwarming fireplace centerpiece, which brings together the idea that at the heart of the busy holiday season, a gathered family holds everything together.

Performance by: Diana Ross accompanied by her family including Rhonda Ross, Tracee Ellis Ross, Chudney Ross, Ross Naess and Evan Ross with wife Ashlee Simpson-Ross
Images: Macy's Thanksgiving Day Parade