The Magicians continue on their quest to obtain the seven keys that will allow them to bring back magic to the world. And this particular key is rather interesting to get.
The A story focuses on Quentin (Jason Ralph) and Eliot (Hale Appleman) going through a clock into Fillory's past. They have the task of solving a ten foot by ten foot puzzle filed with small square tiles, and they have to put those tiles in the correct sequence. These two friends spend a literal lifetime trying to solve the puzzle. We watch them through the years live, take in a child, watch him grow up, and eventually move out on his own, all the while these two grow older and older trying to solve the riddle… and once they do, the end up back where they started like they'd never left, but with a lifetime of memories in their heads.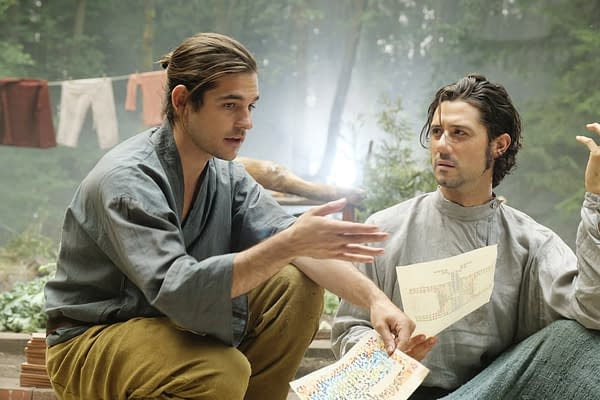 The B story focuses on Alice (Olivia Taylor-Dudley) and Julia (Stella Maeve), who have drastically changed roles since the first season. Julia was rejected from the school and supposed to forget magic existed while Alice came from a magical family and it seemed to come easy to her. As we've explored the hell that both of these characters have endured over the two plus seasons so far, we find a Julia who has magic and would give anything to give it away because of what she had to suffer to get it; and an Olivia who doesn't know who she is without magic and is desperate to get it back.
The video below takes us inside the episode and talks with the cast and crew about the relationships between these characters.
The Magicians airs on Wednesday at 10 p.m. ET on Syfy.
Enjoyed this article? Share it!