Main Event Mystery Opponent(s) Revealed: Impact Slammiversary
Impact Wrestling's Slammiversary PPV continues and so does Bleeding Cool's live ongoing coverage with the final match of the night. This PPV has been eventful so far. The Motor City Machine Guns returned to take on Rascalz in an open challenge. Moose had a hardcore match with Tommy Dreamer. A new #1 contender was decided in a Knockouts Gauntlet Match. Heath Slater invaded Impact. Chris Bey and Willie Mack put on a fantastic match. Heath Slater got kicked out of the building. Ken Shamrock and Sami Callahan took on The North in a decent match that devolved into chaos. The Motor City Machine Guns showed up again to challenge the winners to a match on Tuesday. And Deonna Purrazzo and Jordynne Grace went to war over the Knockouts Championship.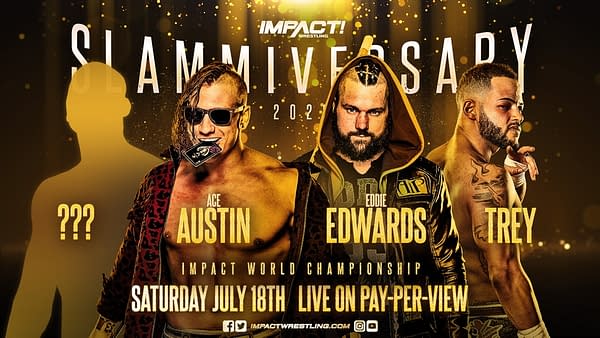 All that's left is the main event, a four-way match between Ace Austin, Trey, and Eddie Edwards to crown a new Impact World Champion. They'll be joined by a mystery opponent, and I'll just point out that though they've been teased all night, Gallows and Anderson haven't appeared yet, so they could get involved here too.
After we see a video package for the main event (which we actually already saw on Impact on Tuesday), it's time for us to finally get a payoff to weeks worth of teases about a former Impact World Champion. Ace Austin comes out first with Madman Fulton. Then Trey. Then Eddie Edwards. Finally, the mystery opponent is… Rich Swann?!
Swann comes out dancing with his crutches. He's all better. But, er… weren't we promised a returning former World Champion?
Hang on now, more music plays, and Eric Young comes out, head and beard fully shaved which shows his age. I guess we're making this a five-way? Young says we're looking at a world-class surprise. Young recalls winning his world title at Slammiversary back in the day and he's gonna do it again tonight. now the match starts. This is an elimination match.
Early in the match, Eddie Edwards gets involved and gets slammed on the ring apron by Madman Fulton. The ref ejects Fulton from ringside. Fulton wants to murder the ref, but Austin talks him out of it. With Fulton gone, all five competitors get down to business, which is far too fast-paced for me to have any hope of keeping up with here in this live report.
E-Y gets his eyebrow busted open at one point and rolls out of the ring. Trey and Ace Austin, who have the biggest individual beef in this feud, get some time alone in the ring. In one insane spot, Eddie Edwards and Trey are running the ropes with Rich Swann sitting on the floor against the ring. Trey dives out through the ropes and hits a Canadian Destroyer on Swann from Swann's sitting position. I don't even know how that physically worked, but it was god damn impressive.
Unfortunately, that will be all for Trey. Trey is the first person eliminated from the match off a piledriver by Young. Young and Swann face off next in the ring. In a cool spot, Ace Austin and Eddie Edwards are battling on the turnbuckles and Young powerbombs Swann off of them, knocking them out of the ring and through a table on the floor.
Eric Young was the right choice for the mystery guest here. Yes, he was arguably the lowest profile guy released from WWE April, but he meant a lot more to TNA and having the returning "former World Champion" be a TNA original who was the heart of TNA at one point in time is both more satisfying from a continuity perspective and also a contrast from what a lot of people thought was gonna happen tonight, which was that some mid-carder or washed up attitude era star would show up and win the Impact championship, effectively burying the entire company. The old TNA would have done that. And yes, it would have been funny. The new TNA is smarter.
Need more evidence? Young is the next guy to be eliminated by Swann. Young goes nuts afterward and beats on Swann's previously-injured leg. Young wraps a chair around Swann's leg and stomps it. Then he wraps the leg around the ropes and hits it with the chair. Security makes Young leave, but the damage is done to Swann, who is basically crying in the ring. Is this to give Swann an excuse to lose? Or to make his win more triumphant? Let's find out.
Austin comes in and goes after Swann. Swann rolls him up for a two count. He gets a backslide for a two-count. Swann is fighting Austin on one leg, so Austin kicks his leg out. Austin hits The Fold and Swann is eliminated. Don Callis says Swann will probably be injured for another year if his career isn't over. Damn, I missed Don Callis's hyperbole all these weeks.
It's down to just Edwards and Austin now. Both men have taken pretty major beatings by this point in the match so this becomes a battle of attrition. Edwards hits Boston Knee Party on Austin, but Austin kicks out. Austin hits the fold, and Edwards returns the favor. Edwards hits a mother Boston Knee Party, then Die Hard Flowsion for the win. Eddie Edwards is the new Impact World Champion.
Madman Fulton comes to the ring to murder Eddie Edwards after the match. Fulton pounds on Edwards. Josh Matthews is outraged. The Good Brothers' music plays. Gallows and Anderson come to the ring. Gallows nearly trips on the ramp. That was almost a Shockmaster entrance, Gallows! They face off with Fulton and Austin in the ring. Anderson shakes hands with Austin but pulls him into a Gun Stun. Edwards clotheslines Fulton out of the ring and the Good Brothers hit Magic Killer on Austin. Gallows calls for beers to be tossed in the ring but is unable to catch them. The celebration is interrupted by the lights going out. EC3 appears in a video wearing the hoodie from the Slammiversary commercials. He smashes the scotch glass from those commercials against a wall. And that's the end.
A few minor missteps aside, Slammiversary was a great PPV pretty much from top to bottom. Other than a lot of wasted time in the Knockouts Gauntlet Match (should have just made that a four-way), and a lack of involvement from Johnny Swinger, each match tonight delivered. Especially impressive was the main event, and in particular its booking, which avoided all the worst possible tendencies of the TNA of old. The former WWE guys (two of which are better known as Impact guys anyway) were used well, not like they're above the talent in Impact. If those former WWE names did draw new viewers to Slammiversary, they got to see what Impact Wrestling is all about.