The Motor City Machine Guns Return: Impact Wrestling Slammiversary
Welcome to Bleeding Cool's Impact Slammiversary report, looking at the most anticipated pro wrestling PPV happening this weekend. It's been a crazy build to this event, with Impactparting ways with multiple wrestlers during the build-up, including their reigning World Champion, Tessa Blanchard. The show has been rebuilt heavily around the return of "a former Impact World Champion" as well as multiple fired WWE stars and free agents. Luke Gallows and Karl Anderson have already been announced as appearing, and we could be looking at surprise appearances by EC3, Eric Young, Heath Slater, Zack Ryder, Bully Ray, the Motor City Machine Guns, and more.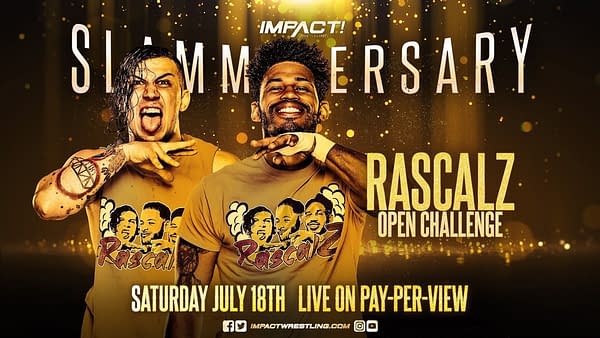 Here's how this is gonna work. This report will be posted broken up into parts by match. It will include any segments that happen before or after the match. Usually, we have a few people trading off on matches but it's just me tonight, so I want to give a big shout out to Bleeding Cool TV Editor Ray Flook for making this possible by taking these reports as I submit them live and making them actually readable.
Impact opens with a great video package using the news broadcaster shown in all the commercials for the event as narrator. Josh Matthews welcomes us to Slammiversary as The Rascalz head to the ring for their tag team open challenge. Will it be Gallows and Anderson? Or the Motor City Machine Guns? Matthews hints that it will be Gallows and Anderson.
Oh Matthews, you rogue. It's not Gallows and Anderson. It's the Motor City Machine Guns. Matthews rattles off accolades for MCMG. Alex Shelley and Wentz start off the match. This Don Callis is in the booth today with Matthews, but his headset isn't working. He finally joins in just as the match is getting started.
Using Motor City Machine Guns here was a smart choice. If it was Gallows and Anderson, you have to believe they squash Rascalz here. But the Machine Guns can put on a fast-paced and competitive opening match to kick off the show. Dez and Chris Sabin face off for a bit after Wentz and Shelley. The Rascalz maintain control for the early part of the match, but MCMG eventually gain the upper hand. The story the announcers are pushing is that Rascalz weren't intimidated by the TNA legends and went all out, but the veterans let them wear out their adrenaline and then experience takes over.
The Motor City Machine Guns were pretty unique during their TNA run a decade ago. They were known for the innovative tandem offense that is pretty much standard in tag team wrestling today. I haven't watched much of their stuff since they were in TNA, but it seems slower than I remember it. Of course, ten years can do that. They're also working as heels a little bit in this match, which is interesting because it wouldn't be possible with a nostalgia-fueled crowd present. In any case, Sabin pins Dez following a Dirt Bomb to get the win. So that must mean they've signed and will have another run in an Impact tag team division that suddenly has a lot more depth.