Maisie Williams Says Goodbye to Game of Thrones and Arya
The eighth and final season of Game of Thrones has reportedly completed filming, and that means several of the key players in the saga of Westeros have finished their time with the series.
We previously told you about Emilia Clarke's heartfelt farewell to the show as the actress posted to her Instagram account, as well as the NOT RED wedding of Kit Harington to Rose Leslie (with bonus GoT cast appearances).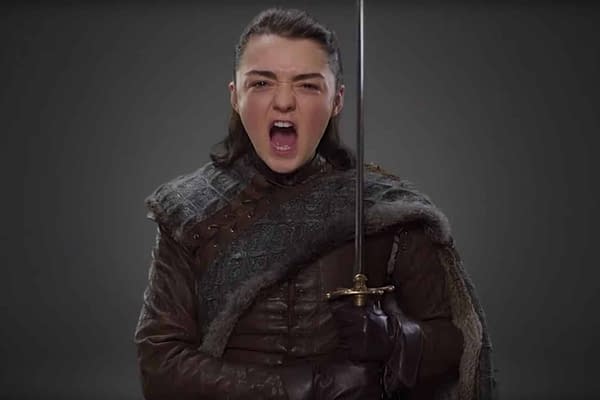 Today, it's a little bit different as Maisie Williams, everyone's favorite murderchild Arya Stark, posted a photo that some are taking as a huge nod to the possible outcome for her character in season 8.
"goodbye belfast. goodbye arya. goodbye game of thrones. what a joy i've had. here's to the adventures to come."
As to the "spoiler" possibility — if you scroll through the comments (yeah, we know, never read the comments) you'll see another notable Game of Thrones cast member chimed in.
Lena Headey, who plays Queen Cersei Lannister on the series, responded with a "YAAAAAS QUEEN!", causing many fans to speculate on what maybe this could mean. Does Arya win the game? Will she sit the Iron Throne when the ice and smoke from the war clears?
Or, more likely, was it just one cast member positively reacting to another?
Only time will tell when HBO's hit series returns for its final season sometime in 2019.