When the first season of Marvel's Jessica Jones began in 2015, one of the most interesting characters was Jeri Hogarth, played by Carrie-Anne Moss (The Matrix). Hogarth is a lawyer at a major law firm in New York that would occasionally hire Jessica as a private detective. As a lawyer and as a person she was ruthless and dedicated to getting what she wanted. She seemed to have a soft spot for Jessica (Krysten Ritter), however.
What made the character even more interesting is that she was from the comics. Jeryn Hogarth was part of the history of the Rand Corporation and helped Danny Rand get his parents' company back when he first returned from K'un L'un. Knowing that Luke Cage and Iron Fist were also slated to appear in the Marvel / Netflix universe, it was an early connection to those series as we introducing Luke (Mike Colter) himself as we bringing in Claire Temple (Rosario Dawson) from Daredevil. Those three characters established the shared universe of street-level New York.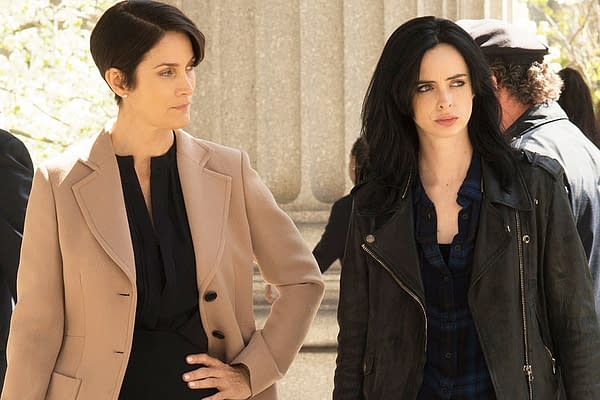 Hogarth went on to be far more than just Jessica's friend. She helped Danny Rand (Finn Jones) when he returned to the city, hired Foggy Nelson (Elden Henson) when Nelson & Murdock fell apart, and then sent Nelson to get Luke Cage out of prison. About the only person she hasn't helped is the Punisher (Jon Bernthal)… yet.
Marvel has released a new Marvel 101 to remind folks of all the things that Hogarth has been up to in the Marvel / Netflix universe in preparation of the upcoming release of the second season of Jessica Jones.
Marvel's Jessica Jones season 2 premieres on Netflix starting March 8th.
Enjoyed this article? Share it!