'Marvel's Agents of S.H.I.E.L.D.': Say Hello to Clark Gregg's "New Role" [VIDEO]
WonderCon 2019 continued to be a weekend of announcements, teasers, and trailers… ABC's Marvel's Agents of S.H.I.E.L.D. made the most of their time in the spotlight. With Clark Gregg, Elizabeth Henstridge, Iain De Caestecker, Henry Simmons, Natalia Cordova-Buckley, and Jeff Ward in attendance – along with executive producers Maurissa Tancharoen, Jed Whedon, Jeff Bell, and Jeph Loeb – the team announced that the series season 6 return was set for May 10.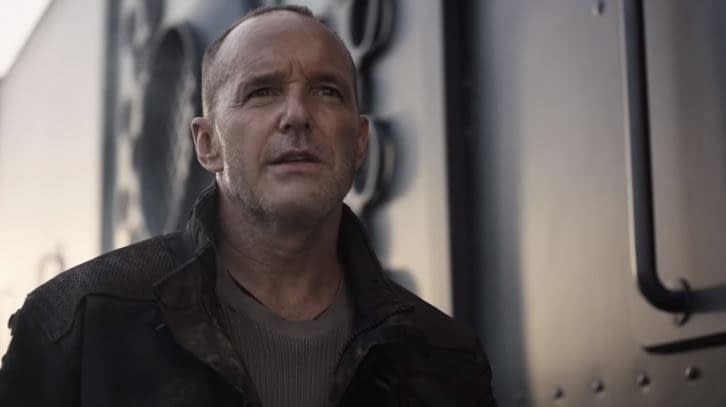 Before we get to that, however… there is the little matter of a clip that was shared with attendees (and now the rest of the fanbase) that gave everyone a very "pointed" introduction to Gregg's new role:
Now let's go back in time a little bit with a rallying cry from Loeb to the crowd in attendance for the panel…
And then there was this teaser video that found a very unique way to reveal the May premiere date:
Here's a look back at the first preview released for Marvel's Agents of S.H.I.E.L.D.:
Season 5 of Marvel's Agents of S.H.I.E.L.D. opens with a big change in setting: Coulson (Clark Gregg) and most of his colleagues are transported to a space station in the future, while Fitz (Iain De Caestecker) is left behind. The team is thrown into a world where Earth was destroyed and the Kree control everything, and they try to blend in without revealing who they really are. They also start working on finding a way back to their time and prevent this future from happening. Meanwhile, Fitz is questioned about his friends' disappearance, but when the military can't help him find them, he decides to try to bring them back on his own.
Marvel's Agents of S.H.I.E.L.D. was created by Maurissa Tancharoen, Jed Whedon, and Joss Whedon, and stars Clark Gregg, Ming-Na Wen, Chloe Bennet, Iain De Caestecker, Elizabeth Henstridge, Henry Simmons, and Natalia Cordova-Buckley.