Marvel's Iron Fist: The Best Episode of 2017
The Best of 2017 articles I'm doing this year are based on the series I covered. Where I wasn't assigned to Legion or the Gifted, I did cover Marvel's Iron Fist. And where there is a lot of negativity towards the series, I chose my best by comparing all 13 episodes against each other and looking for the one that stands out. In this particular series, the episode that stood out was the one that involved Danny (Finn Jones), Colleen (Jessica Henwick), and Claire (Rosario Dawson) leaving New York and following Madam Gao (Wai Ching Ho) out of the country. The best episode of Iron Fist season one is obvious: The Blessing of Many Fractures.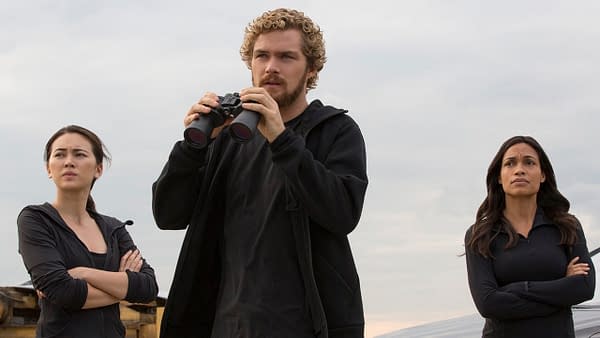 One of the things I think the series did wrong was it spent too much time on Danny Rand and not enough on Iron Fist. It was more about corporate greed and him getting back what was his rather than focusing on mystical ties to the city of K'un L'un. That's why the episode, directed by Kevin Tancharoen and written by Tamara Becher-Wilkinson, stood out. It moved the main characters away from the Rand Corporation and Colleen's dojo and took them out find out exactly what Madam Gao and the Hand were up to. This was the most proactive Danny got in doing what the Iron Fist was sort of supposed to do. Really, the Iron Fist was supposed to be back protecting the city, but this was close.
One of the things that made the episode stand out was the fight with Zho Cheng (Lewis Tan), who used the Drunken Master style of fighting. It was by far the best fight of the entire series, and while Jones just isn't a strong fighter, Tan is and was even able to make Jones look better. This episode felt like it was part of a martial arts series, something the rest of the season could've used more of.
I look at the series overall and I wonder how much of what we got was based on Marvel fearing the "white savior" backlash. Danny is not the best fighter; he's kind of whiny and gave up on his duty because he wanted to go home. He's naive, undisciplined, and as much a danger to himself as he is to others. And that carries over into the Defenders series, as well. I still have hope that he will become the Iron Fist from the comics, which seems like a very long journey. But episodes like this one give me hope, and that's why it was the best episode of the show in 2017.