This article contains spoilers for the Marvel's Luke Cage season two finale – They Reminisce Over You.
.
.
.
.
.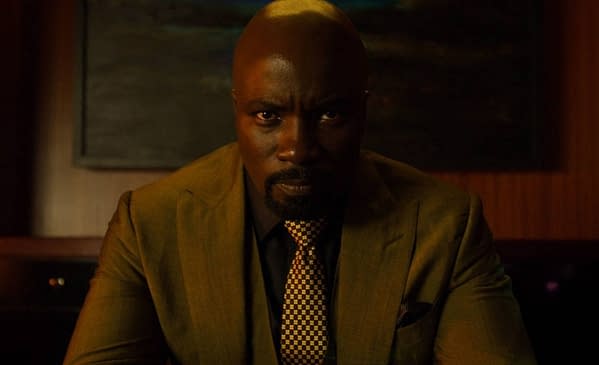 The final episode starts with Mariah Stokes-Dillard (Alfe Woodard) at her arraignment hearing. Luke Cage (Mike Colter), Misty Knight (Simone Missick), Tilda Dillard (Gabrielle Dennis) and Rosalie Carbone (Annabella Sciorra) are all there. Mariah is remanded to custody with no bail. She makes a statement about how there is a constant storm out there and there has always been a Stokes holding that back. That they need her out there to keep the other gangs from trying to move in and causing a gang war. And she's right as crime rates rise 75% and things get really bad. Luke feels like the city blames him. He really thought things would be better with Mariah off the streets. Misty goes to visit Tilda at her shop. Misty thinks Tilda helped John "Bushmaster" McIver (Mustafa Shakir) and though Tilda denies it, Misty doesn't seem to believe her. She leaves, and we see that Bushmaster is there and is in really bad shape. Tilda is trying to help him, but he is still adamant that Mariah must burn.
Hernan "Shades" Alvarez (Theo Rossi) goes to see Luke and fills him in on who is trying to take over and how Rosalie is behind the fighting. He tells Luke that he needs to step up and set the rules or chaos will win out. Luke doesn't trust Shades, but knows he needs to do something different. Luke asks Sugar (Sean Ringgold) to verify that it's the Italians. Mariah gets attacked in prison by the Italians but saved by a rival gang, she kills the head of the rival gang and takes over. Luke goes and visits Rosalie, breaks limbs and fingers of her guy until he gets his point across. She tells him that if he kills her, the Russians will retaliate. Luke tells her that he will go after every one of her business until her partners lose so much money they turn her over to the Feds. He sets the perimeter around Harlem that no one goes into. She seems to accept that deal… and flirts with him a bit.
Tilda and the Stylers get Bushmaster on his way back to Jamaica. She says she wishes should could've helped him get some solace for what her family did, but she's done paying for her mother's sins anymore. Mariah talks to Ben Donovan (Danny Johnson) and comes up with a plan to say Shades seduced her into a life of crime. She orders everyone not blood to be taken out so they can't flip against her. The exceptions being Donovan and Sugar… because Sugar's wife gave her clothes. Alex (John Clarence Stewart) goes to Tilda for help, but she says she can't. Sugar catches Luke up on the killings and we find out that Sugar had been a ball player, twisted his knee and Mariah paid for him to go to college anyway then Cottonmouth gave him work, that's why he went to work for them in the first place. Luke figures he has to go see Mariah before she blows a hole in the peace he just worked out. A hitter tries to take out Shades, but he takes them out first. Alex is killed and Tilda sees the body.
Shades goes to see Mariah, he still loves her but is done with her and the life. He tells her that she sold her soul for the legacy of a name she hated. He gives her advice on her new life, to trust no one but she's a natural at it. Mariah cries after he leaves. Misty won't set it up for Luke to go see Mariah, so he calls Foggy to get Donovan's number. We see Tilda making up some concoction before she goes and talks to Mariah. Tilda is upset about Alex and the others, but Mariah doesn't care. She's certain she's going to get out and start things over with her daughter. She asks Tilda to check on Harlem's Paradise. When Tilda goes to leave, she kisses Mariah and tells her she hopes she finds peace even though she doesn't deserve it. She leaves and Donovan comes in, Mariah realizes Tilda didn't mean anything she was saying and tells her lawyer there's something she needs him to do officially.
Luke goes to see Mariah and he tells her to lay off, stop the killings so he can keep the peace. She tells him that he was the catalyst that made her see who she really was. That Harlem needs a king and she's glad it is him. Then she starts coughing up blood and realizes what Tilda has done. She falls over and no one is coming. She tells Luke that they're not done. Luke stays with her as she dies. Misty arrests Shades, his deal was contingent on the conviction of Mariah, with her death all he said can now be used against him. Tilda tells the funeral director to just cremate Mariah and she doesn't care about the ashes. When he calls he Miss Stokes, she corrects him that it's Tilda Johnson. Back at the barbershop Bushmaster's man comes in and tells Luke that Harlem is now in the right hands, showing that they'll have no trouble from the Stylers or Bushmaster anymore. This upsets D.W. Griffith (Jeremiah Swain) because he realizes what Luke has done is become the new crime boss of Harlem. He tells Luke that he and Sugar need to leave, that he's going to take over the barbershop and keep it going, but it has to be Switzerland as Pop wanted and Luke can't do business there anymore. Luke respects that and when Donovan shows up needing to talk, Luke says not there.
Donovan reads Mariah's will. She gave the painting to the museum, her money to the Family First Foundation, Cornell's keyboard to Tilda and Harlem's Paradise to Luke because a king needs a crown. Her idea is that he would try to use it to make things better only to have the club change him. Tilda seems angry at not getting the club, but says nothing. Donovan asks if he wants it, Luke says they should burn it to the ground. But he ends up keeping it, having the Biggie picture replaced by one of Muhammed Ali. By the end he starts acting like a boss and Misty doesn't like it. We pan around the club and see her and Ridley, Tilda arrives, the gang bosses are there and Luke is looking down on all of them from the roost. Sugar comes up and tells him Claire is there. Luke tells him to send Claire home. He then sits behind the desk in his three piece suit looking like a gangster and we fade to black.
And that wraps up the season and I have to say that my feelings on the ending are mixed. I think how they dealt with the fates of Mariah, Shades and even Bushmaster were well done. They seemed some what justified based on the series. But the ending felt like a set up for season three, which is fine. Tilda is becoming Deadly Nightshade from the comics, Luke will have to deal with Rosalie and the Carbone crime family at some point and we know that both Diamondback and Bushmaster are still out there. Plenty to deal with in a third season. The mixed part of what I'd other wise call a good season is Luke's decision to take over the club. There is serious hints that he's the new crime boss and I didn't get that impression until D.W. started talking about it. It seemed to me that Luke basically put a wall around Harlem and said "if you come in I'm going to make your life hell." Not sure how that makes him a crime boss rather than a gatekeeper and protector. But they give us the impression that Luke is crossing over to the dark side and I don't know if we saw enough to justify that insinuation and if the character would actually do that. Sending Claire away? This all felt a bit out of character, but then again this isn't the character from the comics so that is a difference. And drama/story wise, him being corrupted by Mariah's gift is good writing… and if there isn't a third season, it's an odd place to leave off the character.
Enjoyed this article? Share it!