Philly just got a little less "sunny" today, with news that Fox is cancelling midseason comedy series The Mick. Created by John and Dave Chernin and starring It's Always Sunny In Philadelphia's Kaitlin Olson, The Mick was only one of three series cancelled by the network today; with The Last Man on Earth and Brooklyn Nine-Nine also not making the programming cut. The news comes at a time when her co-stars on It's Always Sunny received good news regarding their respective projects, with Charlie Day's The Cool Kids getting picked up by Fox; and Glenn Howerton's A.P. Bio receiving a second-season renewal from NBC.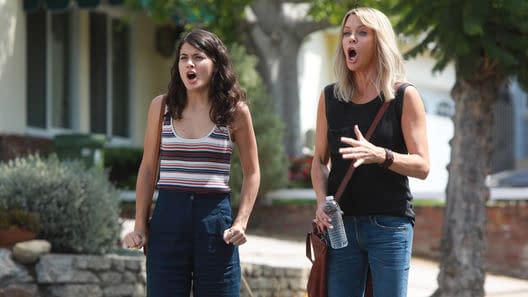 The Mick became an almost odd "tale of two series": two strong Sunday starts positioned the series in a good way ratings-wise; with the network extending the first season by an additional four episodes early on, and a second season renewal shortly after that. But the second season was a brutal one for the series, averaging a 1.2 in the Adults 18-49 demo in Live+7 (days) – not impressive numbers for a Fox comedy series.
THE MICK is a comedy about an unapologetic degenerate (Kaitlin Olson) who suddenly finds herself stuck raising her spoiled niece (Sofia Black-D'Elia) and nephews (Thomas Barbusca, Jack Stanton) in affluent Greenwich, CT. It's pretty much everything she never wanted. Regardless, she's determined to rise to the occasion and transform these little monsters into honest, hard-working, decent members of society – something she knows absolutely nothing about. THE MICK also stars Carla Jimenez, and is a 20th TV production.
In an interview with The New York Times, Olson explained what her overall comedic goal was with The Mick:
"We wanted to make it feel like it should belong on cable, but accessible on Fox. My kids are 4 and 6, they're a little bit too young. But I remember being 8, 9, 10 and watching "The Cosby Show" and "The Golden Girls" with my family. We wanted to make sure all the adult humor would go over the heads of little kids, and you can all sit down and watch it together."
Enjoyed this article? Share it!