Mike Flanagan on Haunting of Hill House and All Its Secrets
In case you have not watched it yet, The Haunting of Hill House if brilliant. It may in fact be the best show of the year. Creator Mike Flanagan, over ten episodes, crafted one of the best looks at grief, family, and yes terror that we have gotten in a long time. We gushed all over the show in our review, which you can read here. Flanagan sat down with Entertainment Weekly for a spoiler-filled chat about everything from grief to the secret history of Hill House they never filmed. Some highlights: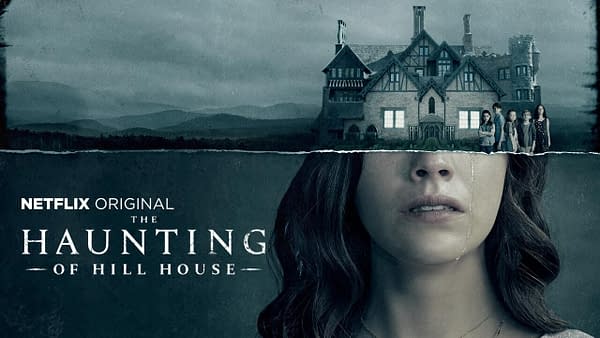 On the role of grief in the show:
What struck me the most is that I think grief is such a universal experience that when we were in the writers' room, every one of the writers at the table had their own perspective on it that came to bear with this, and that's something that jumped out immediately that yeah, when you talk about ghosts and you talk about what gothic horror can do, this is an incredible opportunity to really lean face first into some of the saddest and darkest things that we all deal with.
On the history of Hill House that they planned but never filmed:
We had actually written and planned to shoot a complete history of Hill House. Every other episode would open with about a five-minute history thing narrated by Steven, from his book, and we did take from Jackson that the first victim of the house died before anyone had ever really stepped foot in it. In her book, it was the wife of Hugh Crain, and in ours when we took that character and turned him into Jacob Hill. We had built a really complex history of the Hill family that we ultimately didn't shoot. We didn't have the time or the money to shoot it, which really broke my heart at the time, but we figured if we had to focus on anything, we had to focus on the Crain family.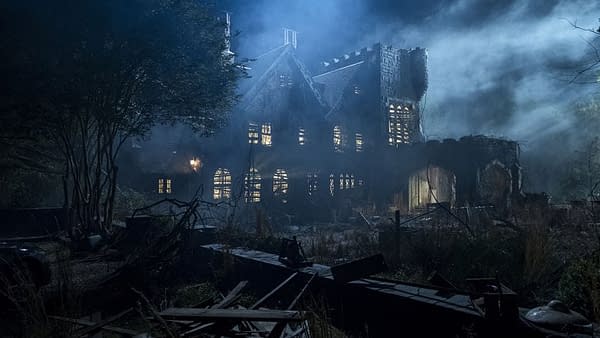 On what it was like to film Episode 6, one of the most ambitious and impressive episodes of television you will watch this or any year:
It was part of our pitch for the show that whenever we got the kids back together, we wanted it to feel like an unbroken shot, basically, for the whole episode. Everyone loved that idea in the pitch stage, and then when we got into prep it suddenly became like, "Oh God, now we have to actually do this," which was so daunting.

We wrote all of the camera choreography into the script for the episode, back before we started production. So, when we started designing the house, we were designing elements of it specifically to the requirements of episode six. Hill House was on one stage, the funeral home was on another, and we had to build this hallway between the two stages so we could physically walk from one stage to the other and step into Hill House without cutting.

We rehearsed it with our second team stand-ins, who basically performed the entire episode as actors for about five weeks straight, every day. We had shut down production and we just rehearsed with them, with the crew, and kept running it and running it and running it. After a month of that, we brought the cast in and we were able to show them the episode. We had shot it with the second team. So we said, "Here it is and this is what we're doing," and then the cast had two weeks with us in rehearsal. We kind of looked at it like live TV. Ultimately, it's five long shots and we did one a day for five days. It almost killed us. It almost killed everybody.
Flanagan also touched on if there could be a season 2:
I don't want to speculate too much about season two until Netflix and Paramount and Amblin let us know if they want one. What I will say, though, is that as far as I've ever been concerned with this, the story of the Crain family is told. It's done. I think that there are all sorts of different directions we could go in, with the house or with something completely different. I love the idea of an anthology as well. But to me, I felt like the Crains have been through enough, and we left them exactly as we all wanted to remember them, those of us who worked on it. We toyed with a cliffhanger ending and we toyed with other ideas, but ultimately, in the writers' room and with the cast and everything else, we really felt like the story demanded a certain kind of closure from us and we were happy to close the book on that family.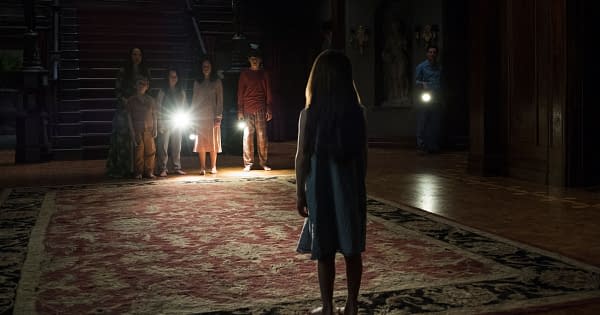 That is exactly what I want to hear. If we never got a second series of Haunting of Hill House, I would be okay with that. If we are going to get more, it should be an entirely new story. If Flanagan is going to give us a season of this show every year or two that could be of this quality? Sign me up please. You should go read the rest of the interview as well, there is some great stuff about hidden clues about where the show is going from the beginning, things about casting and their production process, and what it was like to find out how much Stephen King loved the show.
The Haunting of Hill House is now streaming on Netflix.