Posted in: ABC, Review, Trailer, TV | Tagged: ABC, Alex, bleeding cool, cable, cam, Claire, comedy, Gloria, Jay, luke, Manny, mitch, modern family, phil, Review, season 11, sitcom, streaming, television, the prescott, tv
---
"Modern Family" S11 "The Prescott": Stephen Merhant, At Our Service [SPOILER REVIEW]
This week brought with it the second-half of the final season of ABC's Modern Family. It was a very fun episode to start the year with – silly without diving into slapsticky. With the season being very uneven so far, this outing was definitely one in the plus column. It seems they are setting up some groundwork as the episodes go by to hint at what the future might hold for some characters. After how emotionally charged the mideseason finale was, "The Prescott" was a warm, lighthearted change of pace.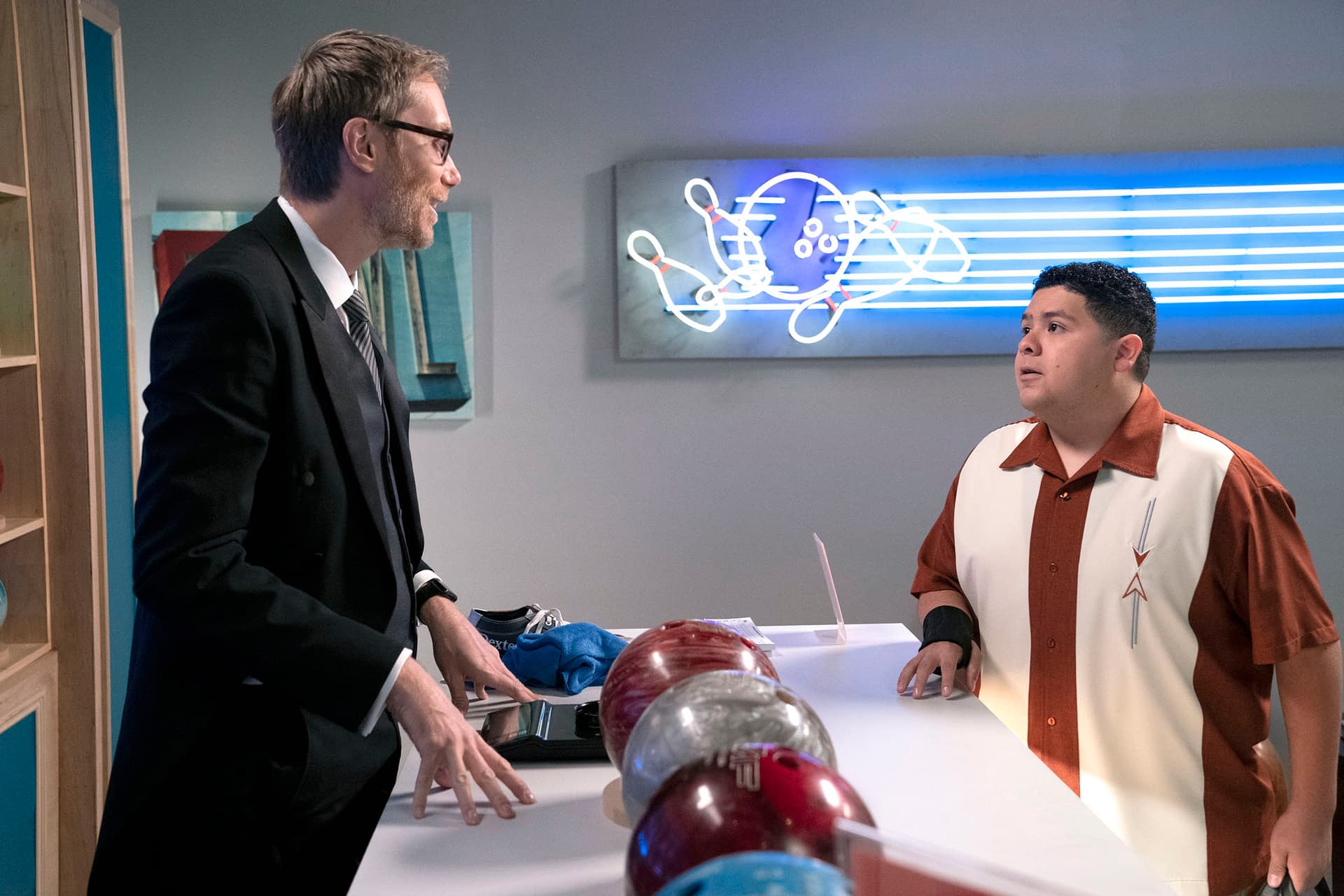 This episode takes place in Alex's (Ariel Winter) new luxury apartment complex with full amenities—her new job has set her up nicely, it seems. The family comes over for a little house-warming and when it is time to leave… well, the family decides it is time to explore the place. Once again, the family cannot let one family member's fortune go by without taking advantage. Turns out, each member of the family has a specific selfish agenda to explore. As always, the Pritchett-Dunphy-Tucker clan crosses the lines again… and again… and again.
Phil (Ty Burrell) has taken on a new hobby as a food critic with a blog called "Foodie in a Hoodie". After leaving Alex' apartment, he sets off trying to find the in-house restaurant "Pardon" to review their renowned Sliders. Meanwhile… after trying to settle for a movie, Jay (Ed O'Neill) sets off looking for that foodie who criticized his favorite slider and turned his mob of fans against him. This was "just enough" of a light-hearted storyline – pleased it did not go as cringey as it could have. I also love how consistent Phil's character has been over the seasons: always trying new things and – more often than not – succeeding at them.
On their end, the rest of the family had a different spot at the complex they wanted to explore: Claire (Julie Bowen) getting her hair done by Gloria's #1 enemy; Gloria (Sofia Vergara) going to the pool and getting stuck on a slide; Manny (Rico Rodriguez) and Luke (Nolan Gould) trying to pick up older women at the tennis court; and Cam (Eric Stonestreet) and Mitch (Jesse Tyler Ferguson) trying to meet David Beckham and his wife, Posh.
With all of those storyline at play, it would have been so easy for the episode to have turned out a cheesy, over-the-top mess. Thankfully, the writing and performaces raised the results considerably – making this a very rewatchable episode when you catch it on one of USA Network's 9,283 marathons. Special thanks goes to Stephen Merchant's (The Office) Prescott host/concierge Higgins, the perfect "ringmaster" for this episode who builds upon his character from the last time we met.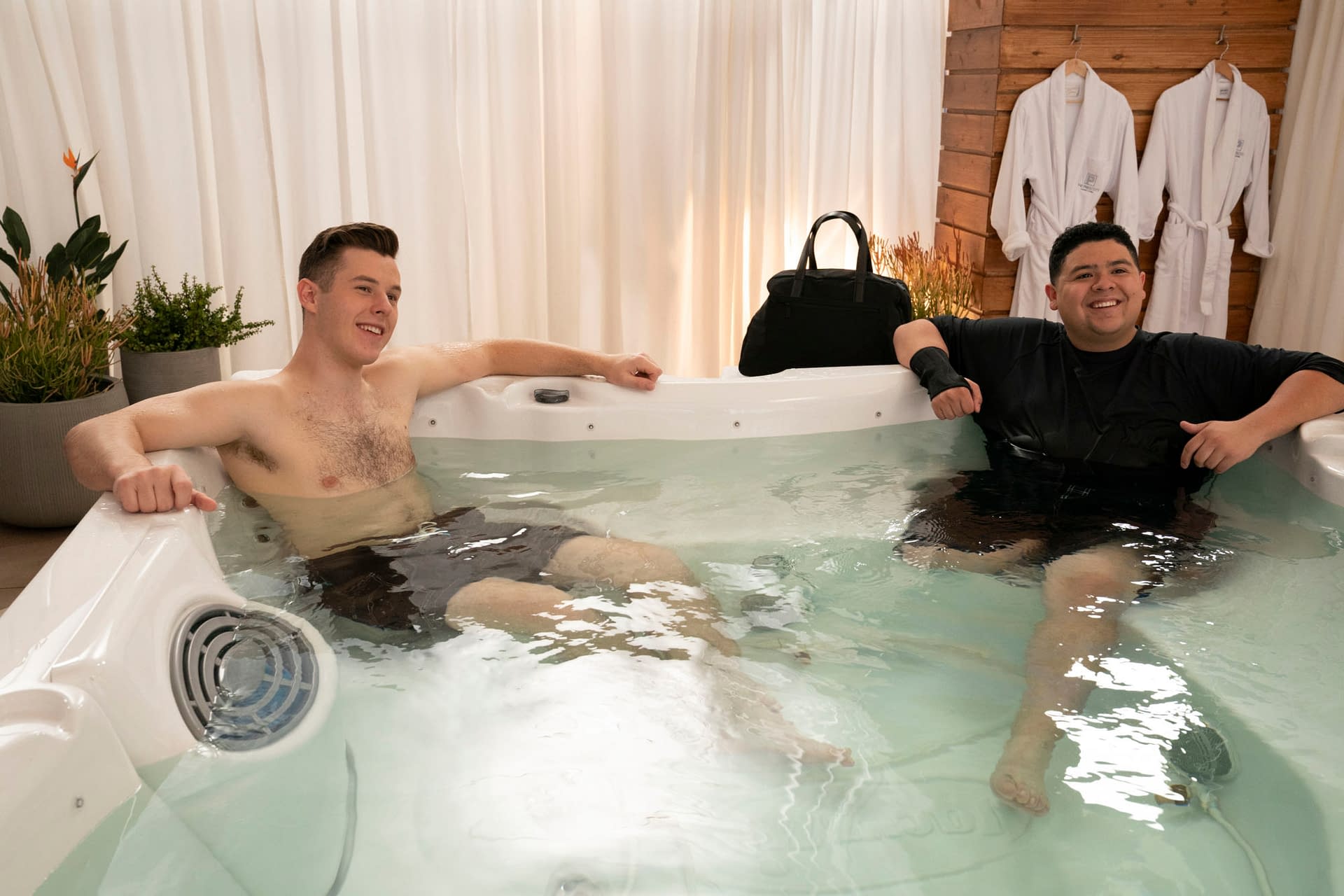 I really enjoyed this week's episode of Modern Family. It was definitely a better episode than I expected, mostly by not going all-in on the clichés as I had feared from the previews. I am definitely looking forward to next episode, though I am bracing myself for the more emotionally-charged episodes around the corner.
---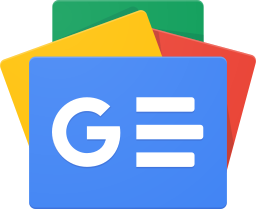 Stay up-to-date and support the site by following Bleeding Cool on Google News today!