"Modern Family" Season 11 "Paris": City of Light Backdrop Makes for Illuminating Ep [SPOILER REVIEW]
I was surprised how much fun this week's episode of ABC's Modern Family turned out to be. It also hit on some feels a bit—but for the most part, it was just an enjoyable ride that hit some familar notes in new ways. I have to say though, I have a pretty soft spot for the end credits scene; it look old-timey and just tore up my heart with the cast waving at the camera and hugging each other. It is a bit heartbreaking to see them in this fashion with only a handful of episodes left before the sun sets.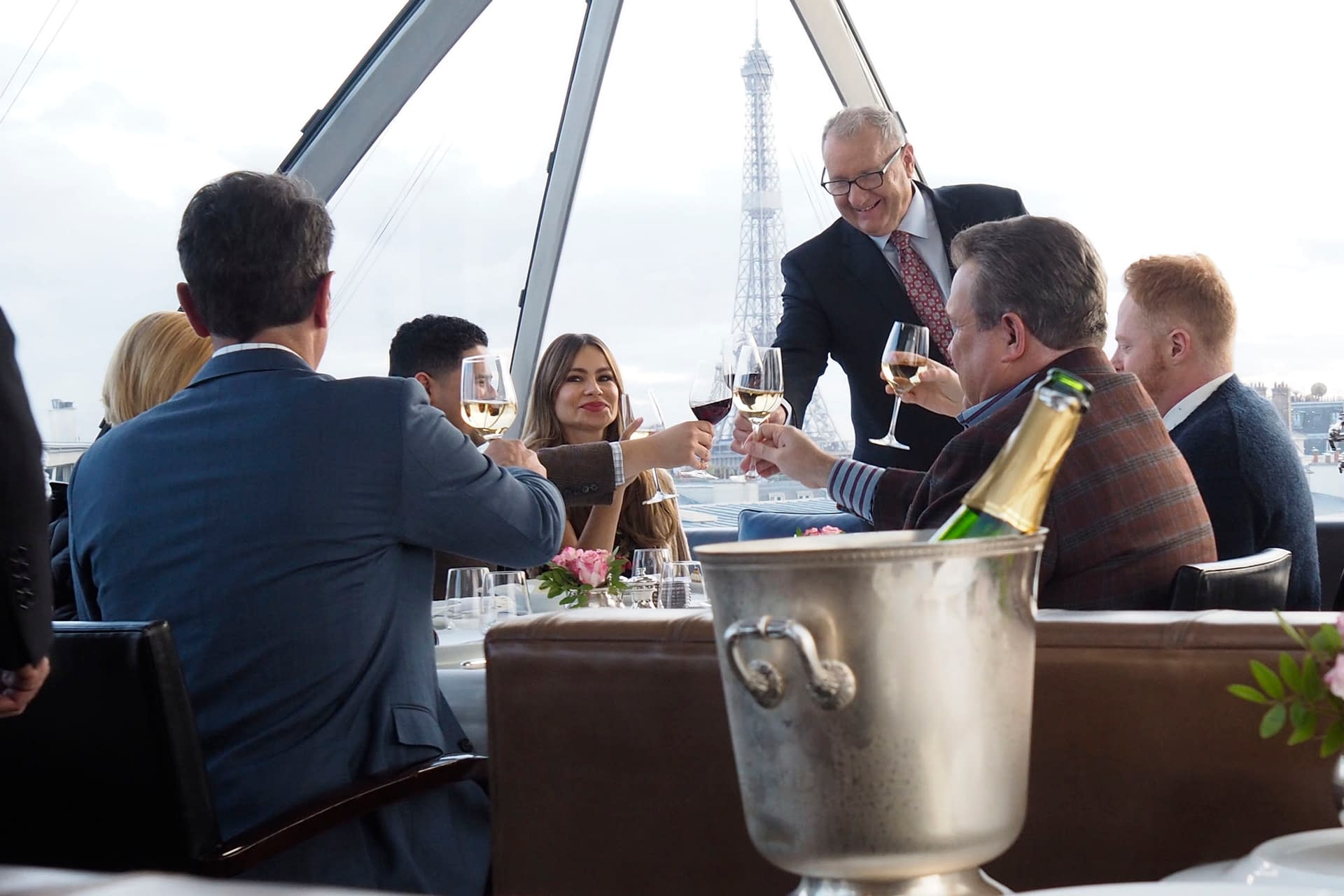 [rwp_box id="0"]
"Paris" followed the core family's trip to France to see Jay (Ed O'Neil) accept a once-in-a-lifetime award in the closet industry. Ends up that Manny (Rico Rodriguez) got the translation wrong: Jay is there to accept an award on behalf of his arch-rival/friend Earl. That was both the blandest and then most heart-breaking part of the story. One moment that bothered me a bit was when Gloria (Sofia Vergara) holds a grudge against Manny (Rico Rodriguez) for learning French and not Spanish.
Before the ceremony, the family decides to explore a bit since it is Valentine's Day. Mitch (Jesse Tyler Ferguson) wants to spend the day pretending he belongs in the city. On his end, Cam (Eric Stonestreet) wants to be Fizbo in the streets of Paris. However, hilarity ensues when Mitch finally realizes he really is not Parisian and "Fizbo" encounters his French doppelganger… Fiz-Beau! I was truly surprised and impressed that I found myself enjoying it as much as I did – but with both Cam and Mitch's storylines, they went for humor without going too far for a laugh or falling into clichés and it worked.
Meanwhile, Claire (Julie Bowen) takes some time to go wonder-wander the streets of Paris and the places she loved when she spent a semester abroad. What she did not count on was Phil (Ty Burrell) and an old fling of hers surprising her at her favorite spot at the same time. It was pretty fun to see how the trio's dynamic changed so dramatically throughout the episode and how wonderfully the tables turned on Claire. Turns out Phil and her French suitor have much more in common than Claire had with him back in the day. This was the episode storyline that stood out for me—Burrell never ceases to amaze me with his comedic stylings in nearly every scene.
Modern Family keeps punching my "feels" with these heartfelt moments, like when Jay expresses how he truly feels. He might have not gotten the award, but the speech he gave to the family at the end during dinner deserved an award of its own. The show is definitely giving off a series-ending vibe – though not before Lily (Aubrey Anderson-Emmons) going on her first date on next episode.
Now that should be interesting…