"My Hero Academia" Cast Preview Season 4: Our "Plus Ultra" Takeaways from NYCC [SPOILERS]
On Friday during the anime's NYCC panel/screening at the Hulu Theater at Madison Square Garden, Funimation gave us a chance to experience some My Hero Academia before it premieres later in October. The panel was moderated by Jacki Jing (Nerdist/IGN) who announced right away that they had a big treat for us: a compilation of the first three episodes of Season 4.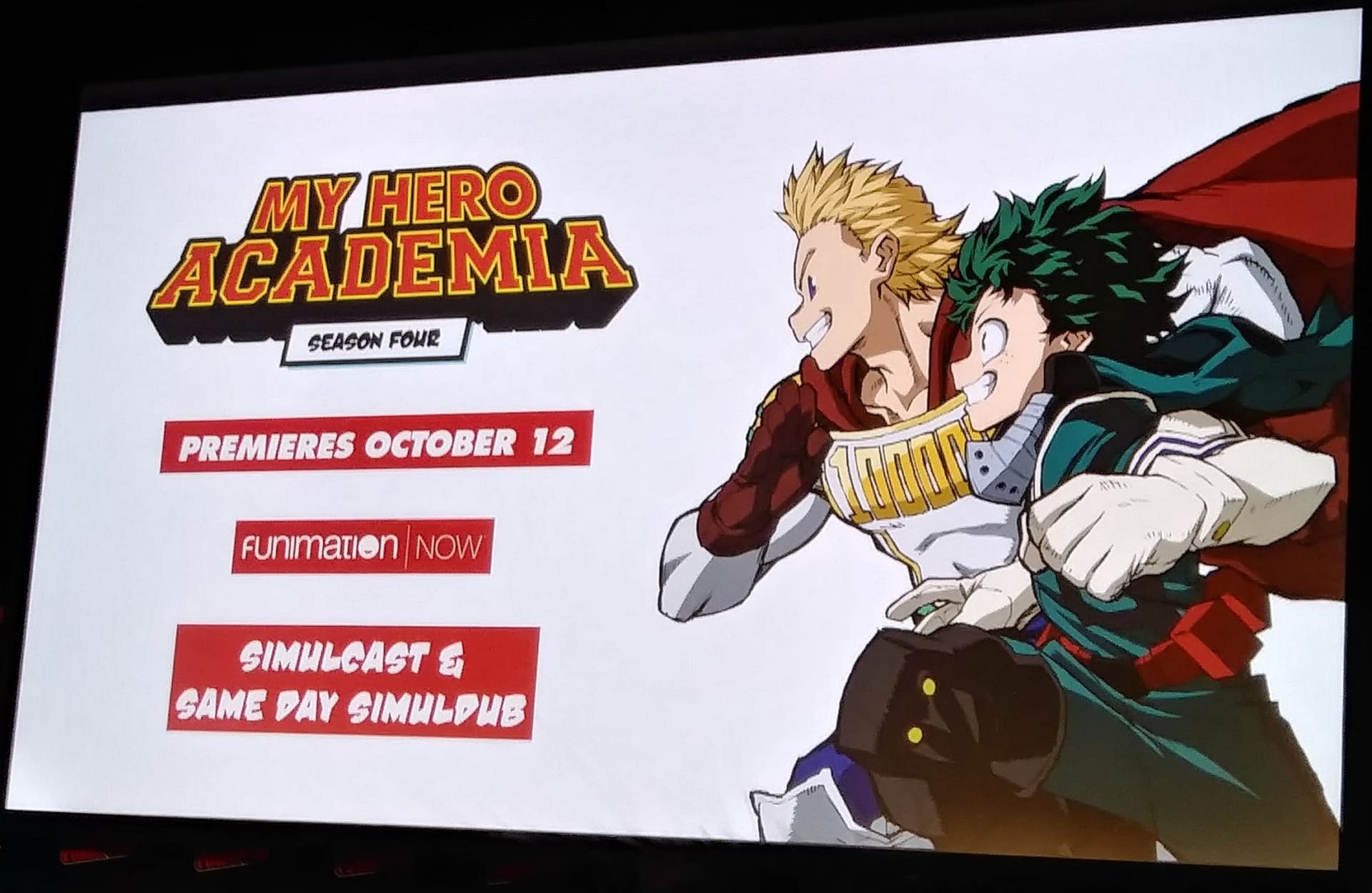 She reminded the crowd of the My Hero Academia themed Café at Friedman's, as well as my personal favorite: the MHA x Sanrio collection will be making its way to the US. It will be pretty awesome to be able to grab some of the collaboration items without having to pay insane amounts of money due to shipping. It was also announced that the My Hero Academia video game "My Hero One's Justice 2" is coming out in 2020 (take a look):
Jing was joined on stage by some of the voice cast for My Hero Academia: Justin Briner (Deku), Colleen Clinkerbeard (Momo), Justin Cook (Kirishima), Ricco Fajardo (Mirio Togata), and Kellen Goff (Overhaul)—they discussed their amazing experience so far voicing our favorite heroes and villains, as well as the things they loved the most about their characters without going into spoilers. Attendees were then teased a little taste of what is to come for Season 4: pure awesome-ness. At the beginning Jing mentioned how it would be a compilation of the first three episodes of My Hero Academia and it did not disappoint.
Proceed at your own risk because there might be spoilers ahead. The crowd got to see a few scenes in advance. They were all related to one main subject: Deku wanting to intern under Sir Nighteye. We saw Deku with All Might, discussing his plan to train harder and become better. However, All Might stresses to Deku that he will not be able to introduce him to the guy who once was his Sidekick. However, he suggests, since Mirio is already interning under Sir Nighteye, why not ask him instead. After a conversation about it, Mirio agrees, but only after Deku answers him a question—why he wants to become a hero. Before introducing Deku to Sir Nighteye, he warns him that humor is incredibly important to him as a tool to save the world.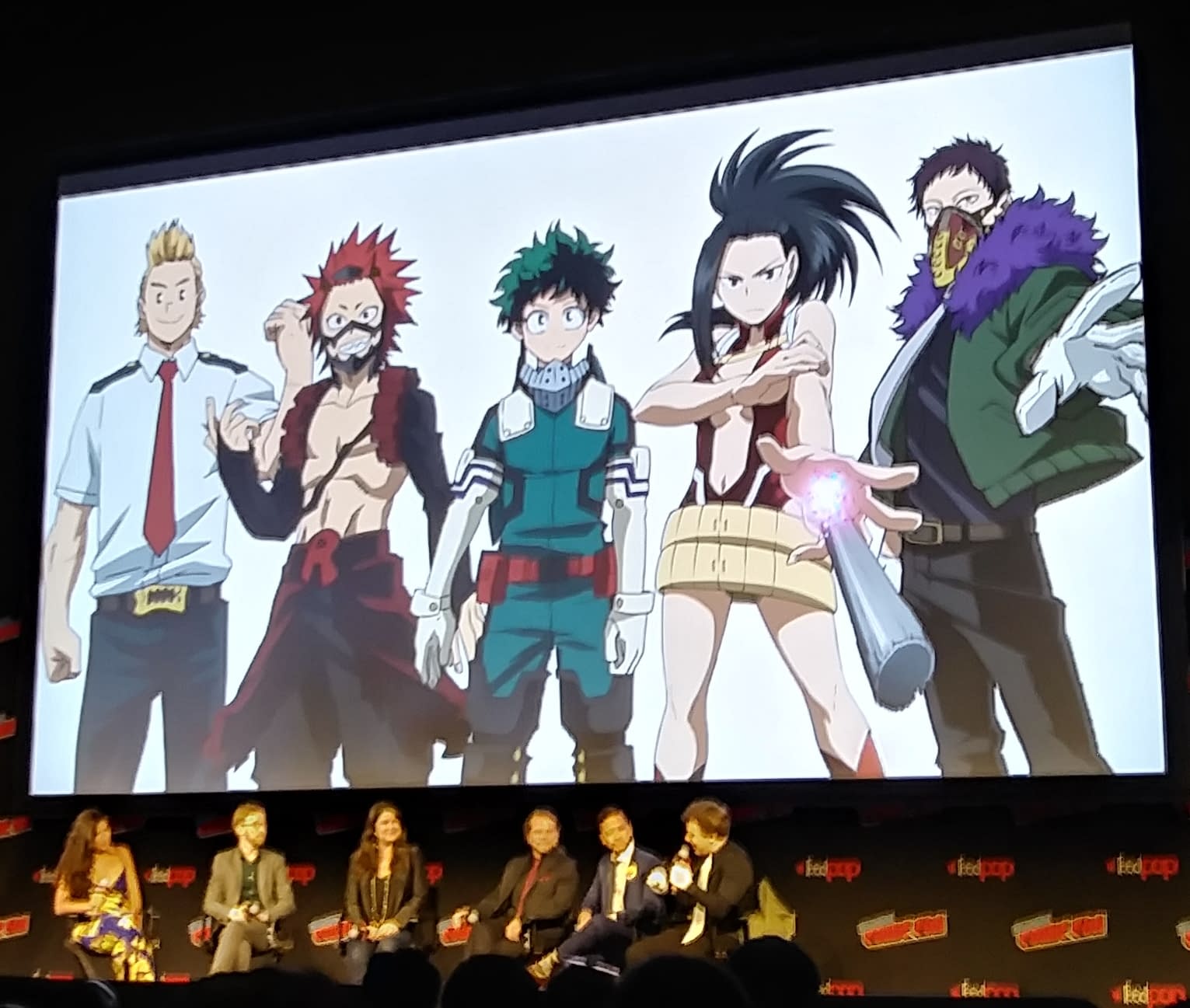 It was amazing to see the interaction between Deku and Sir Nighteye—he is not able to make him laugh, but he does try to impress him in a different manner. Clearly not used to dealing with these types of situation. I kept jumping out of my seat with excitement. Sir Nighteye then challenges the boy to take the stamp out of his hand: if he succeeds, then he gets the job. The scene was filled with was action packed, suspenseful, and the tension just kept rising. Even more so when he revealed to Deku that Mirio was supposed to be All Might's successor. Deku then starts over thinking as he often does and decides he will win this and get the stamp off of Sir Nighteye's hands. It left the crowd hanging and anxiously waiting to see if he does.
We also got to see a throw-down between Shigaraki and Overhaul over who will be the new leader now that All For One is gone. Needless to say, it does not go well. This is one of the arcs of My Hero Academia that I am most excited about and it was nearly impossible to control the jitters of excitement. The animation looked amazing and the fights flawless. It just keeps getting better and better. It will premiere on October 12th – and it will be simulcast and same-day simuldub through Funimation.