Once again, My Hero Academia Season 4 does not disappoint—quite the opposite actually. "Let's Go, Gutsy Red Riot" was everything the otaku in me wished for and yet still found ways to surprise me. This episode was the perfect segue to start expanding the storyline. This season has done a great job so far at establishing an overall subject: becoming better and stronger. We see it on the League of Villains, the Shie Hassaikai, the students at UA, and most importantly, Deku. Not just that, but it has done a great job at showing the growth within the characters whether villains, heroes, or heroes in training.
"Let's Go, Gutsy Red Riot, focuses on the other three students who are also part of Work Studies at two different Pro-Hero agencies. It starts with Uravity (Ochaco) and Froppy (Tsuyu) who are part of work studies under Dragoon Hero: Ryukyu along with Nejire Hado from The Big Three at UA. We see them fighting along one another and doing great. They address how much better they feel in these situations and Froppy does state she felt oddly calm because she knew what she was doing. It was very nice to see that not only Deku has that fire and passion, but that he has spread it along class 1-A.
We then see Shigaraki and Chisaki working on a joint partnership— The League is considering working with the Shiei Hassaikai: one needs a plan while the others need clout. However, Shigaraki demands to know the plan first before considering joining forces. He does bring up that he has some idea as to what it might be and pulls out one of the bullet used during the surprise attack from the previous time Overhaul faced the League of Villains.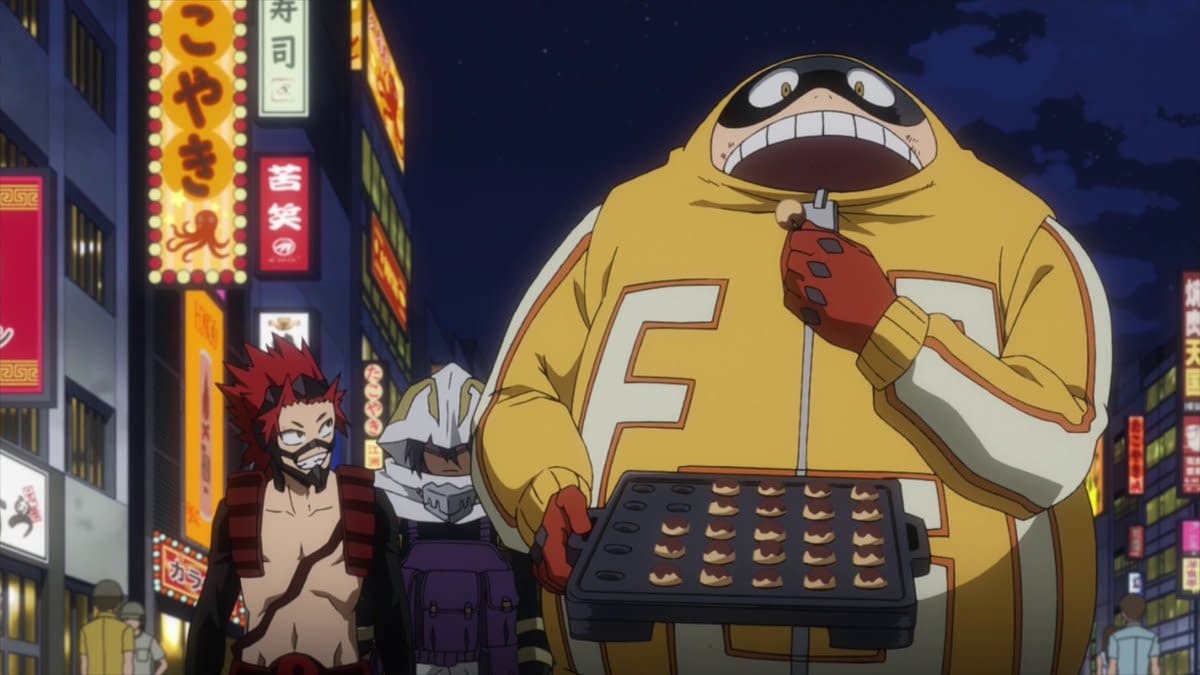 It then cuts to Kirishima, who has joined BMI Hero: Fat Gum's Pro-Hero agency as part of Work Studies along with Suneater (Tamaki Amajiki), also part of the Big Three. It seems Kirishima pretty much bullied him into telling him which Hero Agency he was working for and demanding to be introduced. However, we see very quickly the contrast between them as much as we did with Deku and Mirio. Right away, we see the different attitudes.
As opposed to Mirio, Tamaki seems to be withdrawn, shy, and depressed. He takes everything to heart and lets it affect him. He does allude to that when he tells Kirishima that he cannot be cheerful like him and Mirio. Kirishima then goes on a rant about how he just wants to be a better hero, but freezes on certain occasions. However, he does prove the point Tamaki wanted to make: Kirishima does see the best in people and tries to understand and do right by everyone no matter their intentions. In just one instant he continuously pushes Tamaki to get over his own mental hurdles and not just understand that his mentor is trying to help, not insult; but also helps Tamaki not take offense over villains' comments. I love their dynamic and I think they are a fascinating pair.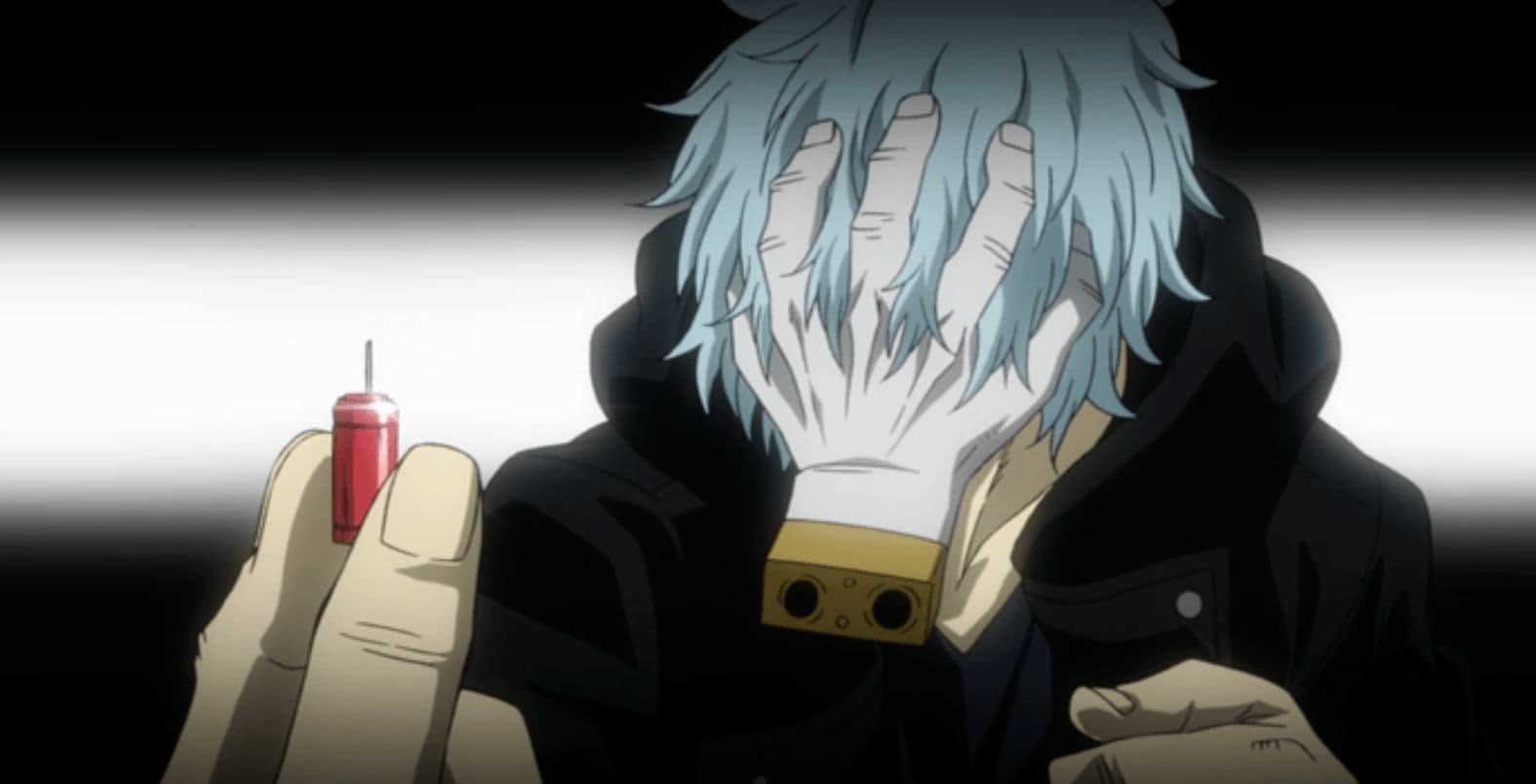 Tamaki then gets shot by one of the bullets Shigaraki confronted Overhaul with and we find out these are filled with some type of drug that makes it impossible for your quirk to manifest if you have gotten shot. We see the cowardly man who assaulted Tamaki run away and Kirishima follow suit while Tamaki stays behind, unable to use his quirk. When Kirishima catches up to the criminal, we see him try to console him a bit. However, the guy tries taking advantage of this and injects himself with something that does the opposite of what the bullets do. This drug enhances the user's power. We then see the blades cut through Kirishima's hard skin.
As Kirishima is about to freeze he thinks back to a conversation he had with his friends in which he tells them he is afraid he will never be up to par with them. Though, surprisingly, it is Bakugo who reminds Kirishima of his own promise during the trials of being a horse that will never waver, while also reminding him of All Might's last fight and saying that not falling means you have to be very strong. This then brings Kirishima back to reality and we get to see his ultimate move. It was awesome to see him in action, and more so to see him win and gain confidence while becoming a hero to those who were around. The best part though was the end, when Tamaki tells Kirishima that he is just like Mirio and that he shines just as bright as the sun. Their interactions made my heart happy.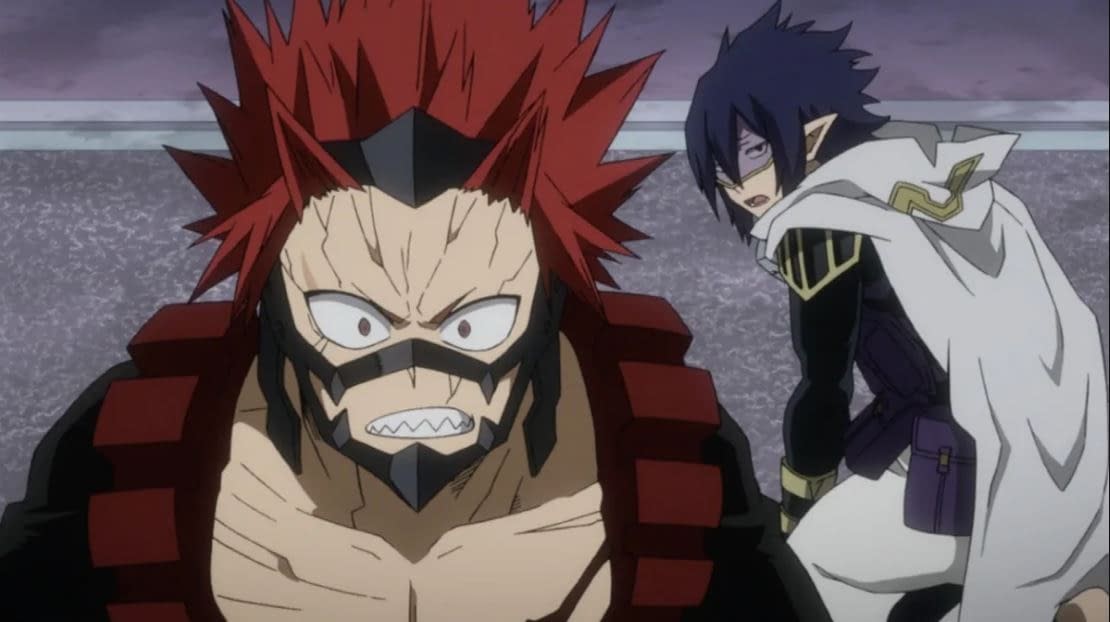 This episode of My Hero Academia is perfect for all of us who love Kirishima. It gives him a chance to shine outside of the classroom and gives us an opportunity to get to know him better. As opposed to the internship arc where he saw him against a classmate at all times; on this arc we get to explore the side of Kirishima we wanted to see more of. He seems to get along perfectly fine with pretty much every classmate and he is the only character who Bakugo seems to listen to and actually –dare I say?- like.
While I cannot quite relate to those are those who complain that this season of My Hero Academia feels slow, though this episode does bring with it the feeling that things are going to start moving faster and beyond just a few characters. This season started small, but it's been running at a fine pace – giving our characters a chance to show what they have overcome and how much they have grown. It has also set a tone for how things will be moving forward from here on.
Enjoyed this article? Share it!