Netflix Series Adapt "Clearly Not Cowboy Bebop": Shinichiro Watanabe
Cowboy Bebop co-creator Shinichiro Watanabe says the Netflix series isn't the anime, though he didn't watch past the opening scene.
---
It was back in December 2021 when we learned that the adventures of John Cho's Spike Spiegel, Mustafa Shakir's Jet Black, and Daniella Pineda's Faye Valentine would be ending with only one season, with Netflix canceling its live-action adaptation of the popular anime Cowboy Bebop after only one season. From a television perspective, the creative team produced an excellent series that was fun, sexy & dangerous in all the ways we wanted it to be. But from the start of casting (for example, when Pineda was criticized for not meeting the unrealistic physical characteristics of her anime counterpart) forward, a large contingent of anime fans wasn't buying into anything that wasn't a direct adaptation (apparently, regardless of whether or not that would actually work on television). Now, anime co-creator Shinichiro Watanabe has weighed in on the matter during an interview with Forbes. And from the sounds of it, he didn't need to actually watch it to know that it "would not be 'Cowboy Bebop.'"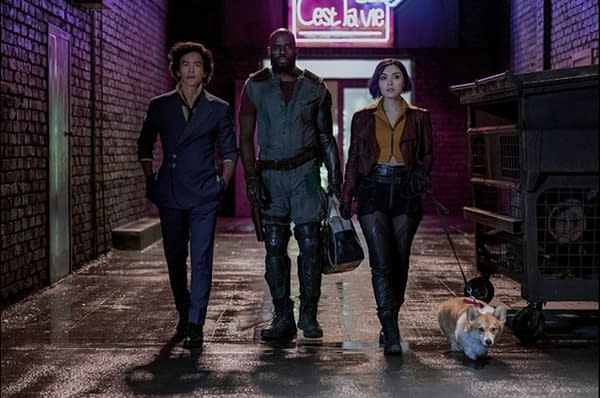 "For the new Netflix live-action adaptation, they sent me a video to review and check. It started with a scene in a casino, which made it very tough for me to continue. I stopped there and so only saw that opening scene. It was clearly not 'Cowboy Bebop,' and I realized at that point that if I wasn't involved, it would not be 'Cowboy Bebop.' I felt that maybe I should have done this. Although the value of the original anime is somehow far higher now." So just to be clear? Watanabe wrote off ten episodes after one opening scene (basically, having an opinion about something he didn't watch) and then goes on to pretty much say that the series (and by that implication, any adaptation) would never be Cowboy Bebop because he wasn't involved.
The series was a co-production between Netflix and Tomorrow Studios (a partnership between Marty Adelstein and ITV Studios), with André Nemec and Jeff Pinkner of Midnight Radio serving as showrunners and executive-producing. Christopher Yost (Thor: The Dark World, Thor: Ragnarok) wrote the first episode and executive produced. In addition, Josh Appelbaum and Scott Rosenberg of Midnight Radio (Limetown, High Fidelity, Knightfall); Adelstein and Becky Clements of Tomorrow Studios (Snowpiercer, Hanna); Yasuo Miyakawa, Masayuki Ozaki, and Shin Sasaki of Sunrise Inc; Tim Coddington, Tetsu Fujimura, Michael Katleman, and Matthew Weinberg also executive-produced. The writing team included Nemec, Yost, Vivian Lee (Lost in Space), Liz Sagal (Sons of Anarchy), Karl Taro Greenfeld (Ray Donovan), Alexandra E Hartman, Sean Cummings (Everything Sucks!), Javier Grillo-Marxuach (Lost), and Jennifer Johnson (Designated Survivor). As for directors, the ten episodes were split between directors Alex Garcia Lopez (Daredevil) and Michael Katleman (Zoo).