New Amsterdam Season 1, Episode 10 'Six or Seven Minutes': A Healthy Start (SPOILER REVIEW)
NBC's New Amsterdam returns with heart-pounding episode 'Six or Seven Minutes' that delivers all the feels. The episode starts at the hospital, where everyone urgently needs to chat with Max (Ryan Eggold). For the first time ever, he is off the grid. His wrangler and right-hand helper Dora (Zabryna Guevara) knew he'd be unreachable for a few hours, but she could never imagine the news she's about to receive.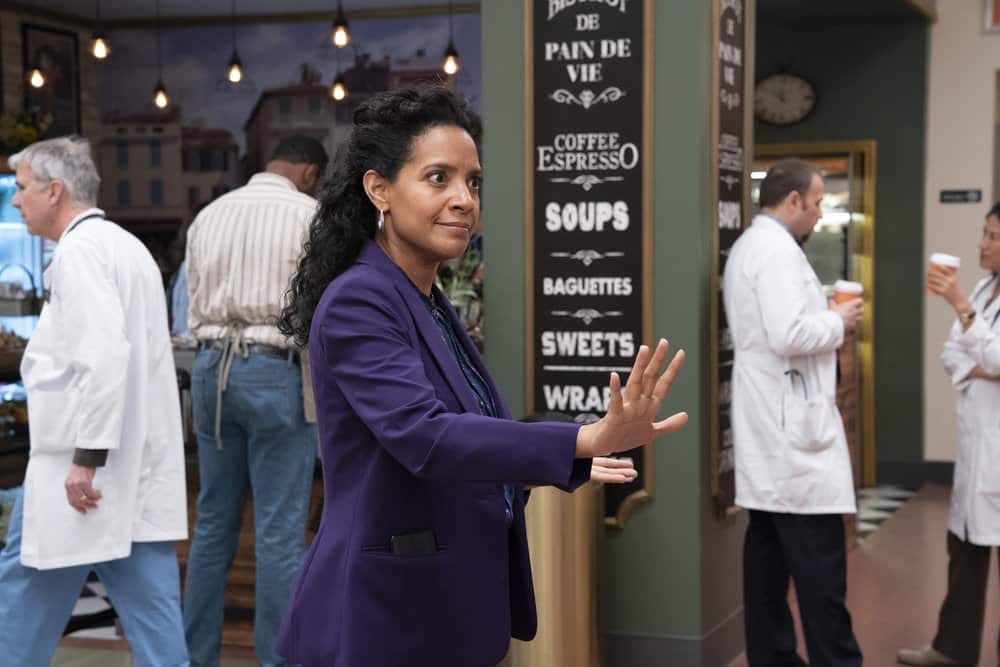 As our preview reveals, Max's wife Georgia (Lisa O'Hare) calls Dr. Sharpe (Freema Agyeman) for help after he shockingly collapses. The pressure is palpable as she takes drastic actions to save her husband's life until the ambulance arrives. While she buys Max some time, Sharpe alerts the others.
Right off the bat, all actors bring their A-game. Their reaction to the news of Max's cancer and their overwhelming concern for his well-being proves how much he means to them. As Max battles for his life, we see his colleagues and friends uphold the groundbreaking standards he has set for New Amsterdam.
They take great risks to put people above profit, despite interim boss Dean Fulton's (Ron Rifkin) dismay. As expected, Dean thinks about the finances instead of what is best for patients, which is why the hospital has failed in the past. Max rolled in and turned everything around. He allows these well-intentioned doctors to help people the way they truly want – and need – to. Removing the bureaucratic shackles has given New Amsterdam ample room for improvement – which Dean refreshingly finds out for himself.
Although lives are at stake, we still get a healthy dose of Iggy (Tyler Labine) and Vijay's (Anupam Kher) adorably funny banter. I love how Iggy looks out for his buddy and love their conversation about their "new" selves. Max has such a positive influence over everyone he encounters. He helps them grow, think outside the box, and take chances by following their instincts.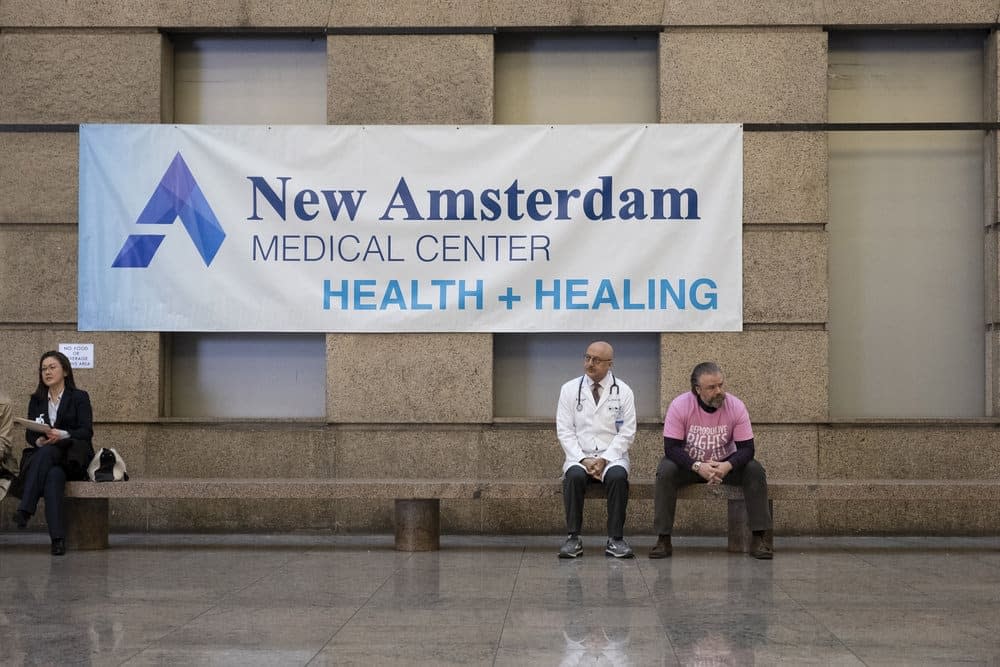 Bloom's (Janet Montgomery) troubling issues are addressed, which is a relief because she's been playing a dangerous game for too long. She responsibly stepped down as the doctor in charge of Max's care – phew! She almost lost a patient recently and luckily Casey (Alejandro Hernandez) knew better and covered for her mistake. Sharpe had a right to question Bloom's actions and I'm so glad someone else knows about her struggle now.
Another plus – Sharpe is open to dating Dr. Panthaki (Sendhil Ramamurthy). Just when she starts searching for sperm donors, she meets a guy who awakens butterflies that she hasn't felt since the tragic death of her fiancé. Sharpe deserves love and happiness. They seem like a good fit for each other – personally and professionally. I'm very curious to see how their relationship develops.
Also, Sharpe's struggle is very relatable. I'm sure it strikes a chord with many female viewers and it is nice to see that kind of hope onscreen. Thankfully, she meets him before insemination – so they shouldn't go down the predictable and annoying route where she's pregnant with a stranger's baby. After all, this isn't The Back-Up Plan.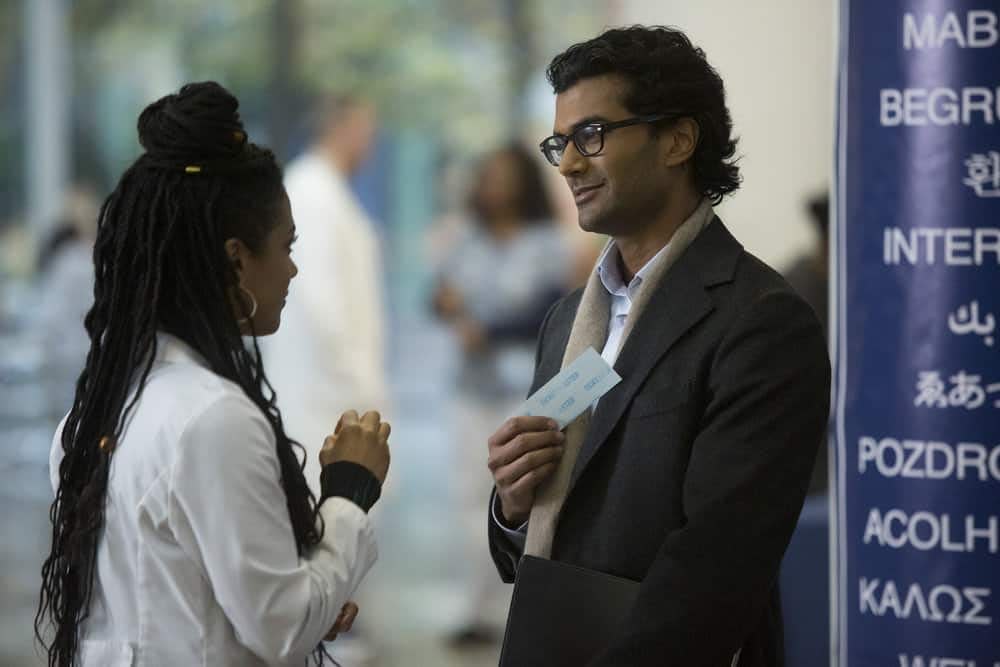 Now for the goosebumps. The riveting hour gives us a break from the medical drama with touching flashbacks of Max and Georgia's blossoming romance. While remaining by his side, she recalls how they met, his proposal, and their heartbreaking fight. Seeing how their relationship evolved is super sweet and incredibly rewarding. Their adorable meet-cute is a Hallmark Movie in the making!
The beauty of those sequences is that they all lead to an epiphany. We aren't just learning more about Georgia and Max's relationship. Her reflection serves as a reminder of what drives Max and gives him a purpose in life. He strives to save lives so that no one ends up like his sister. Georgia realizes that this work is his life.
The icing on the cake – Georgia's peck on his cheek leads to the crucial symptom that helps Sharpe and Reynolds (Jocko Sims) identify the problem and save his life. And they say "a kiss is just a kiss."
A wave of warm fuzzies rushes over us when the team scrambles to his bedside as soon as he wakes. Like Georgia, he has learned a lesson from all of this. Max needs to take care of himself and make his family the first priority. Everyone – including Dean – wants Max back at the helm. They are all willing to help him run this hospital. Awww!
Max turns to his wife – he's finally fulfilling the request she's made for so long. Georgia surprisingly sides with the team. The only way Max will heal is if he continues following his life's work. He'll take it easy from now on, but he will not step down. Double goosebumps!
I've been a fan of this series from the start and this episode surpassed my expectations. I was on the edge of my seat for the whole hour. The winter premiere wonderfully sets up the second half of the season. Things might be a little different from here on, but Max has certainly made his mark on this hospital and all of the people in it.
New Amsterdam airs Tuesdays on NBC at 10 p.m. ET.