"New Amsterdam" Season 2 "Your Turn" / "The Big Picture": Georgia On His Mind [SPOILER REVIEW]
Ever notice how NBC's New Amsterdam strictly uses "Emergency Department" in stead of calling it an Emergency Room? (If they called out "E.D." in every episode, I'd be giggling like a school girl.) It feels like NBC's attempt to consciously distance this series from its previous and iconic medical drama – E.R. But let's face it, New Amsterdam is the new ER – in the best ways possible.
This show excels at making us think and feel. It also takes a page from the very successful Law & Order playbook by tackling "ripped from the headlines" narratives – like the rising cost of insulin.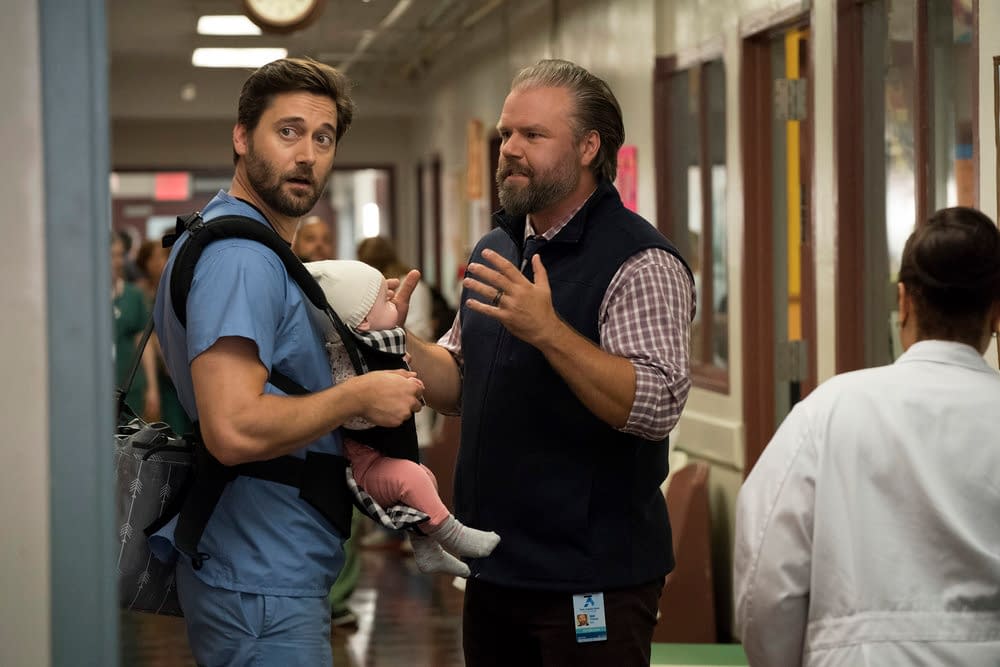 The Season 2 premiere, "Your Turn," thrusts us three months into the future after the heartbreaking and mystery death that has haunted us since the Season 1 finale. We watch how Max (Ryan Eggold) navigates his life in the aftermath and we remain on edge.
Georgia (Lisa O'Hare) lovingly tells Max, "Your turn." He replies, "It's always my turn" and hops out of bed to comfort their crying baby. From that moment on, a little voice in the back of our heads wonders – why is it always his turn? When they start serenading little Luna together, it almost feels too good to be true.
We are even blinded by the cuteness when Max rolls into work like this:
I need every episode of New Amsterdam to begin like this please! I mean look at those faces. It is just too adorable.
Despite the cuteness, we can clearly see that Max is in pain. He would be, either way. Over the course of the hour, we gradually discover who survives and how it all played out immediately after the accident. Each segment is accompanied with a sigh of relief. Until we reach the end and the truth is revealed.
The clues were there all along. As Max's perspective transforms into reality, we clearly see how alone and grief-stricken he feels.
Max's hyperactivity doesn't distract from his lack of public grieving. He isn't taking time off, crying, get angry, etc. He's just doing what he always does, except on an amplified level. He's helping people to the max.
He wages war and publicly shames a pharmaceutical company for raising the cost of insulin – a product that the hospital can learn to manufacture themselves (allegedly). There have been countless reports of diabetics rationing their insulin or buying bad batches of insulin from other countries because it is cheaper.
Max doesn't entirely succeed, but he made a difference in one patient's life and raised awareness. He helped. Now his friends want to help him in return.
His second agenda hits closer to home in "The Big Picture." New Amsterdam employees begrudgingly fill out Max's census. Although the questionnaire seems nonsensical, there is a great reason and a lot of heart behind it.
There is a common thread throughout all answers: TIME. There is not enough time. Instead of spending it with family and friends, precious time is squandered on hours of traveling to and from work. Ultimately, Max charters a bus to shorten time wasted on travel.
Max grieves by giving his staff something he wish he had more of – time to spend with loved ones. He's also seeing his dead wife's spirit and acts like she never died when he goes home. He isn't delusional because he knows to take baby Luna to work with him instead of leaving the baby home with a ghost. For now, Georgia's ghost is mostly comforting. Let's hope it doesn't turn into something concerning.
Now, some highlights on the rest of the DamFam…
Kickass Kapoor
Dr. Vijar Kapoor (Anupam Kher) finds himself in an uncomfortable position. Along with wisdom, certain deficits come with age. Max asks him to figure out a mentorship program of sorts for older, so they are less hands-on with patients. Kapoor takes this on as a personal challenge.
If he doesn't cure Dr. Chen's (Eric Elizaga) patient of two years by the end of the day, he will retire. A bit drastic, but we don't doubt his abilities. After ruling out a couple of theories, his third hunch proves to be on point.
Even when Kapoor doubted himself, his patient was impressed with his ingenuity and effort. He persisted and thought outside of the box. Then he did what Kapoor does best and listened to her. He always succeeds when he gets to know all about the patient.
Kher keeps making Kapoor so fascinating to watch. Despite his countless successes, he continuously fears failing his patients. Luckily, he's not retiring any time soon!
He is the sensitive soul of the bunch. Kapoor's conversation with Max about the pain of losing his wife was breathtaking and heartbreaking all at once. When the others worry that Max hasn't been grieving, he assures them: "Max is grieving in his own way, whether he knows it or not."
Kher is phenomenal on this show. I wish he got more credit his work.
Iggy's Open Heart
I love everything about Dr. Iggy Frome (Tyler Labine). He always know how to make people feel better and cares so deeply about his patients. But he also makes sure to keep his family a priority. When his little ones are home sick and his hubby Martin (Mike Doyle) longs for Happy Hour, Iggy promises to be home by six. Even as he's dashing home, he takes five minutes to comfort a crying stranger in the elevator.
Once he's home, Iggy tells Martin that he wants to adopt another child. He has so much love to give! He also sees the best in people – even murderers who are sentenced to life in prison have more to offer this world.
Iggy gets through to Bijan (Eden Marryshow) in a powerful and life-changing way. All because he took the time to see what kind of productive skill-sets these recuperating prisoner have to offer.
Reynolds' Rap
Aside from confirming that Reynolds' (Jocko Sims) romance with Evie (Margot Bingham) is still going strong, we also learn how hard he had to work to become a respected and reputable surgeon. Michael Duke (Ian Duff) was cut loose for disappearing when he should've been shadowing on rounds. He starts publicly getting smart with Reynolds in the middle of an operation – seriously dude?!?
Reynolds sees something of himself in this kid and gives him another chance, which nearly bite him in the butt. Duke skips a crucial diagnostic step and then lies about it to Bloom (Janet Montgomery) when she confronts him. She isn't misdirecting her pain-fueled frustration. The kid messed up and their patient nearly died because of it.
Once again, Reynolds goes to bat for Duke. He understands how the odds are stacked against them. They can't afford to make any mistakes. He's giving Duke a break one last time.
Is this going to be a new pattern or will Reynolds continue cutting Duke some slack? Only time will tell.
Romance Blooms
The moment I saw JJ Fields playing Bloom's physical therapist, Dr. Zach Ligon, I knew he'd be her new love interest. With narritive having jumped three months ahead, we've skipped the slow burn stage and caught them just as things get steamy.
When pills and booze aren't an option, and rubber-band strategies don't work, there's only one kind of distraction left for Bloom – physical therapy indeed.
As for Dr. Sharpe (Freema Agyeman), she might end up in the hot seat on her latest publicity tour. She's sharing half of her practice with newcomer Dr. Castro (Ana Villafañe) – the doc responsible for curing Max with her revolutionary chemo-less cancer treatment. She likes holding that over Sharpe's head too. Let's just say I'm keeping my eye on this one.
https://youtu.be/c8QT586WeT0
"New Amsterdam" season 2, episode 3 "Replacement": Max takes a chance on a new assistant and goes toe-to-toe with the board on a new plan; Iggy struggles to figure out what is causing a unit-wide illness; Kapoor receives some shocking news.
NBC's New Amsterdam airs Tuesdays , at 10 p.m. ET/8 p.m. CT.