Posted in: Recent Updates, SYFY, TV | Tagged: barbera crampton, brandon scott, Channel Zero, channel zero interview, channel zero season 4, channel zero the dream door, creepypasta, François Dagenais, horro tv, maria sten, Nick Antosca, sam wolf connely, sarah sitkin, Steven Weber, syfy, syfy channel zero, troy james
---
Talking With Nick Antosca About Channel Zero: The Dream Door
Channel Zero's new season, titled The Dream Door, debuts tonight on Syfy, and it just may turn out to be the creepiest season yet. It is based off the creepypasta "I Found a Hidden Door in My Celler" by Charlotte Bywater, and centers around a couple moving into a house and find an old door in their cellar. As secrets are revealed between them, they begin to question everything. It also features the creepiest monster in the show's history, Pretzel Jack. I recently had a chat with series creator about this season and why Pretzel Jack is the creepiest monster on the show yet.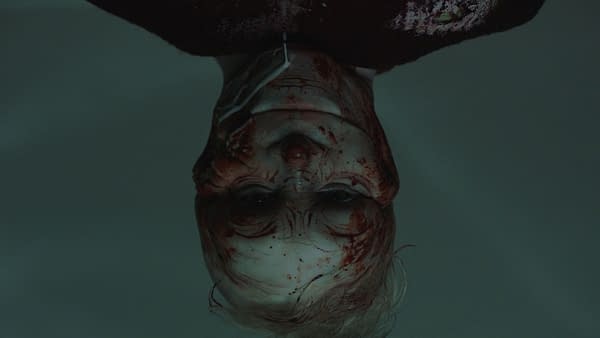 How excited for the premiere this week are you?
Very! I am really proud of this season and the show as a whole. We have been working on it for a year and I am really excited for people to meet Pretzel Jack!
Can you discuss the design work that went into him? He is really creepy.
The idea is that he would be like a broken toy. Something that you love and are fond of, that gave you a reassurance. But at the same time, he is old and broken down. Finding that balance between familiarity and playfulness and terror was our starting point for the design. We got concept art from Sam Wolf Connely, an artist I really like. He did the posters for Candle Cove and Butcher's Block and stuff. We got additional concepts from Sarah Sitkin, this really cool horror body artist. We also worked with François Dagenais who did some other work for us and that Wendigo on Hannibal. He actually built it around Troy James face, the actor who plays him. He is obviously an incredible contortionist, so we wrote the part for him. So François designed the prosthesis and make-up specifically for him.
So you had him in mind the entire time to play the character?
Yeah. We were shooting Butcher's Block and I saw him on Instagram, doing his contortions. So we hired him to play one of the hallucinations that the madness hallucinates in Butcher's Block. When I saw what he was doing- I mean he can run at full speed backwards on his hands and feet! I was like, yeah we should do more together. I was inspired. We had the general concept for this season at the time, but we didn't know exactly what the monster was yet, so we ended up creating it around him.
How did you settle on this particular creepypasta for this season of Channel Zero?
We always look for ones that have a suggestion of a larger world. Then we ask a question that we can explore as a series. So this story is very simple, but very suggestive. It is beautifully psychological and Fruedian. Somebody has a house they feel safe in and then something just shows up in the basement. It feels like it is just leaping out of someones subconscious and that was the thing that excited me about the story.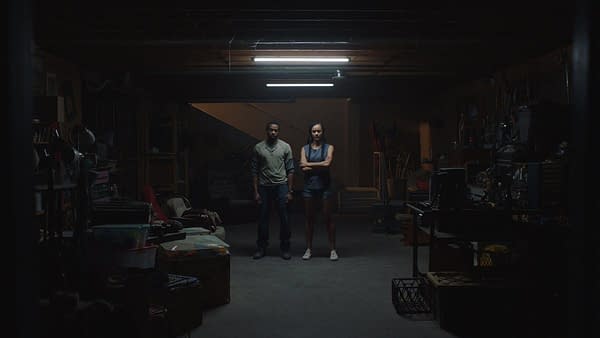 The cast was particularly strong for this season. What was it like to work with Barbera Crampton and Steven Weber?
Great! One of the pleasures of doing this show is getting to work with actors I really love. They are great genre and character actors. Barbera was actually a fan of the show, and I met her socially once or twice and when we cast this part we were like "Shit, she would be great". She came in and it has been really cool. It is really great to have all of these actors surrounding Brandon (Brandon Scott) and Maria (Maria Sten), who round out the cast in a very beautiful way.
They (Brandon and Maria) seem to have really great chemistry even just from the trailer. I got a good handle on their relationship just from that one minute. Can you talk a little about casting them in these roles?
Well Brandon played a character in Butcher's Block, so I knew I wanted to work with him again. He was great in that, and he came in and auditioned for it just like everyone else and won the part. This is a completely different character than the one he played in Butcher's Block. He is a really versatile guy. And this character is one that has to be both likeable and hateable. You have to like him but suspect that he has secrets and is up to no good. He was really the only person who came in who could walk that knife's edge. Maria I had never seen before, and she came in and she's got the perfect combination of strength and vulnerability. You believe she can kick ass , but that she has a ton of dark and vulnerable stuff under the surface. They work really well together.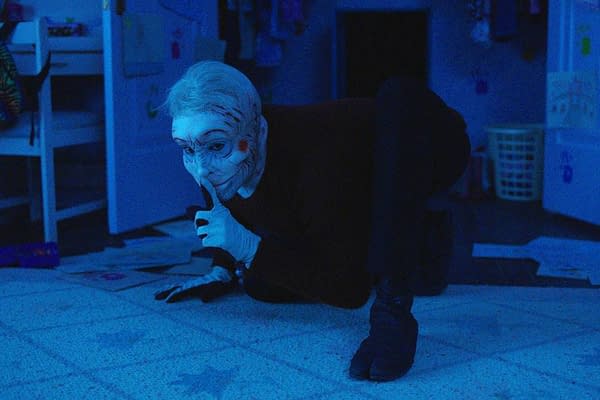 You guys are always part of Syfy's Halloween block. What does that mean to you that they believe in the show so much that they center everything around the premiere every year?
It is super cool. They have been great to us. It's a weird show, and they haven't asked us to be anything other than what we set out to be. It is a cool creative environment to work in and its awesome to be doing it a forth time.
How does it feel to know it is going to air over six nights instead of six weeks like previous seasons?
The sooner people can see it the better. The marketing and programming of the show I have no control over. I make it, and I just want people to see it. I think of the show as a movie in six chapters. The sooner they can watch them, the better. So I am thrilled.
How was working with Evan Katz as the director for this year?
Evan was great! I have been a big fan of Cheap Thrills and Small Crimes for a long time, and this season is playful in a way that he uses to give it a different tone. At the same time, it had to be grounded and we had to feel that bond between the main characters and Evan's stuff is really character–based genre stuff. His stuff is character first and he hadn't done a horror movie before, but I thought he would have the right touch for it. He had a great pitch for it, and really just got it immediately.
Check out the trailer below:
Channel Zero: The Dream Door premieres tonight, on Syfy, and the entire season airs over the next six night, ending on Halloween. All episodes are also available to stream on the Syfy app.
---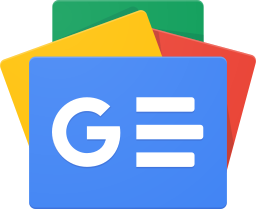 Stay up-to-date and support the site by following Bleeding Cool on Google News today!