NOS4A2 Season 2 Preview: Can Lou Convince Chris That Manx Is Back?
Not to sound like a broken record, but the pace that AMC and BBC America's NOS4A2 has been running at since the second season premiered has been eyeball-bursting. Consider this: "Bruce Wayne McQueen" marks only the mid-point of the season and we already have a major face-off about to happen. As you're about to see in the following preview images and sneak preview clip, Vic's (Ashleigh Cummings) family is about to come face-to-face with a now-on-the-offense Charlie Manx (Zachary Quinto). But while Lou (Jonathan Langdon) and Wayne (Jason David) understand the evil that's on its way, Chris (Ebon Moss-Bachrach) still won't open his eyes to the truth. If he doesn't, this war might just be over before it's barely begun: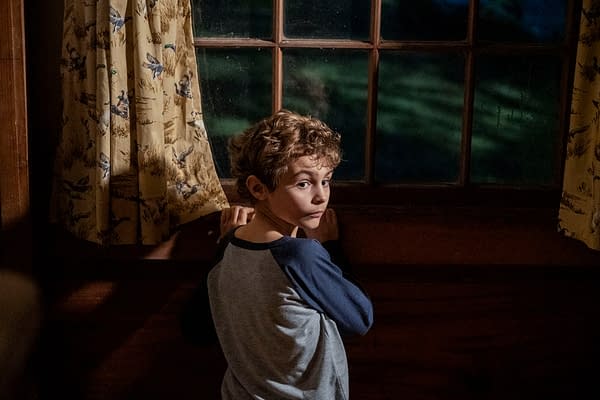 NOS4A2 season 2, episode 5 "Bruce Wayne McQueen": Vic McQueen rides into a deadly trap; Charlie Manx cashes in his favor. Written by Thomas Brady.
In this heart-crushing scene from last week's episode, Tabitha (Ashley Romans) finally tracks down Bing's (Olafur Darri Olafsson) House of Sleep. But as we learned, there's much more waiting for her there than even she realizes:
NOS4A2's second season picks up eight years after the events of season one. Vic McQueen remains more determined than ever to destroy Charlie Manx. Charlie, having faced his own mortality, emerges desperate for revenge against Vic. This time, he sets his sights on the person who means most to Vic – her eight-year-old son Wayne. The race for Wayne's soul sends Vic and Charlie on a high-speed collision course, forcing both to confront the mistakes of their pasts in order to secure a hold on Wayne's future.
Based on best-selling author Joe Hill's novel, who executive produces alongside series creator/showrunner Jami O'Brien (Fear the Walking Dead), NOS4A2 stars Zachary Quinto, Ashleigh Cummings, Mattea Conforti, Olafur Darri Olafsson, Jahkara J. Smith, Ebon Moss-Bachrach, Virginia Kull, Jonathan Langdon, Ashley Romans, and Jason David. AMC Studios produces in association with Tornante Television.