NOS4A2 Season 2 Sneak Preview: The One Question Vic Didn't Want Asked
This Sunday brings the next chapter in the battle between Vic McQueen (Ashleigh Cummings) and Charlie Manx (Zachary Quinto), and now we're getting a sneak preview of AMC's NOS4A2 ahead of its second season debut on June 21. It's been eight years since the events of the season finale, and though some believed Charlie was never coming back, Vic was never convinced. Waiting and preparing for the day he would eventually return, Vic's never stopped wanting to burn Christmasland to the ground.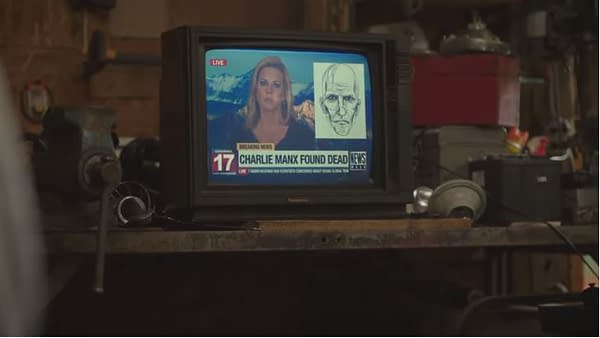 Forced to face his own mortality, Manx is more desperate than ever to make sure that doesn't happen; going after the one person she loves most: her eight-year-old son, Wayne (Jason David). But Vic's willing to sacrifice herself to end Manx's reign for good. Though in the following sneak preview for season-opener "Bad Mother," it looks like she might not have to worry. Though considering we know the season's a bit longer than just one episode, we have a feeling that reports of Manx's demise have been greatly exaggerated:
NOS4A2's second season picks up eight years after the events of season one. Vic McQueen (Ashleigh Cummings) remains more determined than ever to destroy Charlie Manx (Zachary Quinto). Charlie, having faced his own mortality, emerges desperate for revenge against Vic. This time, he sets his sights on the person who means most to Vic – her eight-year-old son Wayne. The race for Wayne's soul sends Vic and Charlie on a high-speed collision course, forcing both to confront the mistakes of their pasts in order to secure a hold on Wayne's future.

NOS4A2 season 2, episode 1 "Bad Mother": Eight years on, Vic McQueen receives shocking news about Charlie Manx. Maggie consults her tiles at great risk. Bing hunts down the Wraith but hits a roadblock. Millie Manx discovers a new aspect of Christmasland. Written by Jami O'Brien
Based on best-selling author Joe Hill's novel, and executive produced by series creator/showrunner Jami O'Brien (Fear the Walking Dead) and Hill, NOS4A2 stars Quinto, Cummings, Smith, Olafur Darri Olafsson, Ebon Moss-Bachrach, Virginia Kull, Jonathan Langdon, Ashley Romans, Jason David, and Mattea Conforti. Produced by AMC Studios in association with Tornante Television, NOS4A2 is executive produced by Hill, O'Brien, and Tornante Television's Lauren Corrao.