Shawn Michaels appeared on WWE's The Bump livestream ahead of NXT Takeover: In Your House tonight. In an interview about his career primarily as it relates to the In Your House PPV series ahead of Sunday's revival of the name, The Heartbreak Kid (can you really still be called the Heartbreak Kid at age 54?) repeatedly looked to rehab his image as a backstage politician, claiming to not really know or care what was going on behind the scenes and focusing on his in-ring performance.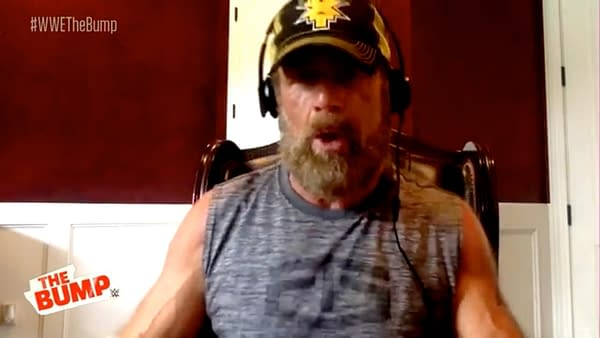 "I will say, certainly for me anyway, ignorance was always bliss for me," Michaels said of when he first learned about the launch of the In Your House PPV series, which was a departure of WWE's typical five annual PPV schedule. "I never got, for a guy who had the reputation of 'politicking,' I don't really ever know what's going on for me, company standpoint, how they want to advance. I just don't pay attention to that stuff. It was more, in-ring was my focus. It was our understanding as we heard about it that they wanted to add pay-per-views but they weren't going to be as big. They wanted to keep the five ones special. It would be sort of a smaller pay per view. That's how the idea started, and pay-per-views were always a positive thing from a performance standpoint, obviously, but also from an income standpoint. You just learn to sort of go along with the ride that the WWE has been doing for the last gazillion years or certainly in the last thirty-five that I've been here. They continue to try and advance and be ahead of the curve and whatever is the latest thing. They're always trying to push that envelope and be ahead of the curve as far as providing different revenue streams."
Michaels discussed his match against Jeff Jarrett at In Your House 2: The Lumberjacks in 1995. Michaels called Jarrett "fantastic" to work with and believes the match helped establish him as a reliable company workhorse. "This is one of those sleepers that doesn't get talked about much," he said. "One of my favorite matches, and this is one of those situations where everything was perfect. Jeff and Road Dogg, look, they were fantastic."
But once again, Michaels professed backstage ignorance. "Funny thing is I was oblivious to what was going on behind the scenes," he said. "I didn't know that they were leaving. But that weighed absolutely nothing on their performance. Jeff was a fantastic guy to work with. Fantastic crowd. Winning the championship, the Intercontinental Championship, it really was. That was one of those matches where I think, it went well, the crowd was there for me, that made the company sort of looked at me and went, he's a horse I think we can depend on in years to come."
On In Your House: Mind Games, in which Michaels faced off against Mankind, HBK praised his opponent. "I give Mick so much credit for that. He's the one that just really had a few of these small little ideas that were just innovative, different, worked in a way that we could do without it being a no DQ, a no holds barred. It was not a stipulation match so to speak, but because of his style and the character that he was doing at the time, we were allowed to make it little bit more rough and rugged, a little bit grittier of a match."
But once again, Michaels said that he had no long term plan and was just living in the moment. "That is something that I did need at that time," he said. "But I have never given the things that I did careerwise, I had no long-range sort of idea. I was not some evil genius thinking about things days, weeks, months advance. I would take something in that moment. I guess I've always felt like the wrestling business is in that moment. What you are doing now may not work five days from now or five months from now. So we just approached it on that level that day. In the scheme of things, it is now, as you look at my career and look at the arc and everything else, it seems like this well-planned story. But like everything in my life, I've gone with happenstance and just tried to go with what I've felt was right for me to do and it's worked out. So that was the situation that night and Mick had so much to do with that. The character, Mankind, and the way he did it was just, it was kind of what was going on at that time. I don't think anybody had quite the appreciation for what he was doing until years later."
While Michaels is, in this reporter's personal opinion, the greatest wrestler of all time, his legendary skills in the ring were only slightly more famous than his reputation as a backstage politician of the highest rank. Michaels, a member of the legendarily politically powerful Kliq, ranks up there in the top four for sure, along with Triple H, Hulk Hogan, and Kevin Nash. It's interesting to see him discuss these things from his perspective, though one can expect it has a certain bias. And of course, all of the events above took place before Michaels "lost his smile," for what it's worth, and the second half of HBK's career, following his original retirement, a Hall-of-Fame-worthy career in its own right, went down a little differently than the initial run.
Enjoyed this article? Share it!