Shawn Michaels appeared on WWE's The Bump livestream ahead of NXT Takeover: In Your House tonight. There's at least a half dozen wrestlers who people have tried to call "the next Shawn Michaels" over the past two decades. The most recent is Adam Cole, and most would probably agree, there is a resemblance. Count Shawn Michaels himself amongst them, as HBK discussed the comparison.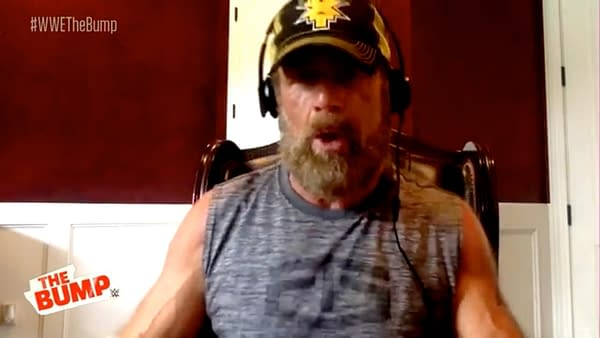 "I don't see any of me in Adam Cole because I'm the old guy, so I don't think you can do that," said Michaels, pointing out that he's the originator when asked about the similarities. "But I certainly see what everybody's talking about. He's unbelievably talented. He's charismatic. So yes, I certainly see the comparisons. I'm always flattered by that. Adam is an absolute fabulous dude. Incredible champion. He has carried the banner for NXT and the NXT Championship for the last year in a way that's gonna be tough to match, especially form just being a pro and being there for everything and doing everything as a champion."
Are we imagining things, or was Michaels perhaps speaking a little too loosely with the "tough to match" comment, and did he quickly pivot to be clear that the outcome of the match is still up in the air. "That said, it's already been impressive how long he's stayed there, but you gotta wonder when that shoe is gonna drop and when that luck is gonna run out, Michaels said. "I know Dream has had a ton of steam going on. He's unbelievably exciting and dare I say twice as charismatic as Adam Cole. That's why you get the WWE Network and you watch In Your House tonight to see what happens. I am there to watch with everybody else as a fan. I'm going to enjoy it. It's gonna be a fantastic match. It's gonna be a little bit different which I think everybody enjoys. It'll give us another reason to find out if Adam Cole is still the NXT Champion or if we have a new NXT Heavyweight Champion." Of that, there can be no doubt.
Enjoyed this article? Share it!