Shawn Michaels appeared on WWE's The Bump livestream ahead of NXT Takeover: In Your House tonight. The Heartbreak Kid (can you really still be called the Heartbreak Kid at age 54?) discussed the event, including the preparation that goes into an NXT PPV from the backstage perspective as well as for the performers. Michaels also talked about the nostalgia value of the In Your House name, as well as what matches to watch for tonight.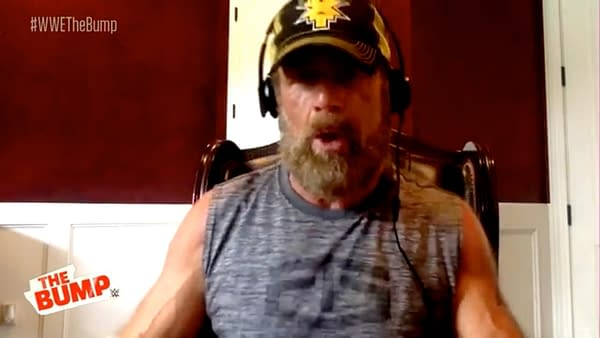 "It starts long before the night," Michaels said of his typical NXT PPV day. "Probably a week and a half ago, we start, in your mind, putting matches together, ideas together, creative together, getting with a number of the different people that are competing that night and beginning to sort of set the foundation for what we wanna do in each match, sort of where we've been, where we wanna be going. The night that it actually happens, tonight, the majority of the work, certainly from our standpoint behind the scenes, is done. And then of course it's in the hands of the performers, who we have the utmost confidence in. But I imagine for them, it's pretty high-anxiety, high-stress, a great deal of excitement, wanting to deliver on everything that's been set into place at this point. WE've got, top to bottom, some fabulous performers on the NXT roster. On In Your House, it's a stacked card. One of the things that everybody knows is that each match is trying to outdo the other and that always makes for a fantastic show for the viewing audience."
As for the use of the In Your House name, Michaels discussed how the use of an event name that was so important to his career reflects on his enjoyment of it today. "It's always fun," Michaels said. "It's always enjoyable when you have an added element that's a little bit of a throwback or has some special meaning for you. But that has been such a common thread throughout everything that has been my NXT career. From starting to work with Hunter [Hearst Helmsley] and then the addition of Road Dogg, the entire coaching crew that we have there, from Terry Taylor, Sara Amato, Matt Bloom, the list goes on and on. All of these are people who I've come across in my career and now we're all getting to help this next generation. Many of them watched all of us growing up, so again, it really is, for us as coaches and everybody behind the scenes at NXT, it's a constant, I might be aging myself and you might be too young to know, the Seinfeld episode, worlds colliding. That's what it is every day and certainly every Takeover for us. But it's an enjoyable reminiscing and worlds colliding."
And on which matches to pay attention to at the PPV tonight, Michaels said, "It's a tossup between Karrion Kross and Tomasso Ciampa, but then the triple threat with the ladies. I love our ladies. I will put them up against anybody, any day of the week, twice on Sunday. We have a women's division that is just off the charts for me. I'm so happy for all of them because they've just taken this business and the WWE and certainly NXT to a level that I think has never before been seen in the likes of wrestling, and I don't even think they're done yet. I know they're not. They are going to continue to raise the bar. So I will always put any of our ladies matches up against anybody's anytime because they're just unbelievable athletes. They do such a great job."
Enjoyed this article? Share it!