Paragon Series Trailer: Heaven's Dead and Danny Trejo Wants Answers
Almost a year-to-date from when we first reported about pop culture god Danny Trejo's (Everything Worth Watching) great day, when he went from saving a baby in an over-turned car (just in case you dare question "The Trejo," you can check out the story here) to joining the cast of Pikchure Zero Entertainment's new sci-fi action series Paragon. While we're not sure what happened to the baby, we do know what happened to the series: it released a teaser trailer for the seven-episode season where the human race faces a world where Heaven's died and only a small aspect of an Afterlife remains- with everyone (even Death) fighting to claim the Elysian.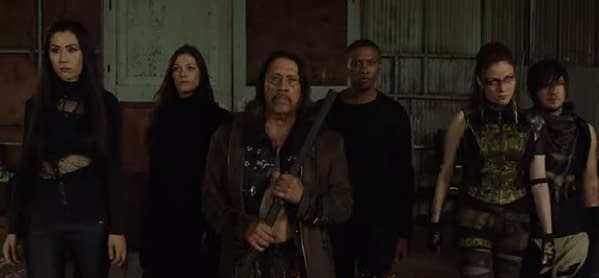 Joining Trejo on the series are Amin Joseph, Franziska Schissler, Dilan Gwyn, Khu, and Justin Price – with Price, Khu, and Schissler producing, and the series being shopped to networks and streaming services.
Heaven is gone. In Paragon's world, where Reapers take souls and demons bargain with humans for their place in the food chain, a new descendant named Jael has emerged. After centuries of civil unrest in the real world, a new war is waging among those who are seeking to create a new after-life – and Jael finds herself in the middle of it. She must venture into the dark world of Soul Reaping and embrace her new role as the Paragon.
"We have always loved the sci-fi fantasy genre, and we wanted to create a series that explored one of the most intriguing questions of humanity. Where do we go when we die? And what would happen if Heaven no longer existed?", explained Price when the project was first announced. "Paragon is an edgier and grittier cable style series in the vein of Firefly and Altered Carbon. I believe we have an electric hybrid that explores the human spectrum of dealing with loss and love in a stylistic way. Danny Trejo is outstanding as Kincaid, the half-dead leader of disbanded reapers."