"Pennyworth": World's Toughest Butler Gets Sexy, Dark and Brooding Backstory [SPOILER REVIEW]
EPIX's Pennyworth opens with a wide open shot, panning back through the misty countryside as a mounted group of gentry plow ahead, dressed to the nines in a fox hunt set to The Rolling Stones' "Paint it Black". The scene twists suddenly as one of the upper-crust is abducted by a mysterious woman (Paloma Faith) and her Oddjob like associate. The die is cast, the mood is set, and the opening credits roll.
The 1960's London of Pennyworth isn't the London of our 1960's. It's more authoritarian, more prone to propaganda and state sponsored brutality. Secret societies like the Society of the Raven are jockeying for influence on the future of the Empire, and young Alfred (Alfie) Pennyworth (Jack Bannon) is trying to make a living as his own man after being discharged from the service.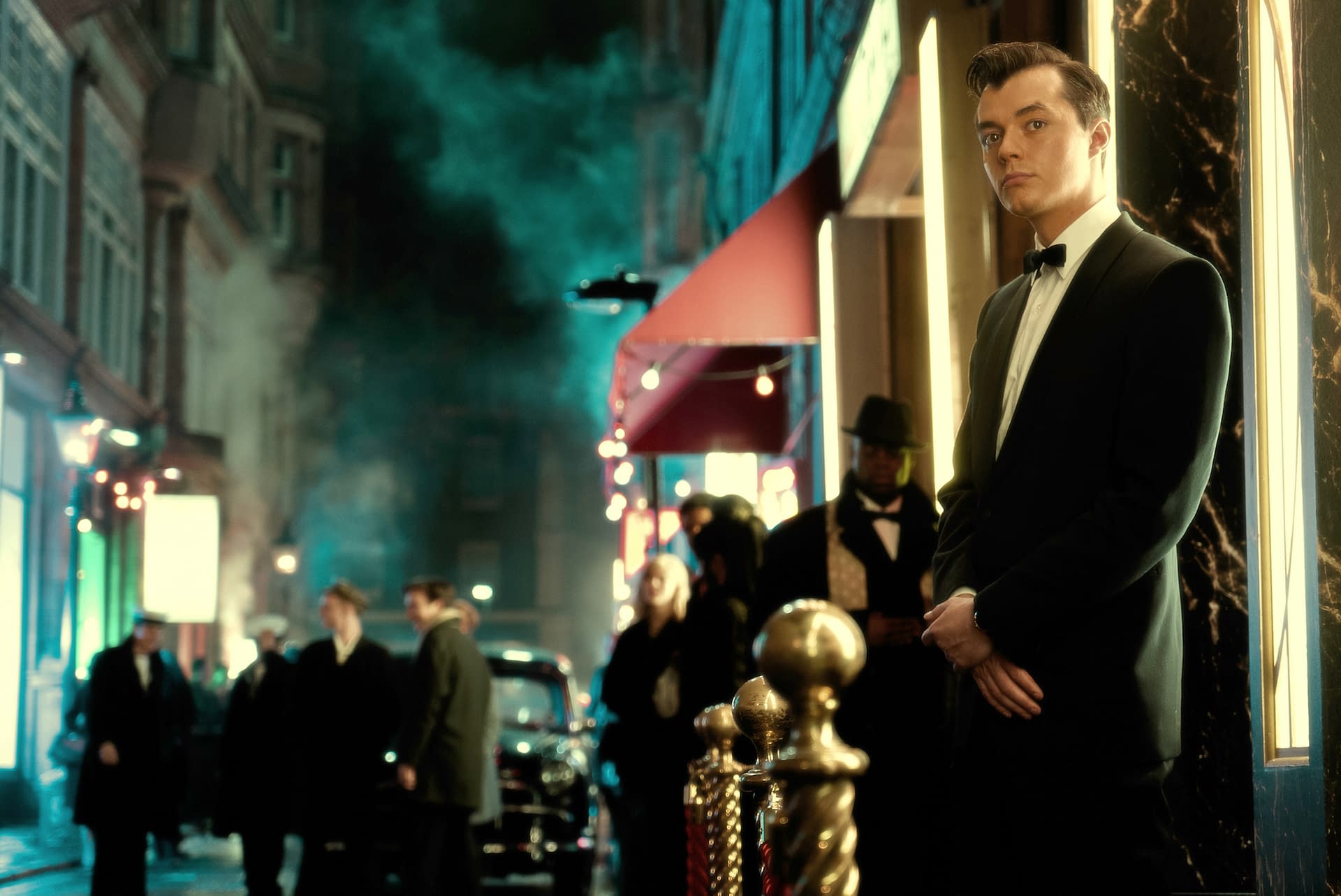 His time in the military still weights heavily on him, and he and his two friends Dave Boy (Ryan Fletcher) and Bazza (Hainsley Lloyd Bennett) toast a fallen comrade at arms, apparently lost to suicide.
The production design in Pennyworth is extraordinary, with rich, umber tones setting the mood of this darker, more dangerous London. Gibbet cages line the roads, with the bodies of the guilty interred within. Stocks are still in use, with one man being pelted by passers-by for being a thief. Posters line the roads, coaxing citizens into reporting suspicious activity or signing up for service.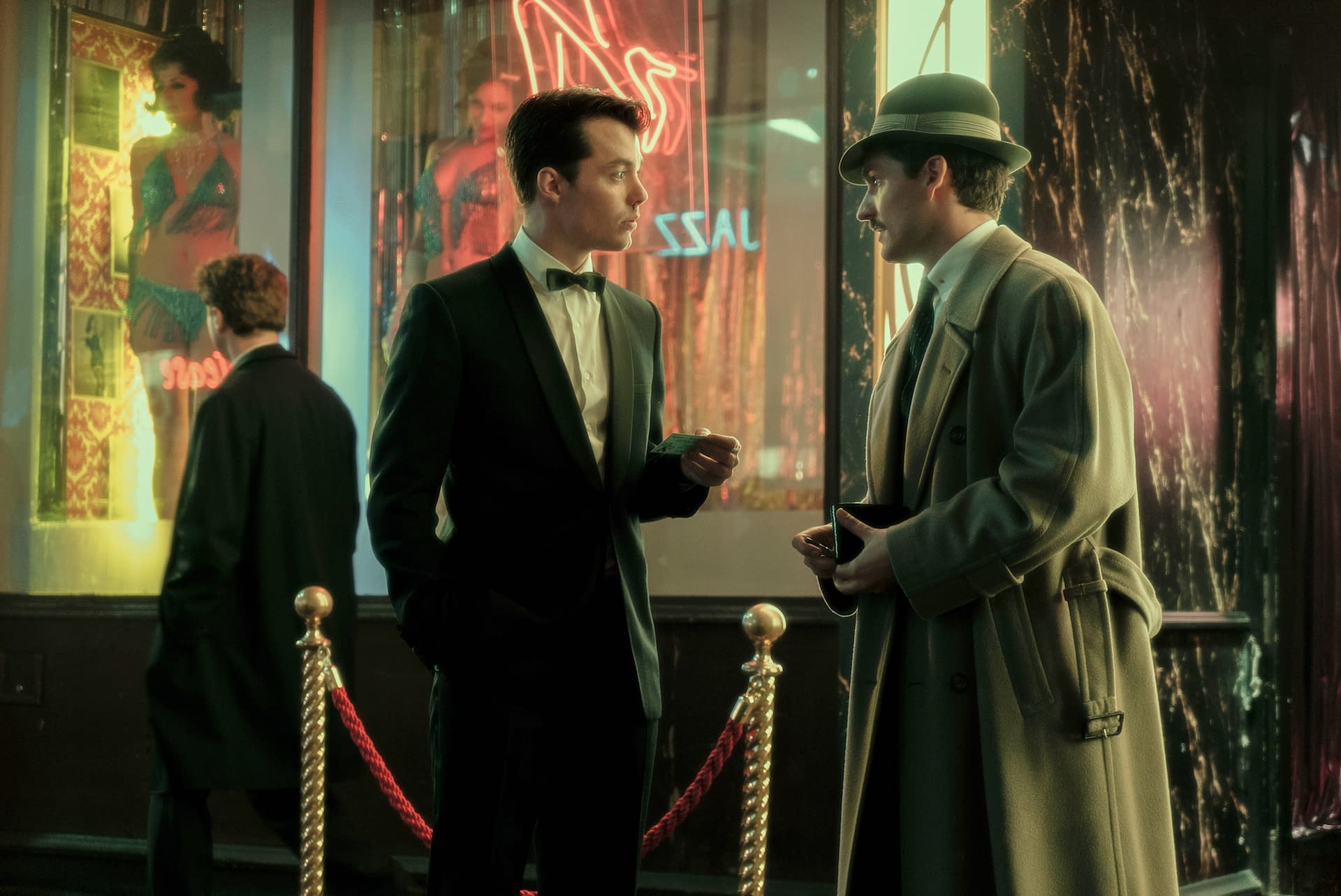 Alfie has dreams of opening his own security firm, but his reality is far closer to earth. He works the door at a posh club, where he is asked to break up a potentially unpleasant situation between two men and a brash American (Ben Aldridge), who is trying to get his drunk sister to leave the club. Alfie beats the two men down, but gets punched in the face by the American woman. This exchange proves to be life changing for young mister Pennyworth.
The American gentleman is none other than Thomas Wayne, a financial analyst who is in England tracking down a fraud case. That he runs into his sister is pure happenstance, but this does allow him to meet his future butler for the first time.
This exchange also introduces Alfie to Esmé (Emma Corrin), one of the dancers at the club. Esmé gives him a handkerchief for his bloody nose, which he turns into an opportunity for a date.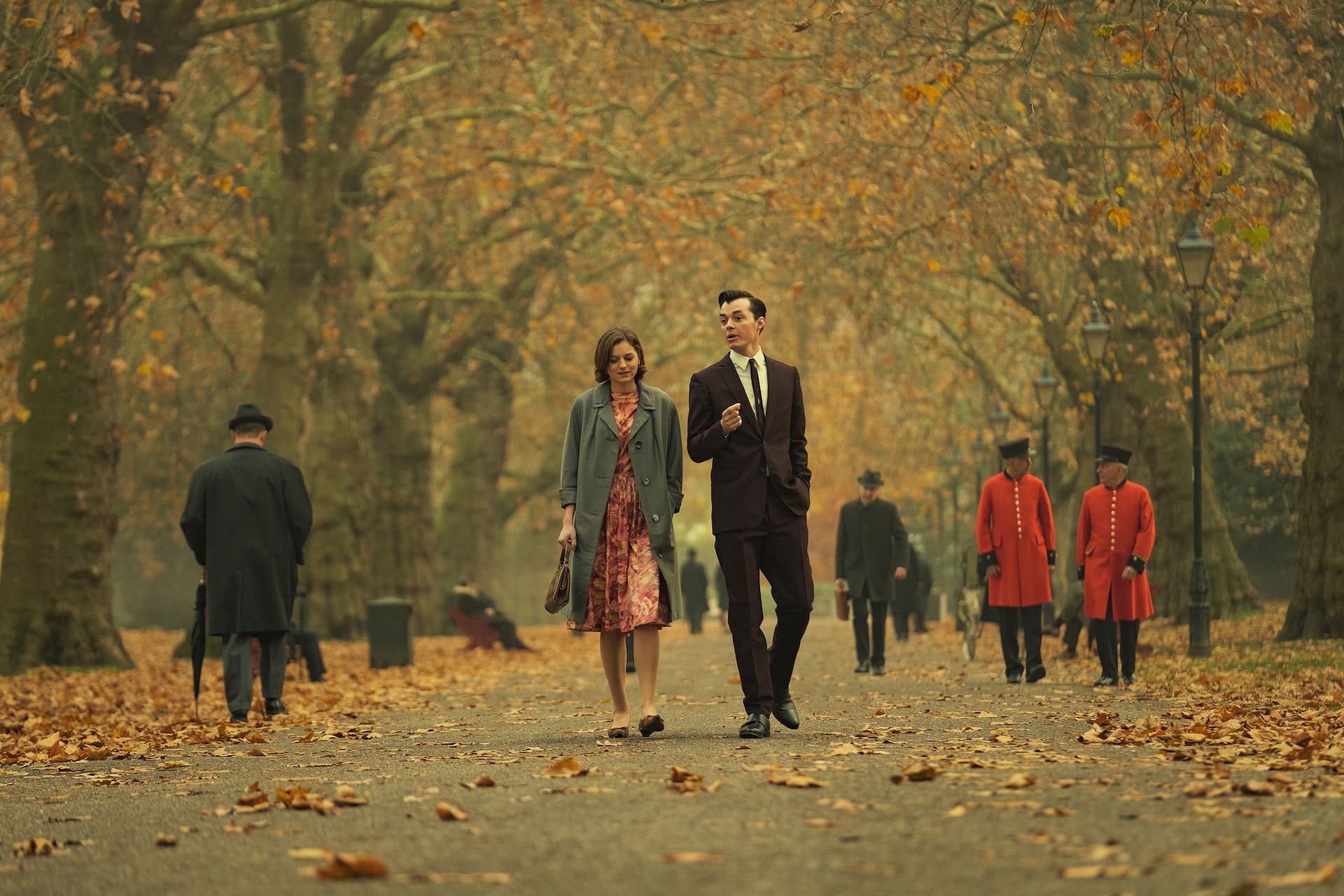 The entire set-up of Pennyworth would collapse in a heartbeat if Bannon and Corrin didn't have such incredible chemistry. The two characters fall for each other quickly, and it's a very believable relationship. Bannon's Alfie is cocky, self-assured, yet vulnerable, while Corrin's Esmé is confidant, bold, yet unsure of her future.
The show really gets up to steam, though, when the mystery woman from the opening abducts Esmé to get Pennyworth's help in tracking down Thomas Wayne. It seems that Mr. Wayne is unintentionally tangled up in a fraud investigation that could entangle major movers and shakers in British high society, and the Raven Society has every intention of keeping that from happening.
Pennyworth is a lot of fun, with a breezy, Bond-like atmosphere that doesn't veer off into parody. The cast is likable, charming, and unbelievably attractive, with bad guys that ooze badness and good guys that you want to root for. And the Pennyworth family has a few surprises in store for us, too.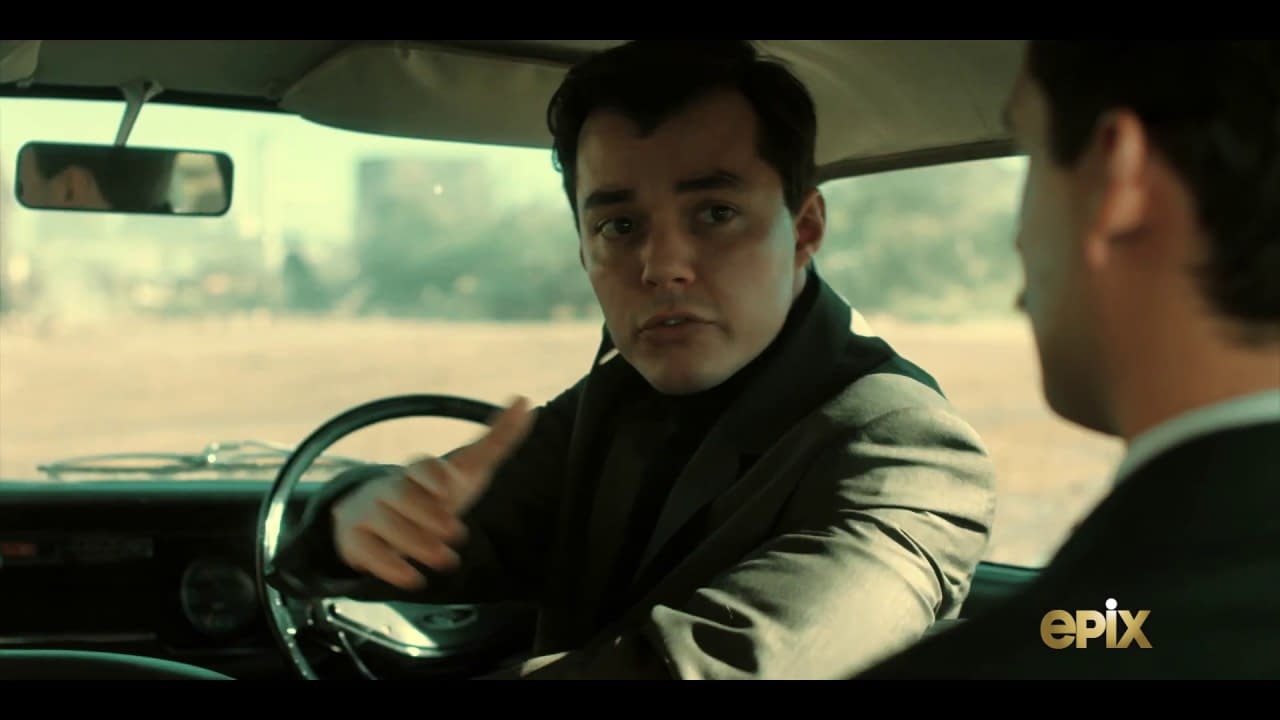 Bruno Heller wrote the pilot for Pennyworth, which was directed by Danny Cannon. The two have worked together before, most notably for that other Batman prequel series, Gotham. Pennyworth is definitely the superior outing, though— the series manages to be entertaining without reverting to the groan-worthy camp and melodrama that so often marred Gotham throughout its five season run.
I have finished the first handful of episodes so far, and found them to be a lot of fun – with a smart, engaging cast, a compelling mystery, and a design aesthetic that makes this particular take on the Batman mythos a true delight to visit.
EPIX will be start airing Pennyworth's ten episode first season on July 28th. Check your local listings for broadcast times!
[rwp_box_recap id="0"]