Prodigal Son Season 1 Finale Preview Finds Bright Framed and Desperate
More killer footage of the season finale of FOX's Prodigal Son and we might end up being surprised after all. What the hell is going on with Dani (Aurora Perrineau)? She seems dead set on condemning Bright (Tom Payne) as the killer. No, Malcolm, we will get to the bottom of this. She's seriously projecting that he is the perpetrator who deserves to go to jail for murder. Is it all an act? I hope so because the alternative is she has been playing Bright this whole time, pretending to be his friend and getting him to trust her. The autopsy reveals that he was smothered with a pillow, now even though we all know Bright did not do it and is being set up (would be quite crazy if he did kill him, though) his DNA is found on the body. Edrisa (Keiko Agena) is the only one who has Bright's back, letting him in on the case info and who processed the lab results, and establishing a clear link to Endicott (Dermot Mulroney).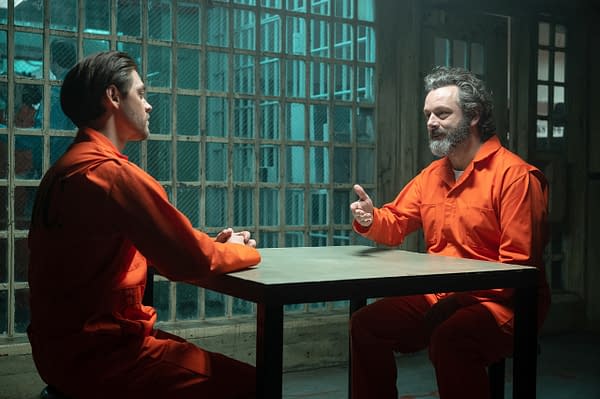 Malcolm, as expected, has a dream/hallucination coming face to face with his father in prison battling with his conscious that he is not like him, something that has been at the forefront of the entire first season. I love Dr. Whitly's (Michael Sheen) reasoning for why they aren't the same, Bright is too sloppy as a killer, it takes finesse, intelligence, and skill to kill so many people and get away with it. Good point. It's true, Bright has to be very pleased Eve's killer is dead. Mommy to the rescue as Jessica (Bellamy Young) bails her son out of jail and he is put on house arrest "you are grounded". So how will the season end? There has to be some shocking cliff hanger. Is Dani a dirty cop? Did Bright actually kill Eddie? Who will take out Endicott? A friend of mine predicts it might be Jessica, a high possibility. How will all of this affect the Whitley family and where will each one of the end up? Will The Surgeon get to taste blood again?