Prodigal Son served us up a devious treat: set to air on FOX starting September 23, the dark detective series that centers around Malcolm Bright (Tom Payne) – who suffers from PTSD, narcissistic tendencies and possibly psychopathy – was actually released early online.
As for the series itself, Bright is an eccentric forensic psychology profiler who starts out working for the FBI but gets fired for being an unstable liability. He is then conveniently recruited by his old buddy Detective Gil (Lou Diamond Phillips) from the NYPD to assist on a case that seems all too familiar – in fact, it hits a little too close to home. Bright's father is the legendary Dr. Martin Whitley (Michael Sheen) aka "The Surgeon" a serial killer who killed at least 23 people.
https://www.youtube.com/watch?v=26C6JqBdb20&t=13s
"No one is born broken. Someone breaks us."
The pilot episode of Prodigal Son opens to Bright being close to catching a serial killer. He ventures out to a barn where heads are stored in jars and fresh victims are unconscious and tied up on the floor. I know, my kind of show. Zoning out, he gets electrocuted and we get our first glimpse of his childhood. Bright is set upon by horrid flashbacks of being a little boy and watching his father being arrested and taken away. The scene with the look Sheen gives him made my skin crawl in a good way, reminding me of Jack Nicholson in The Shinning – "Here's Johnny!".
Once Bright regains consciousness, he comes face-to-face with the killer who is moments away from ending Bright's life. He is able to persuade him to put the gun down. Unfortunately, the authorities swarm in and put a bullet in the man. Bright seems physically ill and gets fired for being unstable shortly thereafter. Starting any show with decapitation, electrocution, and an unauthorized shooting alway sets a good tone…
https://www.youtube.com/watch?v=JYH4uohfLi8&t=2s
"What if psychopathy is not a disease?"
I especially enjoyed the dark scene of Bright waking up with a creepy mouth guard, masochistically shackled to his own bed. Was I a little confused? Absolutely. Did I want to keep watching? Hell, yeah. Bright suffers from severe night terrors and apparently turns mobile because of them, at one point tackling Dani (Aurora Perrineau) at the precinct. Bright dreams of interludes with his father at a young age. By the looks of things, it appears Dr. Whitley was a delightfully engaging father who loved his son – granted, he also kept his victims in a trunk in the house. I guess that kind of takes the "Father of the Year" award off the table and invites ACS to the door – but it also helps establish an interesting narrative duality that has layers worth exploring.
"Remember… we're the same."
Detective Gil recruits Bright to help out on a murder case. The victim it appears was waiting for her BDSM lover to come over and instead got a surprise visitor -and she was made to suffer incredibly. Bright is able to recreate the crime scene and instantly realizes that they have a serial killer on their hands who is copying "The Surgeon's" work. Bright decides to visit his father, who he hasn't seen in a decade – after he told him he is joining Quantico. The reunion between father and son was a very interesting one: coming across more like therapist and patient – and seriously, can Dr. Whitley's cell be any more comfortable? Granted, he probably doesn't feel that way with the chain running from his back to the wall – more of a "fancy show dog" in a "fancy" cage, which makes Sheen's physical presence within it all that more threatening: a deadly serpent in his own caged "Eden."
https://www.youtube.com/watch?v=DGKx89Pfty8
"I'm going to chop off your hand."
Father and son come to a standoff when Bright figures out the killer is one of Dr. Whitley's old patients. I loved the scene where Bright stands up to his father and threatens to never come back again if he doesn't release the name (so doctor/patient confidentiality is no longer in play?). The NYPD rush to apprehend the killer and walk into a padded apartment with a victim chained to a chair, half-naked and a bomb ticking. Here is where shite really hit the fan and when I made the decision to watch the seconf episode: with 75 seconds and counting, there was no way to free the victim nor disarm the bomb… so what came to mind? A cooler and an axe. One arm down and crisis averted with no fatalities.
Anyone else not see that coming?
I am interested to see the family dynamic play out, also. Bright has a very kind and supportive sister in Ainsley (Halston Sage), a journalist who was only 5 when their father was imprisoned and it doesn't seem to have psychologically affected her – at least from what we've seen so far. Bright's mother Jessica Whitley (Bellamy Young) is an overbearing yet loving mother who gets his sheets cleaned – and when necessary, tries to "roofie" him. I think it's dysfunctionally sweet, actually. The family is obviously not too keen on Bright engaging with his father, so I expect to see a lot of drama there. But as much as I am interested in the underlying intricacies of family, I wouldn't want it to monopolize too much screen time.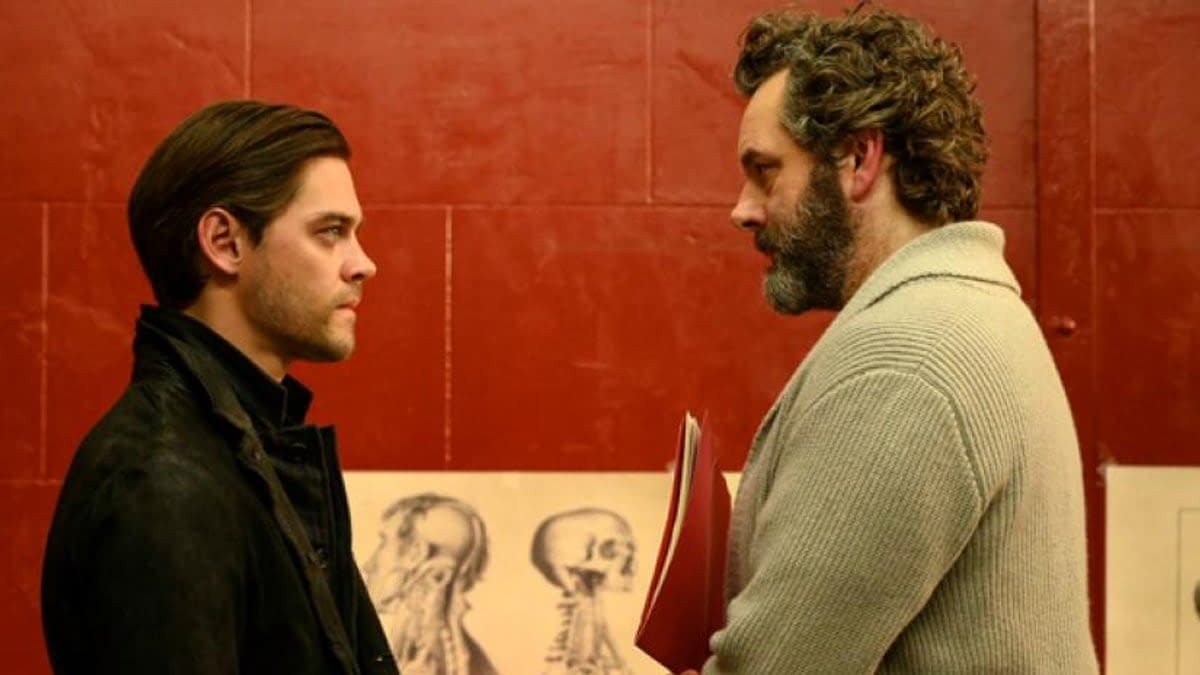 "I do deserve 'The Surgeon's' pain because I am his son"
Bright goes after the killer and figures out his wife is the next victim. Detective Dani is already there at the mercy of the killer, with Bright trying to talk down Carter Burkhead. He unleashes some emotional bloodletting and cathartically tells the killer he is "The Surgeon's" son and a much more worthy victim than his cheating wife.
A fantastic moment that Payne delivers in a way that tells us so much about Bright: he wants to die, he wants to be punished for his fathers' sins, and the toxic blood that flows through his veins. He seemed disappointed that Gil stormed in and shot the killer, depriving him of his salvation.
An awesome first episode, with all of the makings of quality opener: severed heads and arms, BDSM, a tormented conflicting family, a serial killer dad, a detective whose life was spared thanks to Bright, and a protagonist who breaks rules and masochistically puts himself in situations where he might get killed. I'd like to see more of the relationship between father and son, and how that will play out both in his work with the NYPD and across his entire mental landscape. I predict a serious mental breakdown on the horizon and wouldn't be surprised if sister and mom have to come to the rescue – and that mom's going to have a pretty interesting idea of what "rescue" means. I wouldn't mind getting a peak at Jessica and Martin going head to head – if I have her pegged right, a mother will step in to protect her son. Most of all, please bring on more brutal killings – because FOX's Prodigal Son is an unconventional detective work that treads familar territory in new and interesting ways.
Enjoyed this article? Share it!