Prodigal Son Webisode Review: Look at The Surgeon's Day Proves Winner
Just when I was beginning to mourn the end of FOX's Prodigal Son, they roll out a special treat "A Day in the Life of Martin Whitly". I've always wondered how Martin (Michael Sheen) keeps himself occupied throughout the day. I mean, there are only so many books he can read, television shows to watch, and the number of times he can blow up his son's phone. I'm grateful for the insight, and it's no surprise that Claremont is quite an eventful place. So what does "The Surgeon" do to stay sane (or maintain his insanity, depending on how you look at it)? It looks like art, group therapy, self-reflection, quality time with Bright (Tom Payne), and, obviously, controlling those around him. I'd be disappointed if that wasn't the case, and I wonder if this is a foreshadowing of what he'll look like in prison.
When Dr. Whitly gets challenged by an inmate in group therapy he takes his time, there is no quick road to satisfaction but a prolonging and psychological turmoil. Can we also address the group psychiatrist? If he wasn't dressed in plain clothes, I'd peg him for a convict. How dare anyone accuse "The Surgeon" of being soft, and is anyone else curious that the guards had no clue that a shank was in play? Guess even in a psychiatric facility that's just a norm which means Martin will fit right in.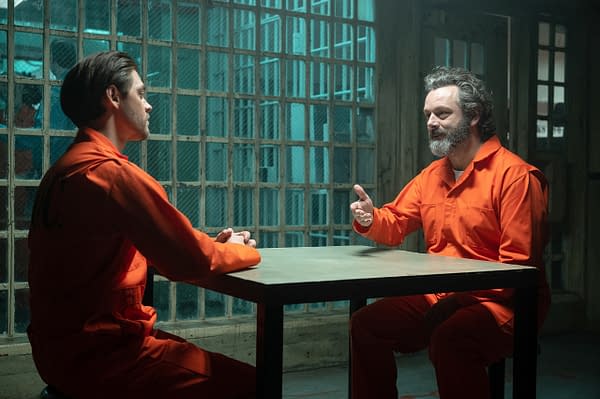 Clearly, 21 years of being clean are not exactly accurate, unless "clean" means not killing multiple people but stabbing someone here-and-there is ok – does that qualify as a relapse? Mayhem ensues and the poor inmate has an unfortunate fall on a very sharp object and the day rolls on. I'd love to see more Martin screen time if/when season two debuts, he's such a lovable character. Impressive that a serial killer can seem so relatable especially as a parent. Will he have prisoners wrapped around his little finger, become the resident MD, escape, or be transferred back to his home at Claremont? Looking forward to finding out.