Fans of Adult Swim's Rick and Morty had been counting down the months and days until Dan Harmon and Justin Roiland's animated mayhem returned to their screens once more.
That wait ended earlier this month with season premiere "Edge of Tomorty: Rick Die Rickpeat" (reviewed here), where we got a crash course in "death crystals" and gained a deeper understanding of just how hard it would be to kill Rick Sanchez – and keep his dead.
Which lead to this week's "The Old Man and the Seat" (our review here), a brilliant balance between sharp social satire and a gut-punch examination of love, loss, control… and poop.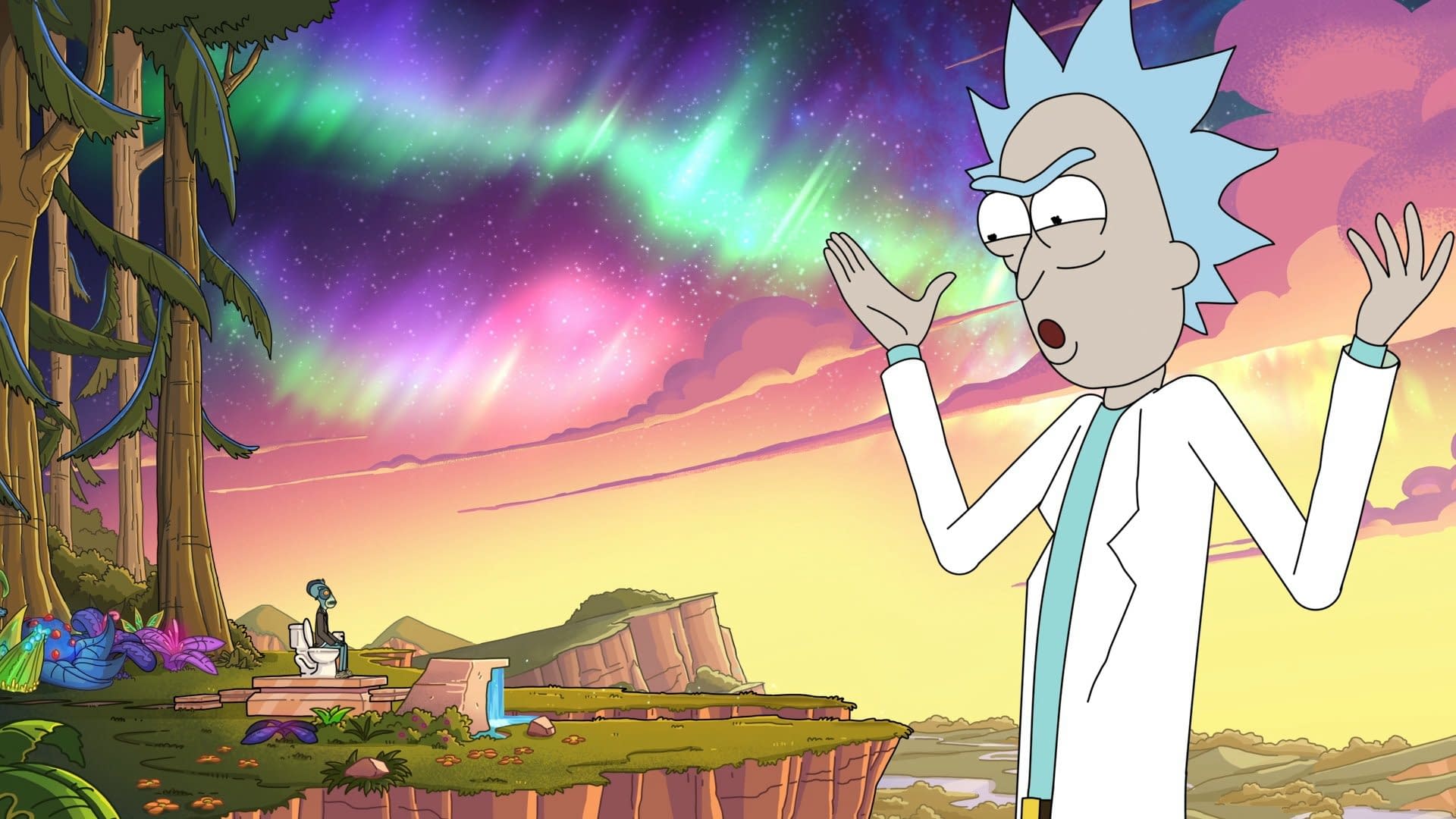 Now before we start turning our attention to this Sunday's episode "One Crew Over the Crewcoo's Morty", Harmon welcomed us back to the show's "B-Story Generator" – except this time, to offer a sobering reminder.
As much as the sacred box that has nothing to do with Pop Tarts has been the source for some fascinating concepts, Harmon (with a clearly disappointed Rob Schrab in the background) needs us to know that not everything that comes from the "B-Story Generator" can be a "gem".
With that said, for what it's worth? "Portal Kombat" sounds like a given to us (though Rick has engaged in a little "portal fu" in the past), and we're ready to see where either "Rooters + Booters" or "Roofers + Booters" would go.
So don't throw those out quite yet…

From the Upfronts earlier in the summer, there was the announcement of season 4 with an accompanying video (see below), and red carpet interviews with Harmon and Roiland that teased (jokingly?) a Rick and Morty future with Daniel Radcliffe and Kanye West in it. In late June, Adult Swim announced a second addition of its two-day festival in Los Angeles – which will be of particular interest to fans (more below).
And then? Things got serious with the season 4 trailer…
https://www.youtube.com/watch?v=Rw6BrzB1drs
Buckle in for disappointment because there's no way these episodes will be good enough for how long you waited. But maybe they will be? It's season four! It's sexy and smooth. Buckle in! Did I already say that? Definitely stay buckled in.

Rick and Morty is the Emmy-award-winning half-hour animated hit comedy series on Adult Swim that follows a sociopathic genius scientist who drags his inherently timid grandson on insanely dangerous adventures across the universe. Rick Sanchez is living with his daughter Beth's family and constantly bringing her, his son-in-law Jerry, granddaughter Summer, and grandson Morty into intergalactic escapades.

Rick and Morty stars Justin Roiland (Adventure Time), Sarah Chalke (Scrubs), Chris Parnell (Saturday Night Live), and Spencer Grammer (Greek). The series is created by Dan Harmon (Community) and Roiland, who also serve as executive producers.

In October, fans learned the titles of this season's opener as well as the following four episodes via an Adult Swim reveal video.
Fair warning: Harmon and Roiland's Rick and Morty "Pun Fu" is strong this season… let the speculation begin!
Enjoyed this article? Share it!