Saints Be Praised! Satanic Temple, 'Sabrina' Settle $50M Baphomet Lawsuit
Proving just how magical the holiday season can be, the producers behind Netflix's Chilling Adventures of Sabrina have reached a settlement with The Satanic Temple in their $50 million lawsuit. The initial court filing alleged that a statue featured in the series too closely resembled their statue of the goat deity Baphomet. No details are currently available on the settlement.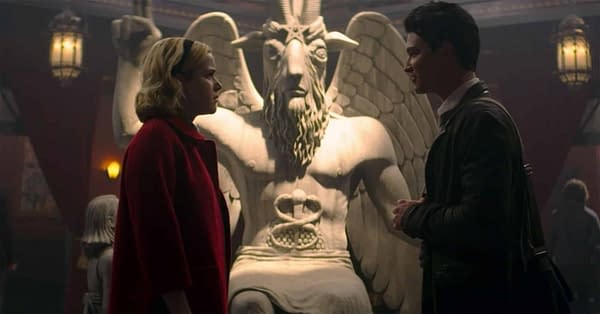 Though declining to comment further, Warner Bros. confirmed the settlement. The Satanic Temple's attorney Stuart de Haan had this to say, in a statement released to The Hollywood Reporter on Wednesday:
"The Satanic Temple is pleased to announce that the lawsuit it recently filed against Warner Bros. and Netflix has been amicably settled. The unique elements of the Satanic Temple's Baphomet statue will be acknowledged in the credits of episodes which have already been filmed. The remaining terms of the settlement are subject to a confidentiality agreement."
In their lawsuit filed on November 8 in U.S. District Court in New York, the temple claimed the streaming service and production company used a statue near identical to their statue of Baphomet in the series Chilling Adventures of Sabrina without first receiving the temple's permission. Appearing in the second episode 'Chapter Two: The Dark Baptism' as well as three additional episodes after, the lawsuit also alleged the statue was meant to create "Satanic panic" about their faith for the benefit of the series and to help boost profits.
Based on information gathered from the lawsuit (which you can read below), the Satanic Temple created its Baphomet statue in 2013 and 2014 with several elements that they claim make it an "original expression" and subject to copyright protection. One of the distinct features of the temple's $100,000 statue is the image of two children looking up in awe at a goat-headed beast-man – which is what the Chilling Adeventures of Sabrina statue depicts, also. The statue actually serves as the lobby focal point for The Academy of Unseen Arts, the school where witches and warlocks train – and Sabrina finds herself enrolled in full-time by the end of the first season.
Netflix Satanic Temple by on Scribd