Space Force Gets Glimpse of What They Might Face And They're Not Fans
With Steve Carell (The Office) and Emmy Award winner Greg Daniels' upcoming Netflix comedy series Space Force finding itself still a month away from its May 29 launch date, the series is getting a very real-life look at what could be waiting for them up there when and if the real military outfit ever (literally) gets off the ground. For those of you who missed it, earlier this week the Department of Defense declassified and released three videos of the military have interactions with UFOs (or "unidentified aerial phenomena," as the military refers to them). Entitled "FLIR," "GOFAST," and "GIMBAL," and filmed in November 2004 and in January 2015, the footage shows aircraft that was "traveling at hypersonic speeds, with no visible means of propulsion."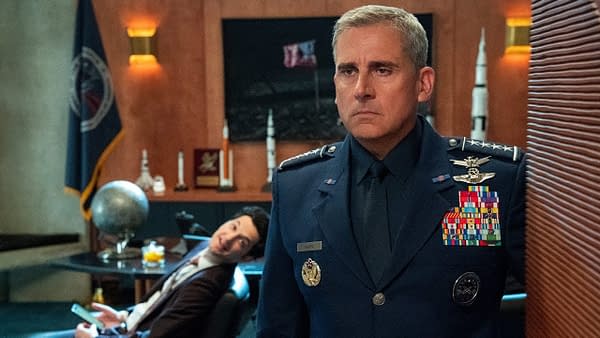 Which brings us to the word of decorated pilot and four-star general Mark R. Naird (Carell), who had dreams of running the Air Force until he was tapped to lead the newly-formed sixth branch of the military: Space Force. Moving his family to a remote Colorado base, Naird and his team of scientists and "spacemen" are charged with fulfilling The White House's goal of getting (more) American boots on the moon and for the U.S. to win the race to dominate space. If and when they get up there, one thing the actors can be assured of is that there won't be any alien storyline. Because from what we can tell from the following tweet, the team behind the series also saw those UFO videos and they're more than happy to leave all of that alien stuff up to the real military.
Carell is joined by Lisa Kudrow (Friends), John Malkovich (The New Pope), Ben Schwartz (Parks and Recreation), Diana Silvers (Glass), Jimmy O. Yang (Silicon Valley), Tawny Newsome (Sherman's Showcase), Alex Sparrow (unREAL), Don Lake (NCIS), Noah Emmerich (The Americans), Fred Willard (Modern Family), and Jessica St. Clair (Playing House). Series co-creator Carell is also set to executive produce, with Daniels serving as showrunner and executive producer. Joining them for their take on Donald Trump's Space Force initiative as executive producer is 3 Arts' Howard Klein (The Office). Paul King (Paddington) directs two of the series, including the pilot.