Tom Brady Calls Trump's Comments About NFL Players "Divisive"
One of the faces of the NFL is New England Patriots quarterback Tom Brady. He is arguably the best quarterback to have played the game, having five Super Bowl wins in seven trips to the big game. Brady has had his share of controversy in the last few years involving the proper inflation of footballs. There has also been some issues with his wife, supermodel Gisele Bündchen, talking about Tom having a concussion last year when he and the team says he didn't. Love him, hate him, or love to hate him — Brady is one of the most popular players in the sport.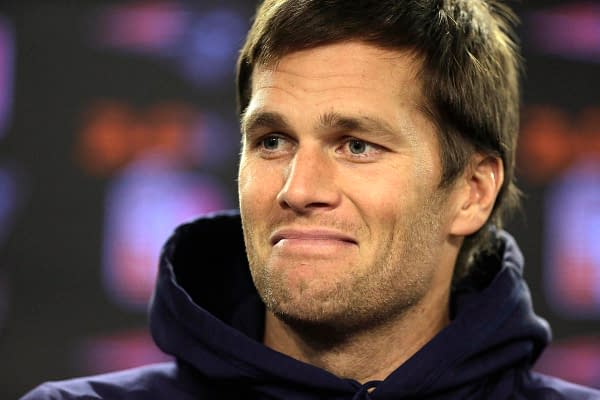 Brady is also a known supporter of Donald Trump and calls the current President a friend. But in January, when it came time for the Patriots to go visit his friend in the White House, Tom was among the players who didn't go. Then there was Friday's political rally in Alabama where Trump called for NFL owners to fire players who protested by taking a knee during the national anthem.
Trump's comments took an issue that was currently focused on Colin Kaepernick not having a job and the question of whether it was due to his protest, into a national debate about freedom of speech and exactly what the United States flag stands for. Because of the spotlight shined on the topic because of the President's involvement, Brady was asked about it today in an interview with Boston radio WEEI's Kirk & Callahan. When asked about Trump's comment, Brady said:
"I thought it was just divisive. Like I said, I just want to support my teammates… I believe in bringing people together and respect and love and trust. Those are the values that my parents instilled in me and it's how I try to live every day."
And what he thought about the protests:
"I think everyone has the right to do whatever they want to do. If you don't agree, that is fine. You can voice your disagreement, I think that is great. It's part of our democracy. As long as it is done in a peaceful, respectful way, that is what our country has been all about."
The Patriots owner Robert Kraft is also a Trump supporter, having donated $1 million to Trump's inauguration. He also arrange for Trump to get a Super Bowl LI ring from the Patriots victory back in February. Kraft also took issue with the President's comments, saying in a statement:
"I am deeply disappointed by the tone of the comments made by the president on Friday. I am proud to be associated with so many players who make such tremendous contributions in positively impacting our communities."
Most teams around the NFL showed solidarity yesterday with some player kneeling, others locking arms or in the case of the Pittsburgh Steelers, not coming out to the field until after the National Anthem. Which is interesting in that not too long back, that was the policy of the NFL to keep the teams in the locker room until after the anthem.