Posted in: Paramount+, Star Trek, streaming, TV | Tagged: amanda plummer, Jonathan Frakes, Marina Sirtis, Michael Dorn, paramount, Picard, star trek, Terry Matalas, The Next Generation
---
Star Trek: Picard Showrunner on Riker/Troi/Worf Reunion, Vadic Story
Star Trek: Picard showrunner Terry Matalas discusses why the Riker, Troi & Worf reunion took so long, Vadic's backstory, and more.
---
TV shows in the streaming era are a bit of a double-edged sword because, despite the need for content, it's rare you get 20+ episode seasons, and Star Trek: Picard is certainly no exception. With the constraints of a 10-episode season and having shot seasons two and three back-to-back, production churned out as much as they could give the time they were given, and that meant trying to fit as much as they could with The Next Generation crew as possible. Showrunner Terry Matalas was going to maximize as much as he can from what Paramount+ can give him, and perhaps in the future, he can tell more stories. Among the lingering arcs of TNG were the Deanna Troi (Marina Sirtis), William Riker (Jonathan Frakes), and Worf (Michael Dorn) love triangle and the season's villain Vadic (Amanda Plummer) backstory. Matalas addressed both in the eighth episode, "Surrender."
Star Trek: Picard: Terry Matalas' Unenviable Task of Cramming into a 10-Episode Season
"We had Raffi [Michelle Hurd] and Worf's story in seven, and it was hurting Raffi and Worf to cut back to Vadic," Matalas told Collider about the late timing of the arc. "So, at some point, you have to say, 'We have to just pick a story.' So, we decided seven was going to be the Vadic story. That was going to be Amanda Plummer's swan song. It's so hard, because [there are] so many great ideas and so many great things that go, but you don't have all the time and money to do it." As Vadic captures Riker after his, Worf, and Raffi's covert mission at Daystrom Station, we discover that she captured his wife Troi in the process, and in the following episode, Worf rescued both with the Shrike having a skeleton crew as Vadic was occupied invading the U.S.S. Titan-A to pursue Jack Crusher (Ed Speleers).
"I just love the idea that in the rescue, after he's had this journey to Zen, he can't wait to tell Deanna about it," Matalas said. "He's just not even looking at Will. They all play it so perfectly. Frakes is the straight man, just sitting there, looking back and forth. It's fantastic… She's fantastic; Troi's fantastic. Marina is so good, she's always good with comedy. I wish there was more of it, to be honest with you." When Worf is reunited with the two, he says a lot of sentimental and romantic things to Troi while Riker delivers the equivalent of "Who am I, chopped liver," quipping on Worf tacking on the torture he already endured from the Changelings. Star Trek: Picard streams Thursdays on Paramount+.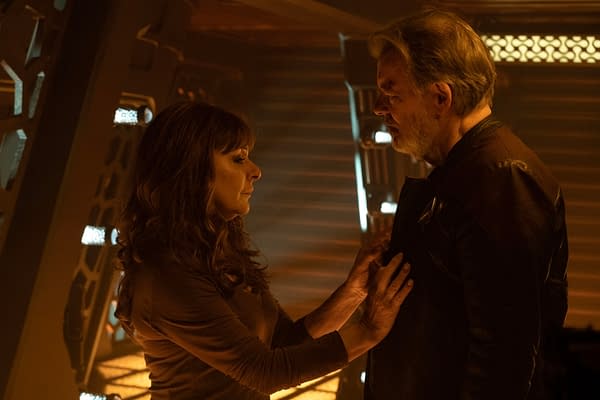 ---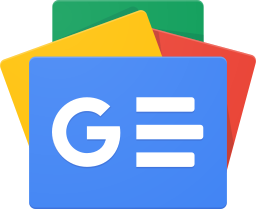 Stay up-to-date and support the site by following Bleeding Cool on Google News today!