STARZ Pulls the Plug on Ash vs. Evil Dead After 3 Seasons
The upcoming third season finale of the STARZ series Ash vs. Evil Dead will be the last, as the premium cable channel has decided not to renew the series for a fourth season. STARZ's President of Programming, Carmi Zlotnik, said in the statement:
Ash vs. Evil Dead has taken audiences on a wild ride for three seasons thanks to the fantastic performances and creative efforts of Sam, Bruce, Rob and the entire cast and crew. We are proud to send the show out with a bang…and a splat.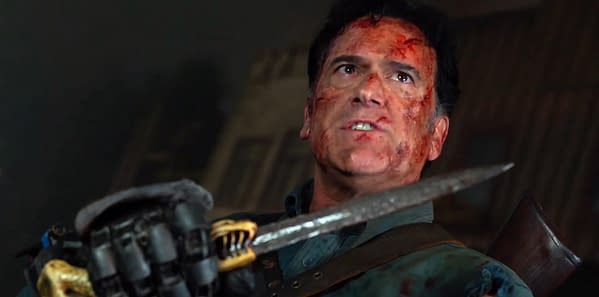 The series followed up the cult classic movie franchise of Evil Dead and Army of Darkness with lantern-jawed actor Bruce Campbell playing the chainsaw-wielding demon-hunter Ash Williams. The series also stared Lucy Lawless, Ray Santiago, and Dana DeLorenzo. It was produced by the original Evil Dead filmmakers Sam Raimi, Rob Tapert, and of course Campbell. Mark Verheiden was the showrunner.
Campbell took to Twitter just a few minutes ago to respond to the cancellation and to thank everyone involved in the series, saying that "Ash vs. Evil Dead has been the ride of a lifetime. Ash Williams was the role of a lifetime."