Stephen King "Apologizes" to Stephen Colbert for The Stand, Dead Zone
Author Stephen King has been doing his part to remind everyone of how dangerous viruses like COVID-19 can be by comparing the path it's taken to how things played out in the early stages of his novel The Stand. King also isn't the biggest fan of Donald Trump, being especially critical (as many have) of Trump and his administration's lack of a timely and effective response to the growing health crisis. In particular, Trump's willingness to counter and undercut the scientific community while leaving the states to fend much for themselves was seen as exactly the kind of governmental incompetence present in the novel (earning Trump the nickname "Captain Trumps" from the author).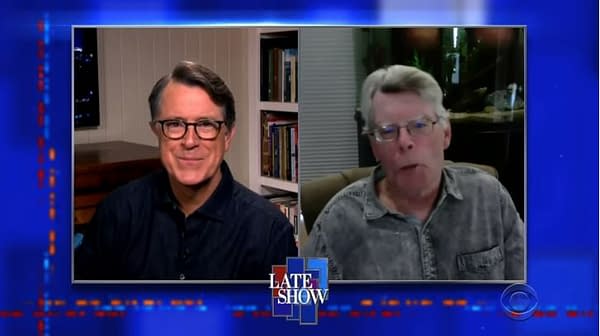 Promoting his new book If It Bleeds and with CBS All Access' miniseries adaptation of The Stand coming soon, King visited with Stephen Colbert on CBS' The Late Show to discuss a wide range of topics, including who he want to quarantine with the most and the least (his answer on the latter seems so obvious in retrospect) and why he can't recommend reading The Lord of the Rings enough. But King was also there to "apologize" to Colbert and the viewers for possibly being a little too good of a prognosticator. But before he discussed The Stand, he felt the need to own up to another "horrible vision": "People have been telling me for years that I sort of foresaw Donald Trump. I wrote a book called The Dead Zone, and there was a character in there, a TV comedian-type guy who appealed to the common people, and told everybody that he was gonna solve the pollution problem 'cause he was gonna shoot it all into outer space!"
But when it comes to the world of social distancing and self-isolating that we're finding ourselves in over COVID-19, there's just one novel he continues to get questions about: "My response is, 'I'm sorry for that. But when I wrote it back in the Seventies, I just had this idea based on a chemical spill in Utah. And I went to a doctor that I knew, and I said, 'Could you give me a scenario for a pandemic that wipes out 98% of the Earth's population?' And his eyes lit up. I mean, they love that sort of apocalyptic 'what if' scenario."
CBS All Access' upcoming 10-episode adaptation of The Stand will include a King-penned coda for the limited series, providing a new aspect and perspective to the ending not found in the book. The new adaptation stems from director Josh Boone (The Fault In Our Stars), SEAL Team creator-executive producer Ben Cavell, and CBS Televisions Studios. Boone and Cavell are writing the adaptation, with Boone directing the project. The limited series's ensemble cast includes Alexander Skarsgard, Whoopi Goldberg, James Marsden, Amber Heard, Heather Graham, Greg Kinnear, Odessa Young, Henry Zaga, Jovan Adepo, Owen Teague, Brad William Henke, Daniel Sunjata, Nat Wolff, Eion Bailey, Katherine McNamara, Hamish Linklater, and Fiona Dourif.