Good news for fans of Brakebills and Fillory, Quentin Coldwater (Jason Ralph) and his group of 20-something magicians will be back for at least another season. Syfy has officially announced that The Magicians, based on the novels by Lev Grossman, will be returning for a fourth season. The series has been the network's top performing scripted original in the Live+3 data for adults 18-49 for the last three years. That would be the key demo that advertisers look for.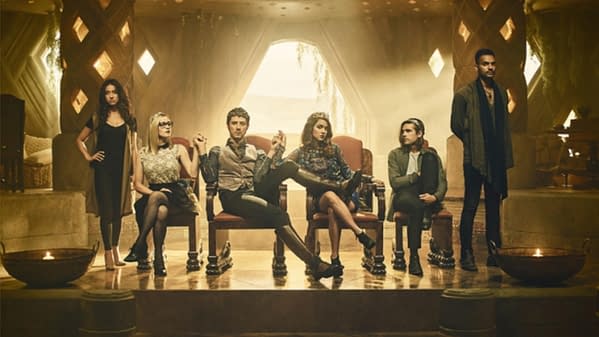 The series has followed a young, misunderstood and depressed Quentin as he finds out that the world of magic he's always dreamed about is real… and terrifying. The first season focused on Quentin discovering magic that he can do and the hidden world around him including Brakebills University where he learns to ply his new abilities and makes friends with other students. It leads him to the magical realm of Fillory that he has read about since he was a child. Season two takes him and his companions into Fillory where they have to deal with mythical creatures and politcal threats as they begin to rule the land and end up destroying magic. The third season, which just aired the eighth of thirteen episodes last night, has focused on their attempt to bring magic back.
The show stars Ralph, Stella Maeve, Olivia Taylor Dudley, Hale Appleman, Arjun Gupta, Summer Bishil, Rick Worthy, Jade Tailor, Trevor Einhorn and Brittany Curran.
The Magicians airs Wednesdays at 10 PM on Syfy.
Enjoyed this article? Share it!