Ten Thoughts About Tonight's Doctor Who: Spyfall, Part One- Spies Vs Aliens Vs Spoilers
It's been a year… Doctor Who returned to BBC 1 tonight, scheduled between Miranda and Eastenders, and ahead of Dracula and Mr Brown's Boys. Is it me or does BBC on New Year's Day strike more of a Christmas Day from years gone past? Anyway, on with the Ten Thoughts… you've had to wait a year for them as well.
Well, that was the best Doctor Who in an age, wasn't it? Let's talk. There will be spoilers galore, more so as we follow the train of thoughts. Wait until it airs in your territory, there is a thrilling surprise within that I didn't see coming.
1. Doctor Know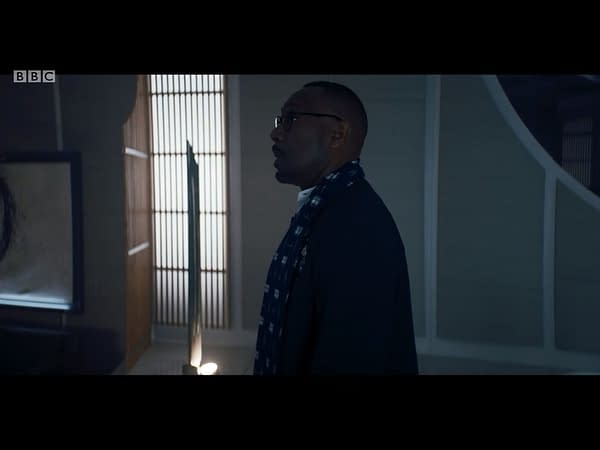 The first in this two-parter is called Spyfall and it's the Doctor's chance to do James Bond, with all the horns and strings required. Doctor Who is an incredibly malleable beast, it can take on any genre it likes – though some more successfully than others. It has tried espionage and spycraft before, but never so successfully as tonight as it took on both Bond – but also plenty of nods to the likes of George Smiley. Which is why we had Stephen Fry as C rather than Q. Fry was meant to have written a Doctor Who episode in the first season but it never came together in time.
2. From Russia With The Doctor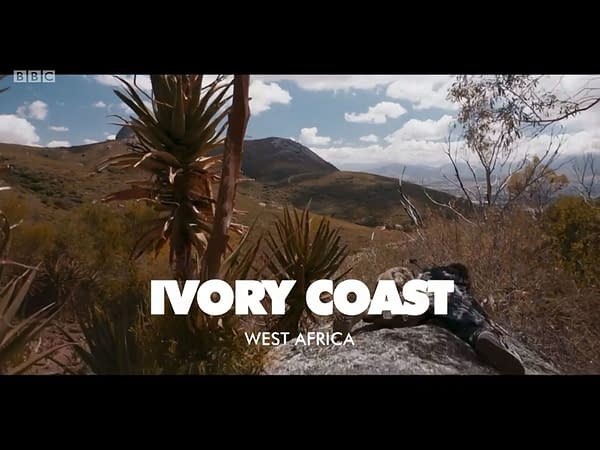 And so it began with multiple exotic locales (or, at least South Africa doubling for them) with assassins, spies, safe houses and dangers, casinos, roulette, and aliens killing all the spies – they look a lot like the Cyberman ghosts from Army Of Ghosts and Doomsday in the way they emerge. More on that later – because something is going on, just not that, spread across Tokyo, Ivory Coast, Moscow, San Francisco, Vauxhall in London, the Australian Outback and, yes Sheffield.
3. A View To A TARDIS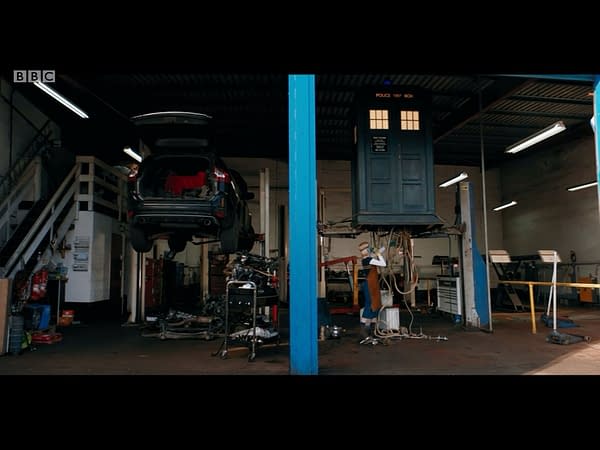 You never get a Bond movie in Sheffield. But Smiley's people might turn up there. And it gives us a TARDIS in the chop shop. Never seen the Doctor go under the hood like this before, makes it dirtier, greasier, a mechanic of a Doctor – very Sheffield. And we get an actual, action sequence to kick things off, genuinely thrilling and terrifying, and all it takes is an automatically controlled car on the motorway. It's a step up from when they tried something like this for The Runaway Bride – and that was pretty good for its day.
4. On Her Majesty's Secret Service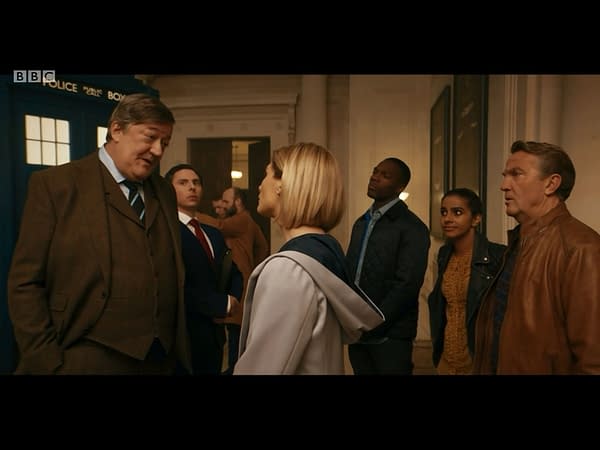 The secret services have noticed the new companions to the Doctor. Like UNIT and Torchwood, they have been keeping an eye and it's time to summon them. No friendly faces of the Brigadiers here, as the Doctor points out, all the alien watchers have gone and all those in MI6 who showed an interest were dismissed. But in Stephen Fry, we do have the first gender confusion for the Doctor. And presuming Graeme as the most likely candidate based on past performances. As the Doctor says, she's had an upgrade.
We also learn that the Doctor has lived in the Outback of Australia for 128 years at one point. And it's where one of the exiled MI6 alien obsessives known as O has holed up, played by Sacha Dhawan. Are they really going to waste him on a one-off or a two-off?
5. Tomorrow Never Dies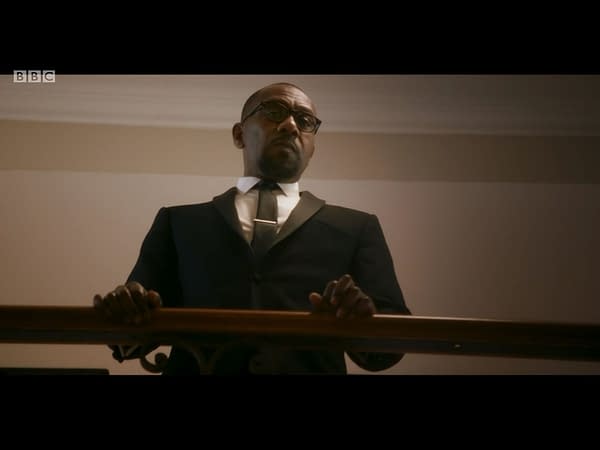 Lenny Henry makes for a great Bond villain of the modern arena, a former spy-turned-social media mogul Daniel Barton of VOR, in the manner of Elliot Carver played by Jonathan Pryce. I mean Facebook's Mark Zuckerberg and Amazon's Jeff Bezos are both Bond villains waiting to happen, Doctor Who got there first and Barton is a classic spy surname. And as O says, governments are full of people who don't understand technology, who outsource it to the likes of VOR, so that it seeps into every technological aspect of the world, from facetagging, to biodata, to robotics, to military servers. Piss easy to get into an MI6 car then.
6. The Man With The Golden Identity Duplicator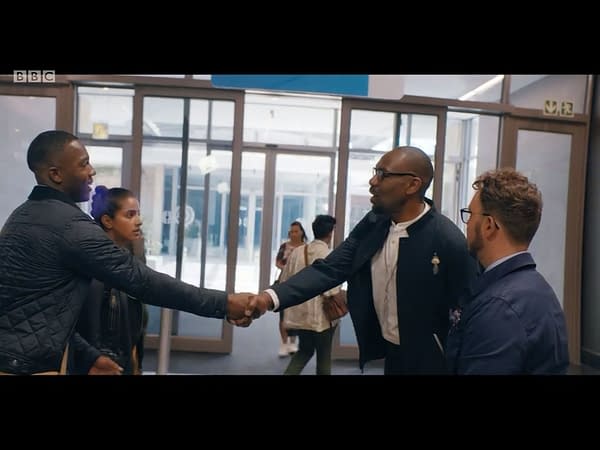 The show is happier to split up the cast, while Graeme – as O observes – is just there for running commentary, Yasmin and Ryan actually do the job, posing as reporters, bringing the spy tech straught to Daniel Barton's door. There has been criticism that often the show hasn;t known what to do with its larger cast, this is not the case here. And two geeky references in quick succession, Ryan choosing the name Logan but freaking out that he doesn't look like Hugh Jackman, and O having a complete mint run of the Fortean Times. There is plenty of real-life Fortean and Doctor Who crossover…
7. For Your Eyes Only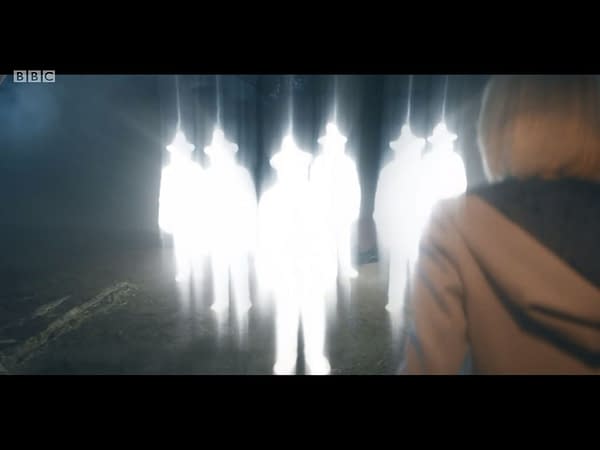 Okay, let's talk about these aliens. They present a real threat on screen because they appear from nowhere, they are like living energy portals in humanoid form, bursting with light, killing indiscriminately, walking through walls, and there seems to be no way to contact them. Not susceptible to the Doctor's quips or taunts, and undetectable to or unaffected by sonic screwdrivers, the Doctor is out of options. She has nothing to stop them – aside from relying on O. Remember, O has a shelf full of files about the Doctor, and says that he met her briefly when she was a man. Now, how much of that could have been true, what is actually on his Doctor shelf, and what did he really do to the aliens with the tech he used to save the Doctor and friends? And why do it at all?
8. Moonraker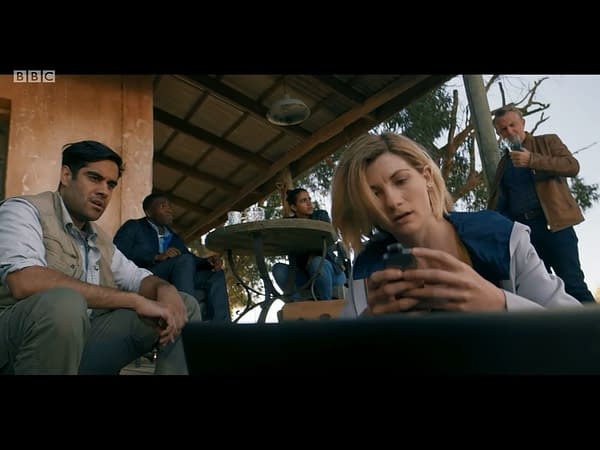 The Doctor has got the TARDIS (complete with karaoke buses) to search for new life, for new civilisations, for alien languages on the fringes of reality, so she just needs an update to translate the alien code in Barton's systems. And gets something she still doesn't understand but makes her ask about multiple Earths. Is this an interdimensional invasion? Is that why they look like the Cybermen ghosts that came through from Pete's World in Army Of Ghosts and Doomsday? Is that how Yasmin was able to be transported to the outback, through a world that seems to resemble hair follicles as a forest, with electrical synapses sparking all around? Is this a world between realities? Between transporting portals, interdimensionally or otherwise? But they are not Cybermen. They mock humanity, they mock the Doctor, saying that they are 'far beyond your understanding'.
9. You Only Live Thirteen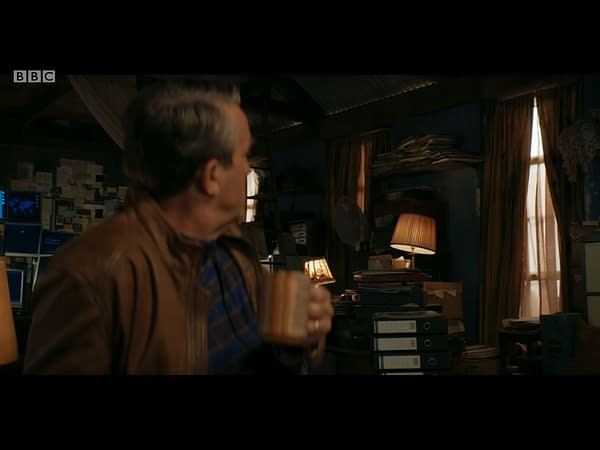 And then Doctor Who does it. After giving us James Bond casinos, a car/motorbike race with guns and a chase for an aeroplane leaving the runway, the reveal. No, they weren't going to waste Sacha Dhawan on an exiled alien watcher called O from MI6 with a shelf filled with Doctor stuff. And the nerdy facade drops, replaced with a familiar camp swagger…
10. Quantum Of Solace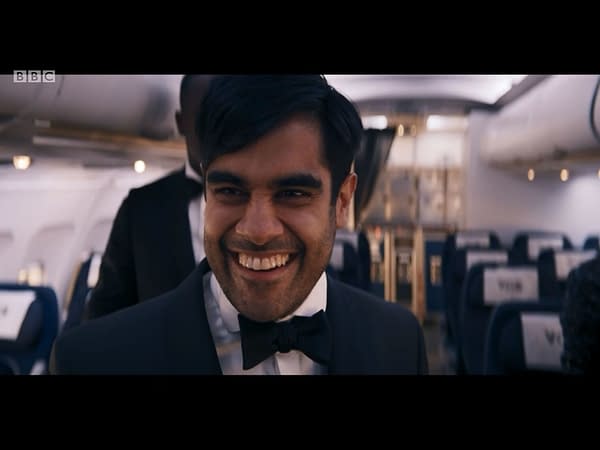 Sacha Dhawan is The Master. He has the Doctor and family where he wants them, on a plane about to crash, and he even has his classic tissue compressor back again … or has he? Those follicles are back again…
But wait, there may be a tiny way out. As the Master says, everything you know is a lie. Everything. Everything… even that could be fake. He only mentioned having one heart after all. Was that a clue that all this is also a feint? Notably, Sacha Dhawan is also in Moffat and Gatiss' Dracula on BBC1 right now… I wonder if it came up?
Part two on Sunday folks. Seriously. That was a thing, wasn't it? Here's a peek at what's to come…