The Big Flower Fight Season 1 Eps. 1-4 Grew On Us Quite Quickly
The Big Flower Fight premiered on Netflix and surprisingly this 8-episode flower showdown, hosted by comedians Vic Reeves (Coronation Street) and Natasia Demetriou (What We Do in the Shadows) is absolutely delightful. As is the custom with the more popular baking series, think Food Network's Halloween Wars when contestants are expected to create large sculptures that tell a story and wow the judges. The Big Flower Fight collected the best gardeners, florists, and designers and challenges them to showcase "Best in Bloom."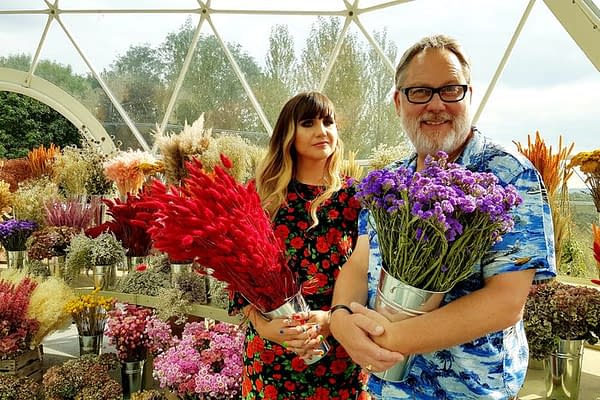 Contestants are spoiled with luscious flowers, a metal workshop, a nursery, and periodic scrap finds when appropriate for the challenge itself. I will confess having worked as a florist for many years I was both amazed and horrified, as a florist (such as most of the contestants) you don't really get exposure to too many animal sculptures and having to improvise creating things out of metal to have your creation come to life – so I was a smidge concerned for some of the pairs of contestants.
The show is situated in a beautiful countryside overgrown with lush greens, and every flower you can hope for, gorgeous hydrangeas, birds of paradise, anthurium, roses, dahlias, and a slue of plants I've never even seen there to mimic things like animal hair. Simply amazing. Each episode teams compete in a themed challenge; enormous insects, floral fashion, huge hair beats (a favorite of mine) and after every competition a team is eliminated.
The winner gets the opportunity to present their designs at the London Botanical Garden. The teams have gathered from all over the world, I rooting for the Brooklyn and New York teams, full transparency after the first episode I was forced to have my loyalty switch across the sea. Some of the contestants proved their skill set as out of the box as their attire (Eoghan and Declan) landscaping architect. Others should have stuck to being houseplant consultants (Taylor and Nick).
Here Are Some Highlights from "The Big Flower Fight" Eps. 1-4
Episode 1: "Enormous Insects"
Oversized creepy crawly creatures suspended in air, magnificent and a perfect first episode to captivate an audience. Contestants had to create and conceptualize their metal bases and had to create oversize insects keeping in mind that the flowers used had to attract bees, butterflies, and other bugs. Using soil and moss to fill the large insects the contestant's wowed the judges by creating a beetle, sphinx moth, snail, butterflies (there were 3), and a bee. Contestants learned rather quickly that the foliage had to look good on the following day, so utilizing long-lasting flowers and/or creating irrigation systems was crucial to not have something wilting during judging.
Winner: Sphinx moth, stunning, so much texture, vibrancy, and skill, clearly the team to beat
Loser: all three butterflies were horrific, the simplicity of the choice, having three teams create the same thing they really had to bring their A-game and none of them did. The butterfly resembling a salad was sent home.
Episode 2: "Fabulous Floral Fashion"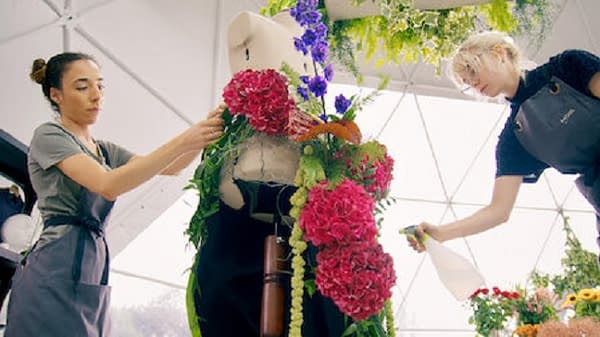 Contestants had to imagine a wearable design using only cut flowers and have a model display it. The challenge here is cut flowers need water and are very heavy so they had to consider using things that didn't end up weighing 500lbs. Some designs like the Venetian gown were too plain utilizing baby breath and ferns, while others literally wilted on the model (there is no excuse for that). Probably one of the least impressive episodes a lot of mediocre creations.
Winner: DNA, a colorful interpretation of and play on our DNA as attire (interesting, but nothing that I'd want to see again)
Loser: flower armor which looked dead: bye-bye Brooklyn Team
Episode 3: "Huge Hairy Bests"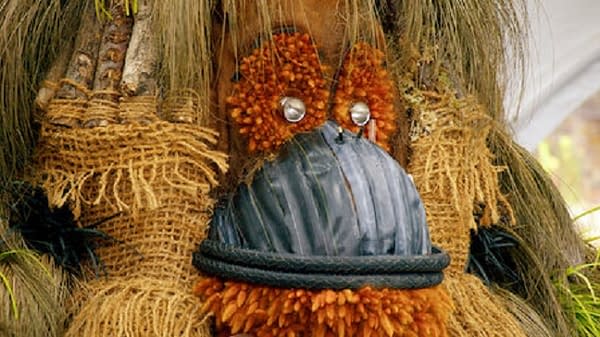 I'm not even joking this episode blew my mind, I forgot I was watching a flower show. The contestants had to bring to life 10ft tall animals and ensure that they had realistic fur using a variety of grass, and the results were incredible. A wild boar who looked like an enchanting character from one of my daughter's fairy tales. A psychedelic LSD induced squirrel, an unimpressive obese lemur, a perfectly trimmed hare and wolf that struggled a little bit in the police lineup. The Monkey was so real you literally felt like he was going to jump at any moment.
Winner: Monkey, not surprising, utter perfection in floral usage and execution
Loser: Lion, maybe a little credit can be given for creativity, but it was quite ugly and didn't resemble a lion, another team sent packing back to New York.
Episode 4: "Giant Edible Thrones"
Happy to see the charming father-and-son team (Ralph and Jim) finally brought confidence and creativity to their design. I personally feel like they should have won this challenge, their creative basket thrown filled with vegetation stayed very true to the challenge unlike the Merlin throne which although was beautiful didn't follow the rules and used inedible flowers (shame, shame). Some contestants struggled to tell a story and making their thrones organic in nature. The volcano looked like it should have been featured in Vegas and the horn of plenty was a smidge overdone – it might have thrown up a few eggplants.
Winner: Merlin: gorgeous, should have taken second place
Loser: King and Queen throne: everything was glue gunned on, and it just looked one dimensional.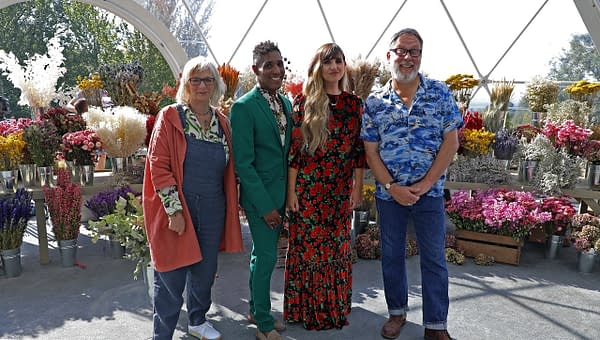 The Big Flower Fight follows the contestants from conception to creation and thankfully doesn't focus on the dramatic lives and the hurdles that each contestant had to go through to get there – thankfully. With come comedic anecdotes such as Natasia's constant references to her leg hair (I know, strange), the show is easy to watch and even more pleasant to binge. It's truly beautiful and paints a very serene vibe along with contestants constantly helping each other out. My one complaint, there is not enough time spent featuring the creations. Forty minutes of blood sweat and tears and the built-up of excitement for the final product and there is literally two seconds of a spotlight on each of the 8-10ft creations, add to that poor angles, and I didn't have as much time as I wanted to marvel at the creations.