'The Boys' Season 1 "Pilot": The Heroes We Deserve & Need Right Now. Supes Disagree. [SPOILER REVIEW]
Amazon Prime Video's adaptation of Garth Ennis and Darick Robertson's comic book series The Boys saw its world premiere this week, with cast members Karl Urban, Jack Quaid, Antony Starr, Erin Moriarty, Jessie T. Usher, Laz Alonso, Chace Crawford, Karen Fukuhara, and Elisabeth Shue as well as executive producer-showrunner Eric Kripke invading the 2019 Tribeca Film Festival for a special screening and panel discussion – and Bleeding Cool was there to catch the premiere episode!
Since we've still got a little ways to go before the series debuts on July 26th, we're going to hold off on our formal review until then – but we do want to share our righteously spoiler-rific thoughts on what we've seen so far.
But let's just get this out of the way before we go any further… fan of AMC's Preacher? Imagine Preacher with the creative freedom of streaming – and a ton more spandex. Worried fan of the Ennis/Robertson comic book series? Take a deep breathe… let it out slowly… and relax: look like the adaptation is in some very capable (and respectful) hands. Amazingly, The Boys found a way to promise a take on superheroes that would feel like it was right outside our windows and actually deliver on that promise.
● In case there's any confusion about the series being a satirical slap to "The Mouse's" nuts and a statement on the Marvel Cinematic U, look no further than the opening Vought Studios production bumper.
● Hughie and his girlfriend Robin (Jess Salgueiro) feel like a real couple on screen than on paper, which makes the loss that much more tragic because we care about the brief backstory on them that we've been fed. The visual depiction of her death went from over-the-top comical to tragically horrific faster than the speed A-Train hit the scene – the audience went from laughter to silence so quickly it was as if someone flipped a switch.
● Hughie and Annie/Starlight are hopeful fighters who aren't portrayed as being "wide-eyed and naive" but as individuals being pushed into directions they're not sure they want to go – and finding themselves ill-prepared for. Even their respective "family bonds" have downed the Kool-Aid when it comes to capes: Annie's mom is the ultimate "stage mom" while Hughie's Dad has resigned himself to what he sees as their lot in Life: supes are up there – and everyone else is down here.
● Moriarty is a presence on screeen, mixing a vulnerability with a growing inner rage that makes you want to follow her story – acting-wise, she reminds me of a cross between Holly Hunter and Jennifer Jason Leigh.
● Quaid's Hughie is just the right amount of down-trodden and broken without ever being annoying or unbelievable: his reactions made sense, especially the way he shows Hughie's inner struggle with rage, fear, and heartbreak. Putting a monetary value on a life – especially one as paltry as $45,000 – was the bottom line affirmation of Hughie's Dad's belief that Hughie needed to take back some control. Or believe he's back in control…
● "You don't have the fight. You never have." – Hughie's Dad: both a harsh dose of tough love and the sad admission from a father who feels as if he's failed his son. Side note? I will never get used to hearing Pegg do an American accent.
● Second most dangerous character in the series: Madelyn Stillwell, who has 200+ Vought-sanctioned supes under her control (almost like a smal, private army…???) – and not someone who takes to being blackmailed lightly. She wheels-n-deals capes (like Nubian Prince to Baltimore) like they're trading NFL players – except Vought's terms aren't up for negotiation.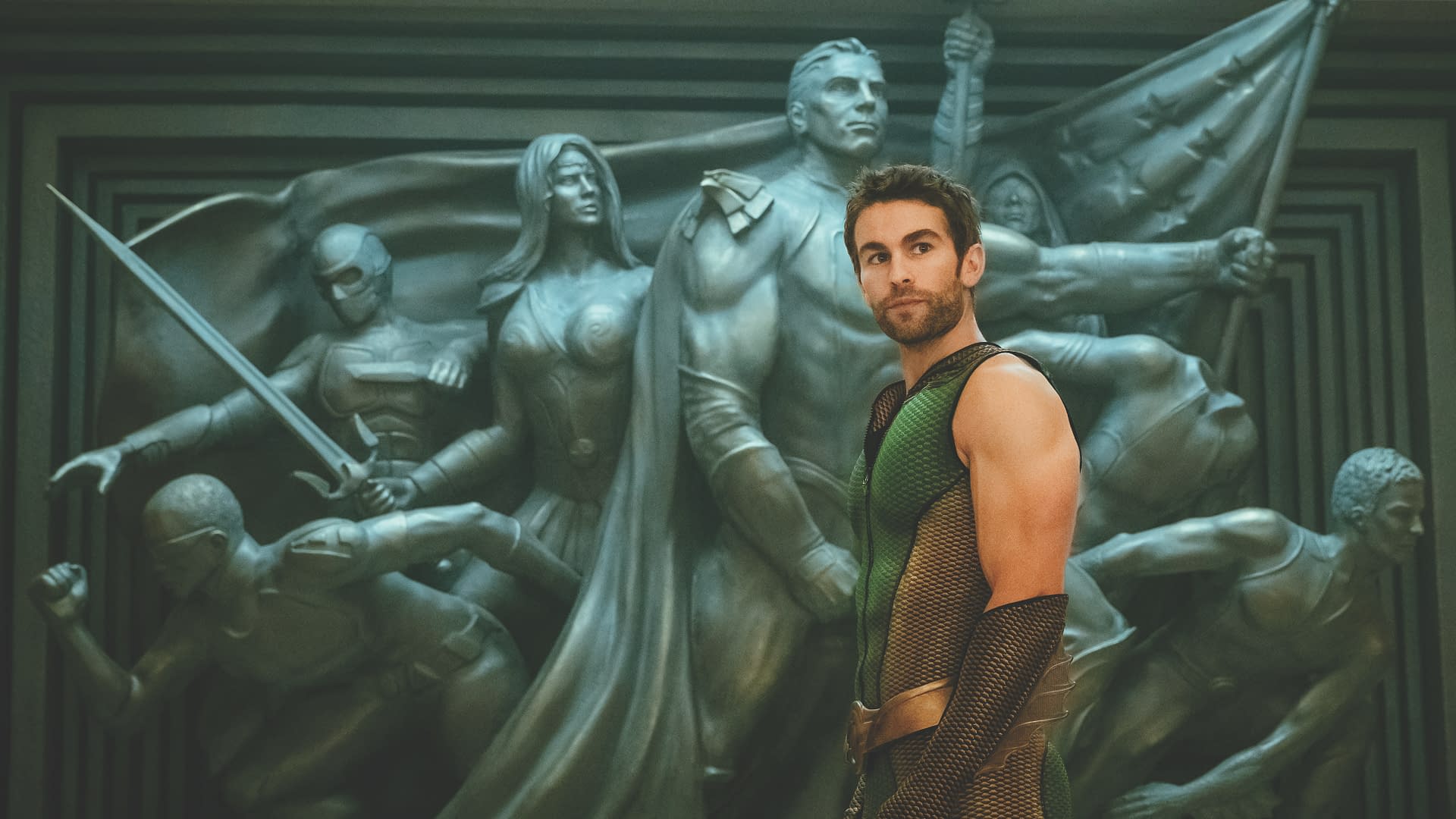 ● You almost hope Crawford's The Deep has some kind of Karmic redemption arc – or Starlight unleashes a fine laser beam on his fishsticks: that's how quickly you start loathing this d-bag – and a testament to Crawford's performance.
● Great Hughie scene: when he refers to Butcher as a porn version of Neo from The Matrix and his delivery of, "I don't want to go to a second location with you."
● Two interesting clues to where the season could be heading were dropped: the rumors of "Compound V" and the fact that A-Train wasn't involved in a bank robbery takedown the day he killed Robin – but he had a bag and was either leaving or heading to some place… but where?
● In case there's any confusion? James Taylor, Simon & Garfunkel, and Billy Joel do not "infiltrate."
● Safe to say that 87% of the audience did not believe it was a coincidence that Hughie and Annie ended up at the same bench together.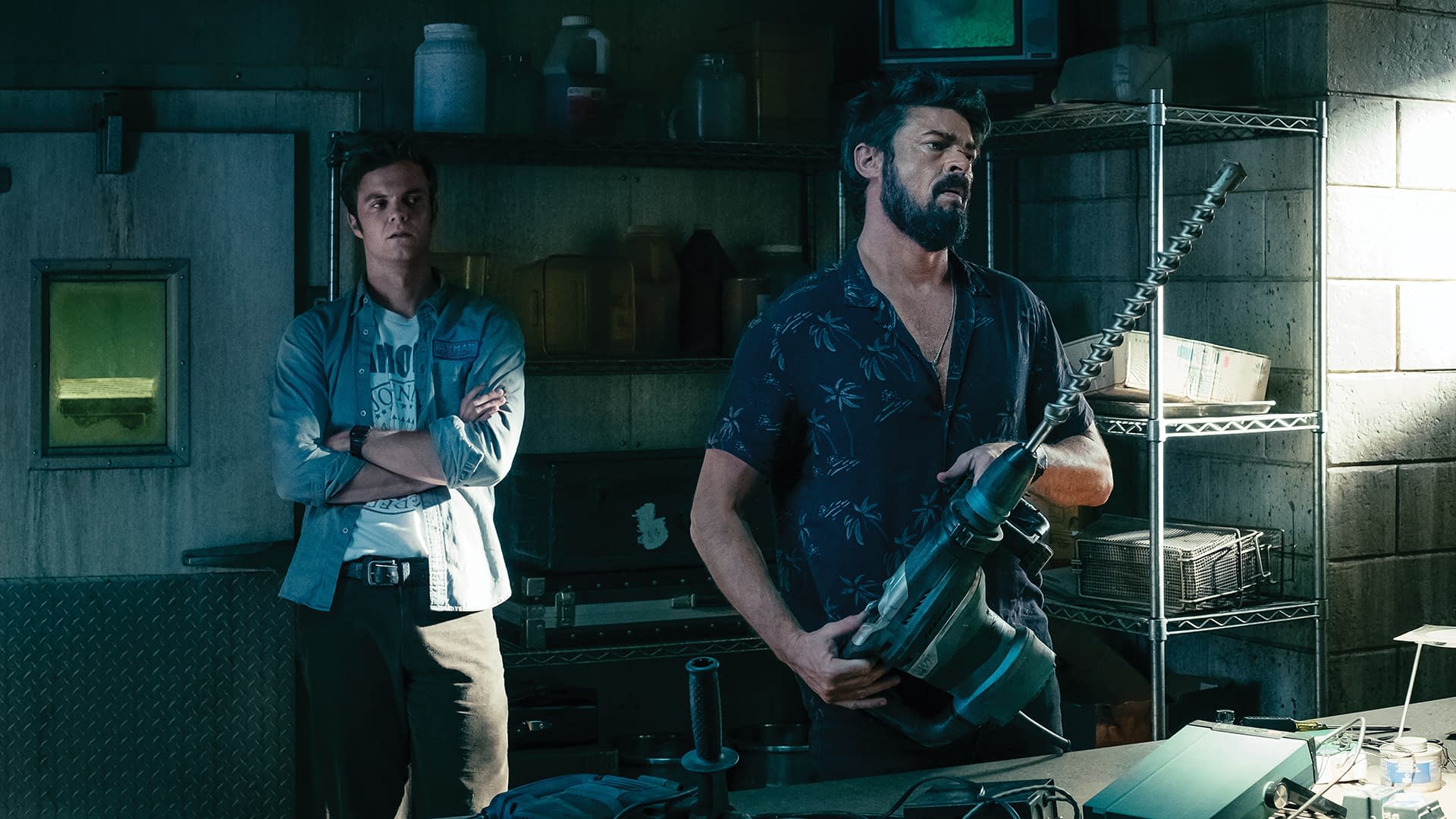 ● Urban and Quaid's dynamic quickly shifts to a big brother/little brother dynamic, with props to both actors for establishing a chemistry that works early on and gives off a "been friends forever" vibe. Though it does appear that Butcher doesn't like to be touched…
● Quaid's moment of decision as he faces the man who killed his girlfriend has our hearts pounding and breathing all sorts of screwed up: a moment of "fight or flight" when Hughie finally made the choice to fight.
● The fight with Translucent was just wild enough to introduce us to what the series was about on so many levels. From the perverted "hero" treating Hughie to a Fight Club-looking beatdown to Butcher using his own blood to mark his opponent to Jimmy Fallon (yup…trust me) saving both of our heroes, we were treated to Hughie's baptism into an all-out war with The Seven… and Vought. Looks like they're going to need some friends…
● Most dangerous character in the series: The Homelander. While the others are in it for the fame, glory, attention, and/or need to feed some level of fetish, The Homelander sees his role in a divine, Christ-like way: he will suffer the "sins" of these "lessers" he surrounds himself with as long as he can bring the world around to his sense of truth, justice and his way. Imagine if you crossed American Psycho's Patrick Bateman with Superman and motivational speaker Tony Robbins – and that person leads the most powerful "superhero" team in the world.

In a world where superheroes embrace the darker side of their massive celebrity and fame, THE BOYS centers on a group of vigilantes known informally as "The Boys," who set out to take down corrupt superheroes with no more than their blue-collar grit and a willingness to fight dirty.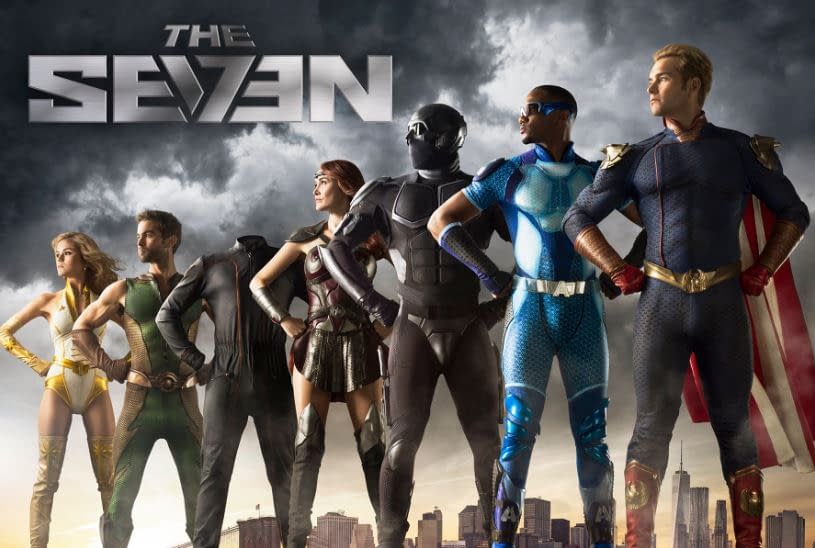 THE BOYS is a fun and irreverent take on what happens when superheroes – who are as popular as celebrities, as influential as politicians and as revered as Gods – abuse their superpowers rather than use them for good. It's the powerless against the super powerful as The Boys embark on a heroic quest to expose the truth about "The Seven," and Vought – the multi-billion dollar conglomerate that manages these superheroes.
On the side of The Boys, Karl Urban's Billy Butcher is mysterious and brutal, hiding a personal agenda as he approaches potential new recruit Hughie (Jack Quaid), claiming to be a shadowy government operative. Butcher capitalizes on Hughie's rage over his girlfriend Robin's accidental death at the hands of Superhero A-Train and enlists Hughie as part of his plan to bring down the super-hero franchise.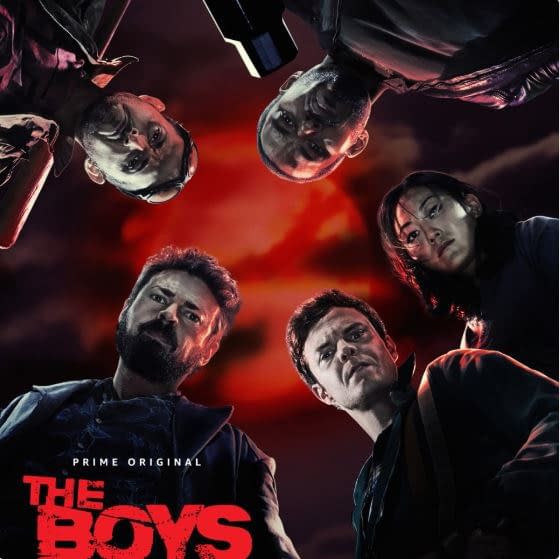 Rounding out Butcher's team are Laz Alonso (The Mysteries of Laura) as second-in-command Mother's Milk; Karen Fukuhara (Suicide Squad) as The Female, a young Asian assassin with blistering fighting skills who happens to have superpowers; and Tomer Capon as unpredictable wild card Frenchie, a brutal warrior when who lives a life of no attachments or responsibilities.
On the flip side, The Seven are Antony Starr (American Gothic) as The Homelander, leader of the main superhero team, The Seven; Dominique McElligott (The Last Tycoon) as Queen Maeve, a member of The Seven; Chace Crawford (Gossip Girl) as The Seven member The Deep, an aquatic hero; Jesse T. Usher (Survivor's Remorse) as speedster with a major PR problem, A-Train; Nathan Mitchell (iZombie) as Black Noir, a masked superhero with fighting and Set martial arts skills; and Alex Hassell as perverted invisible hero Translucent (who's not really…you know… "translucent").
Erin Moriarty (Jessica Jones) joins the cast as Starlight/Annie, a young woman who can make lightning bolts flash from her eyes and dreams of being a "real superhero" like the famous Seven; Elisabeth Shue's (CSI: Crime Scene Investigation, Karate Kid) super-hero handler Madelyn Stillwell is the Vice President of Hero Management for Vought and the person responsible for cleaning up after the "heroes." Jennifer Esposito (NCIS, Blindspot) has also been cast in the recurring role of CIA Agent Susan Raynor, with Simon Pegg (Shaun of the Dead) set as Hughie's father and Billy Zane (Titanic) also set to make a guest appearance this season.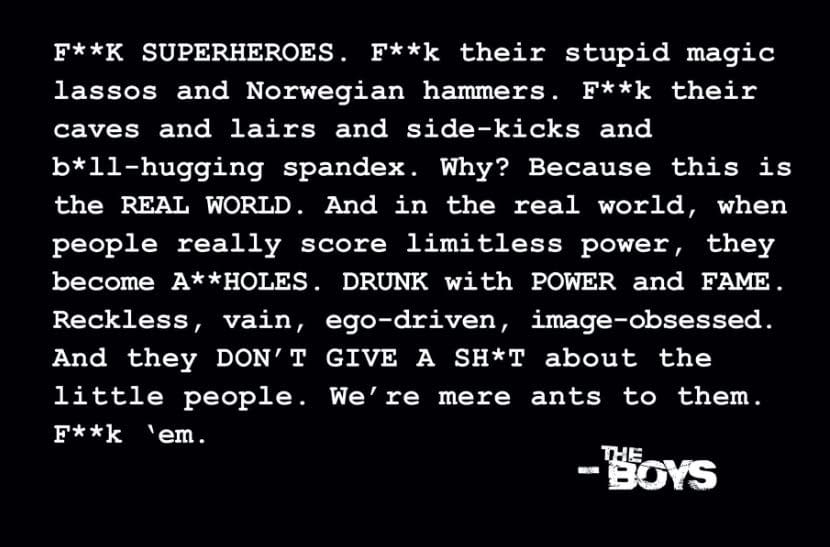 Based on The New York Times best-selling comic by Ennis and Robertson, The Boys was developed by showrunner Kripke (Supernatural), who also serves as writer, executive producer and directed the season finale. Joining Kripke as executive producers are Point Grey Pictures' Seth Rogen, Evan Goldberg, and James Weaver (Preacher), Original Film's Neal H. Moritz (Prison Break), Pavun Shetty (New Girl), and Ori Marmur (Preacher), as well as Ken Levin and Jason Netter. Ennis and Robertson also co-executive produce, with the pilot episode directed by Dan Trachtenberg (10 Cloverfield Lane).
Amazon Studios and Sony Pictures Television Studios co-produce the Amazon Prime Video with Point Grey Pictures, Kripke Enterprises and Original Film.