The Falcon and the Winter Soldier Duo Compared to DC's Robin & More
With Disney+ and Marvel Studios' Sebastian Stan and Anthony Mackie-starring The Falcon and the Winter Soldier rolling along for what many will be an early 2021 debut, series writer Derek Kolstad is offering up some additional insight into what viewers can expect from the live-action series. Guesting on this week's episode of the Scripts Apart podcast to discuss his work as the writer of the "John Wick" franchise, Kolstad couldn't escape without being asked if there was anything he could share about the project.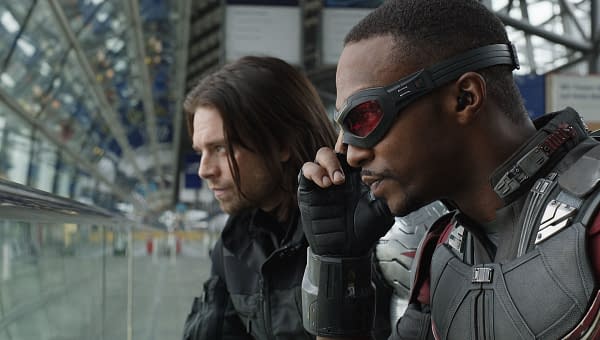 First up, Kolstad is excited at the prospect of taking two characters many people view as "supporting" and giving them a chance to shine- using the "distinguished competition" as an example. "Here's what I'll say: growing up, everyone would give someone like Robin shit. But Robin's pretty badass and became pretty badass in the comics," he explained. "[We're] taking secondary characters and putting them in the primary roles, and [as a result] they're cooler. They're more interesting. There's more humanity, more longing, more suffering, and coming to grips with who and what they are."
As for who viewers should expect to see during the season (aside from the names that have already been announced or rumored), Kolstad teases that some will be very familiar faces- but maybe not always in the way you expect them. "What I will say is that there are characters from the earliest Marvel movies that are coming back," Kolstad revealed. "We're layering them in and reinventing them in a way that's gonna shift the storytelling structure. It's f**king awesome."
During an interview this summer with Snowpiercer star Daveed Diggs as part of Variety's "Actors on Actors" issue, Mackie said he was finding his work on the streaming series almost identical to his time on the films- and with good reason: "Those movies are like summer camp and this show, it was no different. It was the same group of people, coming together to make it work. And so the stunt stuff — everything is just on another level. Every show, every movie, they just push it — they push the envelope so much. So hopefully, knock on wood, we'll be going back soon." But the actor says the similarities don't stop there: viewers will notice a cinematic vibe to the series: "We're shooting it exactly like a movie. Everybody who had worked on TV before was like, 'I've never worked on a TV show like this.' The way in which we were shooting, it feels exactly like we were shooting the movie cut up into the show. So instead of a two-hour movie, a six or eight-hour movie."
Directed by Kari Skogland with Malcolm Spellman as head writer, The Falcon and the Winter Soldier features Anthony Mackie aka Sam Wilson aka The Falcon and Sebastian Stan (Bucky Barnes aka Winter Soldier) returning to their feature film roles, alongside Emily VanCamp (SHIELD agent Sharon Carter), Daniel Bruhl (Baron Zemo), Wyatt Russell (John Walker aka US Agent), Desmond Chiam (Now Apocalypse), Miki Ishikawa (The Terror: Infamy), Noah Mills (The Enemy Within, The Brave), Carl Lumbly (Supergirl, Alias), and Danny Ramirez (On My Block).