The Fiend Defeats Seth Rollins to Win WWE Universal Championship at Crown Jewel
WWE has invested decades into the idea that they don't have to give the fans what they want, but when those fans are the Saudi royal family and they're offering large sums of money, it's a different story. WWE enraged its fanbase at Hell in a Cell earlier this month with a nonsensical DQ finish in the world title match that saw Universal Champion Seth Rollins, already losing fan support during a lackluster title run, inflict relatively minor violence, by Hell in a Cell standards, on The Fiend Bray Wyatte before the referee stopped the bout. The decision was widely panned for potentially killing the heat of The Fiend and maybe even the Hell in a Cell match itself as the PPV ended with the crowd loudly booing and chanting the name of WWE's competition, AEW.
Due largely to a complete aversion to taking any kind of risks in its storytelling, WWE has a seen a steady ratings decline since the end of the Attitude Era, and even a move to Fox for Smackdown seems to have had little effect, with WWE reporting just this morning that live attendance and network subs have decreased so much that it's affecting WWE's bottom line. And it's that environment into which this particular fan didn't even bother tuning into Crown Jewel, the latest Saudi-sponsored event that took place in Riyadh Friday. That is, until the last five minutes, when we happened to think to ourselves, let's just tune into the ending to see what awful way WWE comes up with to keep the title on Seth Rollins.
But that wasn't what happened.
When we tuned in, Rollins was in the process of delivering multiple stomps to The Fiend, who was teetering on the edge of the stage next to some conveniently-placed boxes and "electric" equipment. Sure enough, Rollins kicked The Fiend, who gently fell off the stage and into a padded area obscured by the boxes. A pyrotechnic display did its best to simulate electrical explosions in The Fiend's general vicinity, and Rollins soon followed to the floor, moving some boxes out of the way and comically shouting "aaaaahhhh my eyes" when one of these sparklers went off roughly ten feet away from him. But then the unthinkable happened: as Rollins cried about his fake eye injury, The Fiend stood up behind him, applied the Mandible Claw, delivered a Sister Abigail, and then pinned Rollins to win the Universal Championship.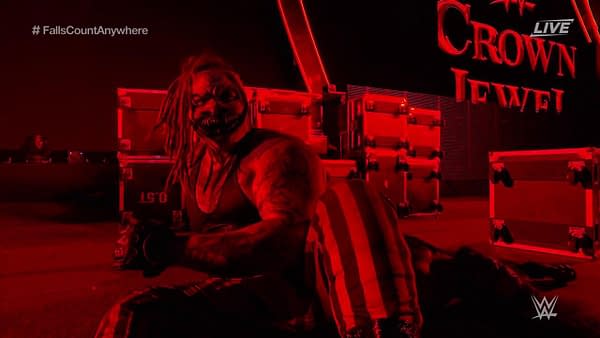 The Fiend will now presumably bring the Universal Championship to Smackdown, where Brock Lesnar (who we hear defeated a very green Cain Velazquez in a short MMA-style match earlier today) already holds the WWE Championship, so it's unclear where they will go from there. But with decades of declining ratings leading up to months of increasingly bad news and fan revolt leading up to this morning's financial conference call, it seems WWE felt they had to do something different, and so they did. It will be interesting to see what the dirt sheets say about how and when the decision was made, but in an incredibly rare instance akin to when CM Punk defeated John Cena at Money in the Bank 2011 to win the title or when Rob Van Dam defeated Cena at One Night Stand in 2006, WWE fans have found themselves in the pleasantly unexpected position of actually getting what they asked for.
Now we wait for the other boot to drop.