After news broke early Monday that The Flash star Hartley Sawyer (Ralph Dibney aka Elongated Man) was fired from The CW's long-running Arrowverse series, showrunner/executive producer Eric Wallace and lead Grant Gustin (Barry Allen aka The Flash) wasted little time sharing their thoughts on the decision. Well, it was more like Wallace shared his thoughts and Gustin kinda threw out a repost with a "Yeah. What he said." Along with the formal joint statement, Wallace also posted a more personal message promising The Flash family that the show would do better to be more inclusive "for all families." For his part, Gustin reposted Wallace's "eloquently and powerfully"-expressed thoughts along with: "I will say I was shocked, saddened and angry when I saw the tweets. Words matter."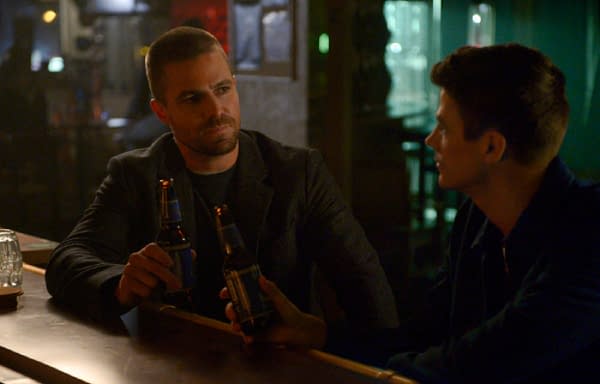 As powerful as Wallace's words were, it appears it was Gustin's additional 16 words of introspection (first 15 words don't count since they only directly reference Wallace's post) that inspired ex-Arrowverse member Stephen Amell (Arrow) to take to Twitter to offer his support. To Gustin. For his 16 words. With a tweet that was actually nine words longer than Gustin's comment. A comment that actually let someone else's words do the heavy lifting for them.
Grant is one of the most thoughtful guys I know. He listens… and he wears his heart on his sleeve. Proud to have worked with him. pic.twitter.com/uc0YUAiw75

— Stephen Amell (@StephenAmell) June 9, 2020
Now, you might be thinking, "But maybe he thought Grant wrote those words?". Right there with you. Thought the same thing. Except Amell was one step ahead of us:
Also… I'm aware that the showrunner wrote this. I'm supporting my friend. That's it.

— Stephen Amell (@StephenAmell) June 9, 2020
So to show our appreciation for Wallace's words, here's a look at his original tweet:
My statement regarding Hartley Sawyer and THE FLASH. pic.twitter.com/hni0MxOWZU

— Eric Wallace (@ewrote) June 8, 2020
The decision to fire Sawyer came after a number of tweets from Sawyer's past came to light that contained misogynist and racist references. The posts (made prior to his joining The Flash in 2017) reference sexual assault and also contain homophobic and racist language. While Sawyer's Twitter account has since been deleted, screenshots have been circulating online for nearly two weeks. The CW, producers Warner Bros. TV and Berlanti Productions, and Wallace released the following statement at the time the news broke: "Hartley Sawyer will not be returning for season seven of The Flash. In regards to Mr. Sawyer's posts on social media, we do not tolerate derogatory remarks that target any race, ethnicity, national origin, gender, or sexual orientation. Such remarks are antithetical to our values and policies, which strive and evolve to promote a safe, inclusive, and productive environment for our workforce."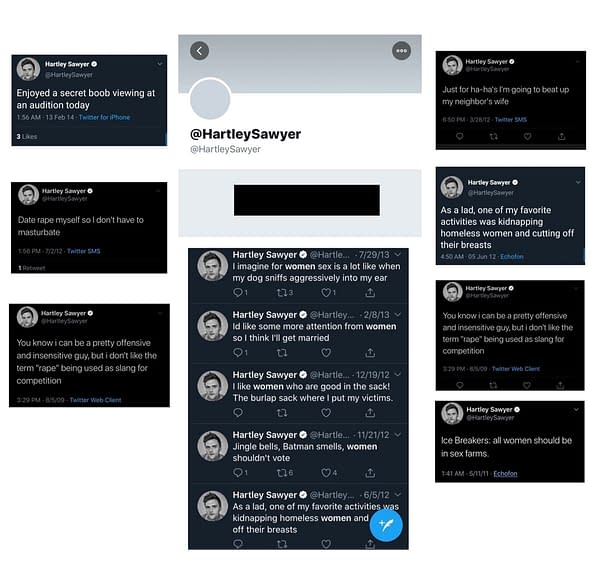 On May 30, Sawyer posted an apology for the posts on Instagram, saying in part: "I am incredibly sorry, ashamed, and disappointed in myself for my ignorance back then. I want to be very clear: this is not reflective of what I think or who I am now. Years ago, thanks to friends and experiences who helped me to open my eyes, I began my journey into becoming a more responsible adult – in terms of what I say, what I do, and beyond. I've largely kept that journey private, and this is another way that I have let so many down. I still have more work to do." You can check out the rest of the post below:
Enjoyed this article? Share it!