"The Good Place" Season 4, Episode 2 "A Girl From Arizona, Part 2": Eleanor Goes All-In as Architect in Solid Outing [SPOILER REVIEW]
Welcome back to NBC's The Good Place… er, The Medium Place… maybe The Bad Place?
Regardless, welcome back. Everything is fine.
Well, not really, but we'll get into that.
But first, there are MAJOR SPOILERS ahead.
The Good Place, season 4, episode 2 "A Girl From Arizona, Part 2": Eleanor, Michael, Janet and Tahani have their hands full when the new residents begin to show their true colors. Jason receives some unsettling news.
Simone (Kirby Howell-Baptiste) is still convinced this is all happening in her head, Brent (Brandon Scott Jones) is still a massive unrepentant "deck head", and Chidi (William Jackson Harper) is now officially a part of this circus. (Is it a casting requirement to have three names? I'm asking for a friend…)
The gang stages a slight coup and Eleanor (Kristen Bell) decides she's failing at being the architect – like Jason (Manny Jacinto) suggests, maybe a Jacksonville carnival will solve all the neighborhood's problems? All we need is a bouncy house, some ninja stars, and a bunch of ambulances!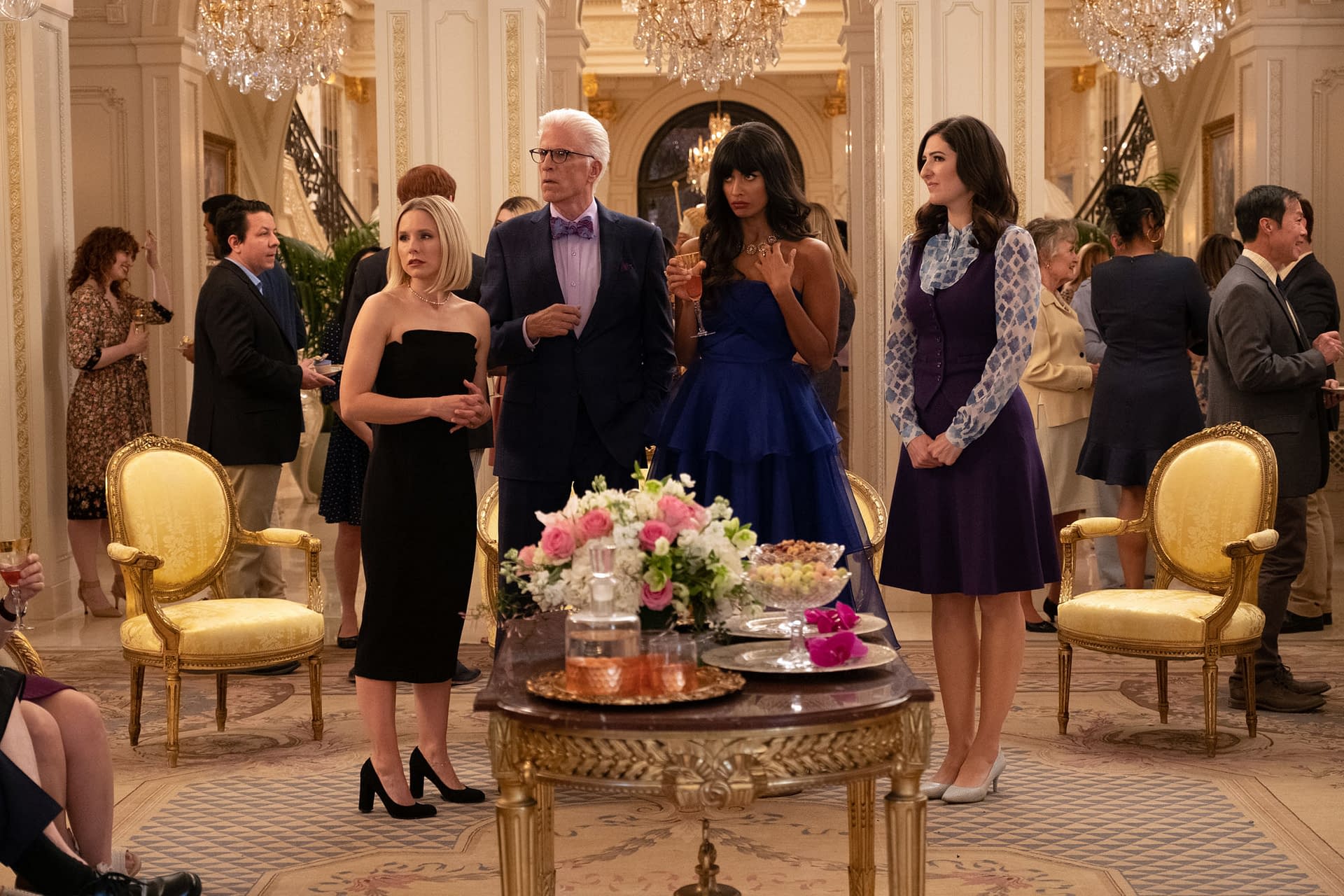 Or maybe not. After a pep talk from Michael (Ted Danson), Eleanor is ready to get out there and push Chidi, the love of her afterlife, into the arms of his former girlfriend Simone.
So, that's going well – Chidi is convincing Simone to maybe lay off all the "nothing is real, you're all in my head" shenanigans and they are maybe falling in love and Eleanor is maybe handling it well. Sort of. Got any margaritas?
Brent is a terrible human being in life and in the afterlife and he is just not getting it…so they lie to him. Eleanor and Michael tell him he's destined for the "Best Place", but with a catch: he has to prove he's worthy.
So, the total ash-hole is now doing good things for the wrong reasons, but Eleanor hopes that this will lead to him doing good things because he genuinely wants to be better.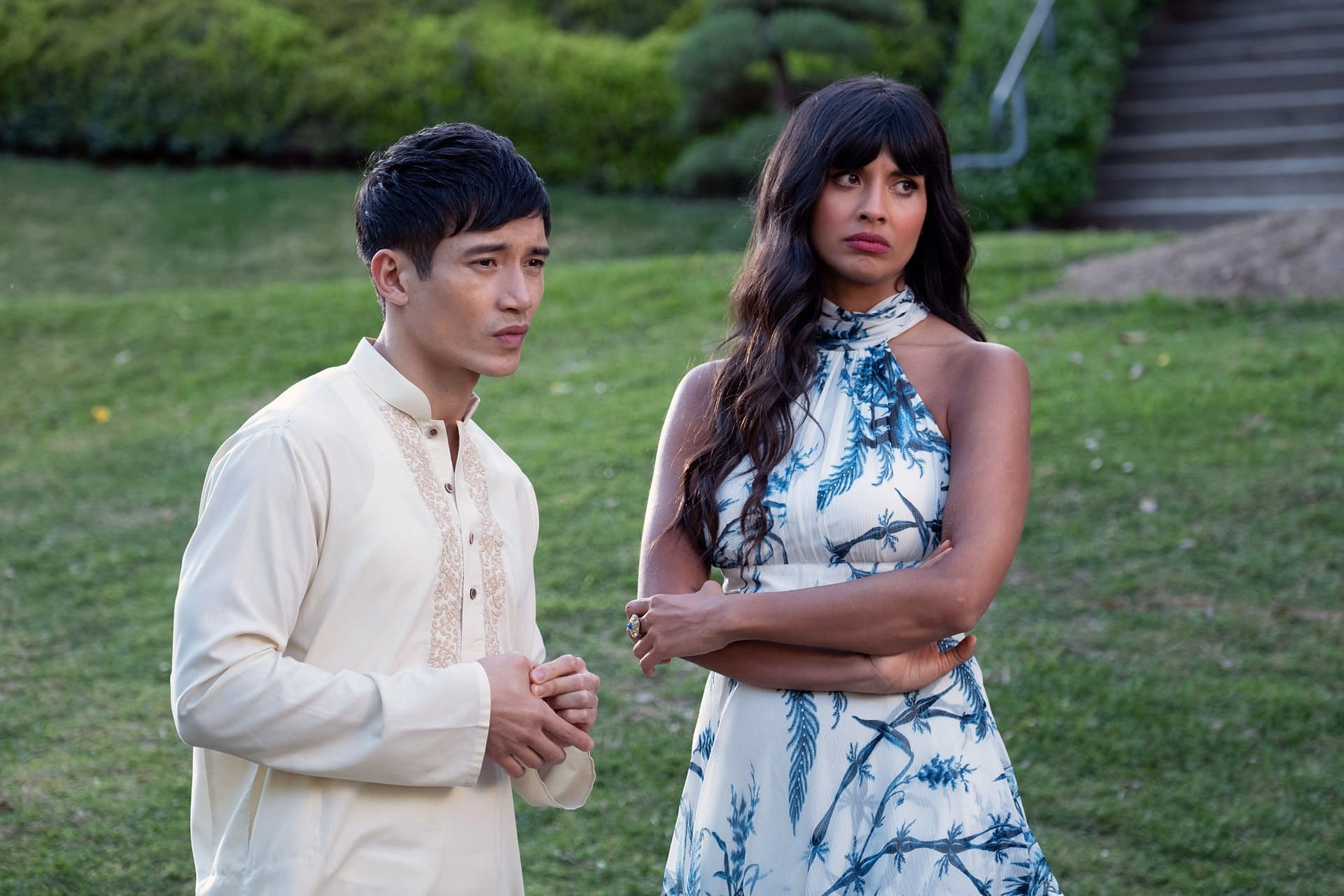 Chidi, Simone, Brent -check. But what about Tahani's (Jameela Jamil) foil John, gossip monger? Unclear!
But what is clear is that despite how they both feel, Janet (D'arcy Carden) just doesn't have time to be in a relationship with Jason right now while she's focusing on running the neighborhood.
And we don't mean to pile on…but Jason finally learns that his team, the Jacksonville Jaguars, have cut Blake Bortles. It's really hard to pinpoint which Jason is more distraught over, but he is hurting none the less. It's been a hard week, hasn't it, bud?
Aside from that, it was a pretty chill episode this week for The Good Place. – it works much better as a "Part 2" than an episode in its own right. Maybe next week, we'll see more shenanigans and learn more about how they plan to rehabilitate John. Ooh! Maybe that will come with more of Tahani's amazing celebrity stories!
The Good Place airs Thursday nights at 9 p.m. ET on NBC.