"The Good Place" Season 4: Mike Schur Teases Characters, Old and New
Still devastated in wake of the news that the upcoming season 4 of NBC's The Good Place is the last time you'll be in the good place? Fear not! Well… kind of… We still have a whole season to go before we say farewell to our favorite humans and reformed demon and whatever Janet is. In a recent interview with Entertainment Weekly, series creator Mike Schur revealed a little bit of what we have to look forward to this fall before it all dies (metaphorically speaking, of course… we hope).
The biggest challenge this season is servicing all the new characters in addition to our core 6 – guest stars in the past have included Mindy St.Clair and Derek. Now that we're in a new neighborhood (in mindy and Derek's medium place backyard), we have our usual suspects… plus four new humans this time around. We know that Simone and Tahani-focused tabloid writer John are two of the new "test subject humans" for this experimental neighborhood, but we're still in the dark over who the other two humans will end up being.
"We've had a lot of wonderful guest stars, like Jason Manztoukas playing Derek or Maribeth Monroe playing Mindy St. Clair. There are people in the world who pop up and then they come back and they come back. But this year, there are new additions to the world who are fairly permanent — at least for the initial status quo. That was a new thing for us. We'd never really had characters besides the main six who we were juggling week to week, and now we have a bunch of new ones. So that's the biggest change about this season."
Per The Judge (Maya Rudolph), they won't be people with as intense a connection to our Soul Squad (like Tahani's sworn enemy or Chidi's ex-girlfriend), but Schur does tease that they will act as a foil to Eleanor and Jason, just to make the afterlife more difficult for them as they try to guide these new humans towards being better.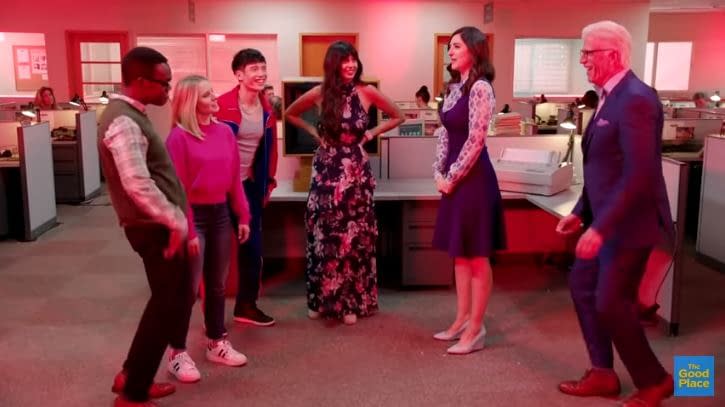 He says that a big focus for Eleanor the first few episodes will be dealing with the emotional impact from being around a Chidi who doesn't remember her and watching him spend time with Simone, who he does love – at least a little bit.
Maybe. He can't decide… and he has a stomach ache.
"It's not easy. One of the themes early on is the emotional toughness that she has to endure in order to just get through and get through the day and do her job while this thing is happening right in front of her. That's a big thing in the first two or three episodes of the season."
Just because the show is almost over doesn't mean they don't still have some tricks up their sleeves for the final season. Schur teases that the greatest threat this season may be Vicky – you remember, the demon formerly known as "real Eleanor"?
In the second season, she got an expanded storyline in which she gives Michael an unbelievably hard time in hopes of taking over his neighborhood and turning it into the good old fashioned bad place torture house we know and love. Like where she jabbed a ton of needles in Chidi's face – now that was a good time… for her.
Set to return to NBC this fall for its fourth and final season, The Good Place stars Ted Danson, Kristen Bell, William Jackson Harper, Jameela Jamil, Manny Jacinto, and D'Arcy Carden. Schur, David Miner, Morgan Sackett, and Drew Goddard serve as executive producers.